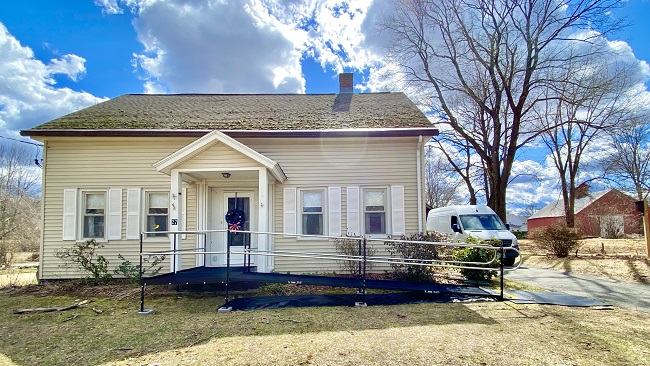 Helping People to Age in Place
Mobility issues shouldn't deny people access to their own homes. Sometimes, the pretty exterior steps that were initially installed become a barrier instead of a welcoming entryway. Amramp of VT and Western MA, an Amramp franchise in Springfield, Vermont, can remedy that problem with a wheelchair ramp. Their steel ramps, the components of which are manufactured outside of Boston, can be either purchased or rented.
Amramp, with franchises throughout the United States and Canada, specializes in modular ramps. They also have portable and threshold ramps and can install grab bars, handrails, and even supply portable showers, which can be handy for older homes without a full bath downstairs.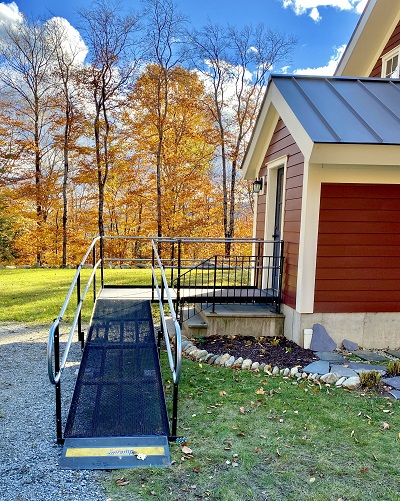 Amramp's inventory includes a variety of ramps. Modular ramps have handrails and can be built in almost any size or shape and even reconfigured later if your needs change. They can be removed without a trace when no longer needed. Amramp also carries portable ramps from 3 to 12 feet long which can be moved or transported as needed, to use for curbs or up to 3 steps. Smaller ramps, called threshold or transition ramps, are used for rises of a few inches or less, usually at door thresholds.
Franchise owner, Brian Jewett touts the advantages of the company's steel ramps over wood or aluminum. "Our ramps are just plain tough," he said. "I even had a client call me a few days after his ramp was installed when a 10-inch diameter black walnut tree fell right across the ramp. After our inspection, all it needed was a new pair of top rails and some minor adjustment."
While wooden ramps can burn, and aluminum ones can melt, Amramp's ramps are made of the same steel as fire escapes. Jewett said fire fighters have used their ramps during rescues even when the ramps were previously engulfed in flames. "They are also winter-proof and even hurricane-resistant." Amramp ramps are made of black, powder-coated steel with an open-mesh surface which Jewett said sets them apart from their competitors.
While the difference between aluminum and steel isn't as evident in warmer weather, Jewett believes the Amramp design makes their product a far superior one in winter. He explained that aluminum reflects the heat of the sun and therefore stays at air temperature, so ice and snow will remain on aluminum ramp surfaces until the temperatures warm or they are removed manually. "Our open-mesh surface means the snow can't pack down to form a slippery sheet of ice," he said. "Even if there's freezing rain, our black color absorbs enough heat from the sun to melt any ice all winter long."
Jewett believes other advantages of the ramps were clearly demonstrated during Hurricane Sandy. He said the New Jersey Amramp franchise was worried that they would be inundated with calls to repair or replace ramps after the storm but the only calls they received were requests to temporarily remove ramps so home repairs could be done. "Houses were ripped to shreds but our heavy steel ramps with their open surface could not be blown away even by Hurricane Sandy," he said.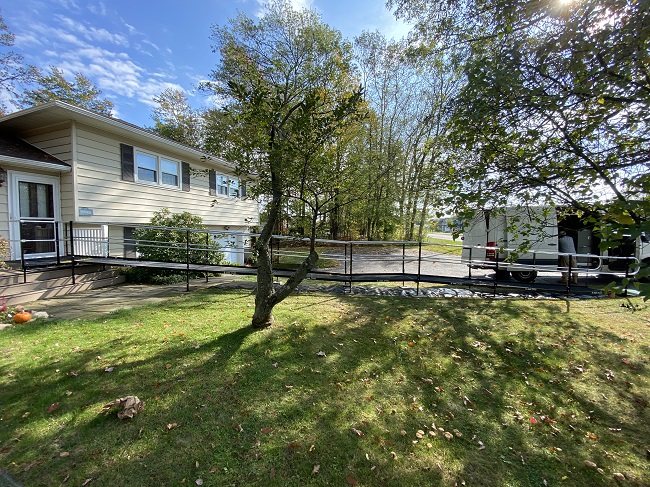 Jewett notes that access ramps aren't just for wheelchair users. "Any decline in mobility that makes it difficult, scary, or dangerous to use steps can trap a person in their home," he said. "An access ramp can really give a person their life back by allowing them to come and go without fear. A ramp makes it possible to get to appointments, visit friends, neighbors, and family, to shop, and just spend time outdoors." The ramps aren't just for humans; Jewett said a few customers have even had ramps installed for their older, mobility-impaired dogs.
"As we age, many of us will get more stubborn and resistant to change and won't like to admit when our mobility is declining," Jewett said. "Unfortunately, this often leads to falls and injuries that could have been prevented. We see too many of our customers coming to us after an injury that forced them to do what they probably should have done much sooner."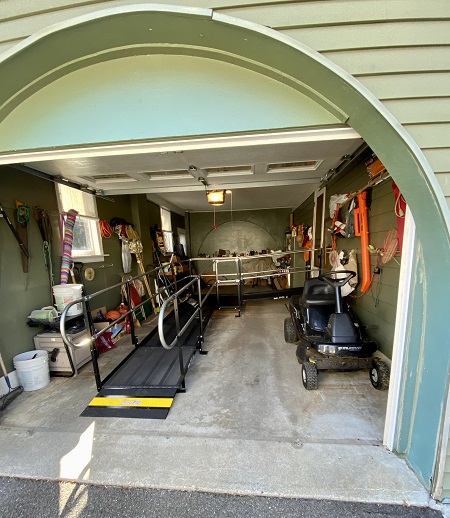 Jewett and his wife Leanne have owned their Amramp franchise for six years. Brian oversees operations while Leanne controls the business' finances. They have two employees who work as installers and one who does evaluations and fills in for installers, if necessary.
"I sometimes joke about following Jimmy Stewart and Tom Bodett for my business philosophy and marketing voice, but it's pretty much true," Jewett said. "I'm never chasing the dollar. I set my prices so we and our employees can make a decent living and after that, we just concentrate on helping the customers. I never upsell and always give an honest recommendation for what I feel is the most helpful and cost-effective solution to the client's needs." Amramp of VT & Western MA serves all of Vermont and provides free evaluations. Once scheduled, the installation is usually completed in a matter of hours.
Before purchasing the franchise, Jewett already had a background in disability services as a mechanical designer for a company that made wheelchair lifts for vehicles. He believes the desire to age in place has led to the growth of Amramp and Covid intensified that process as families wanted to keep their elders out of assisted living facilities. In 2022, business increased over 40% from the previous year, so that trend is continuing. "I really like being able to help people," Jewett said, "and still be able to earn a decent living."
Jewett said that one of the joys of the business is hearing from his customers after their ramps have been installed. "One thing we hear a lot is their surprise at how much their quality of life has improved after installation of a ramp," he said. "People often don't realize how much they've been holding back and how trapped they've become by their mobility issues until those obstacles are removed."
For more information call 800-649-5215 or email brian.jewett@amramp.com. You can also visit Amramp.com/franchises/vermont.
Phyl Newbeck writes for a wide variety of Vermont newspapers and magazines. She is the author of Virginia Hasn't Always Been for Lovers: Interracial Marriage Bans and the Case of Richard and Mildred Loving.
Related Articles & Free Vermont Maturity Magazine Subscription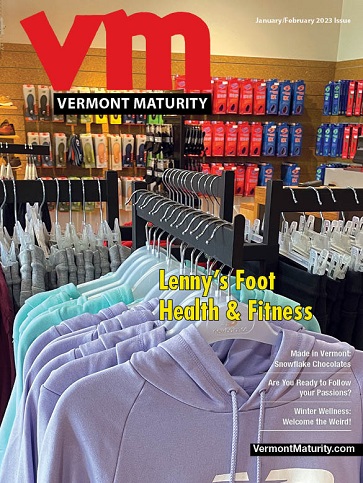 Made in Vermont: Snowflake Chocolates
The Vermont Republic – The Story of When Vermont was an Independent Country