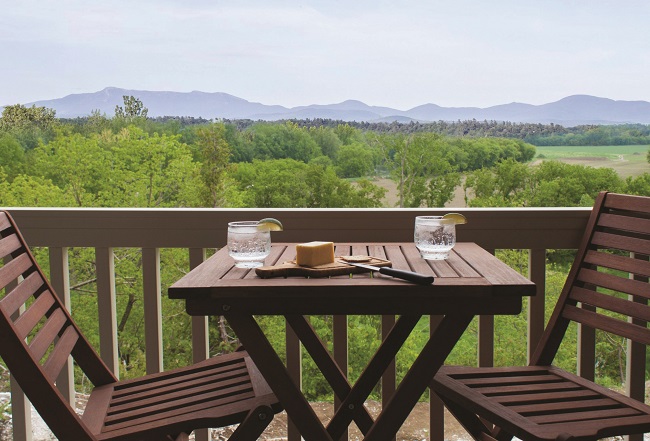 Northern Meridian Senior Housing: Independent Living in South Burlington
Since 2003, seniors have found a home in South Burlington at Northern Meridian Senior Housing, an independent living community for those 55 years of age and older. "Northern Meridian was designed with community in mind," said owner Stuart Chase. "The property attracts homeowners who enjoy an active lifestyle, appreciate the natural beauty Vermont offers, and who prefer living in a beautiful home that is virtually maintenance free."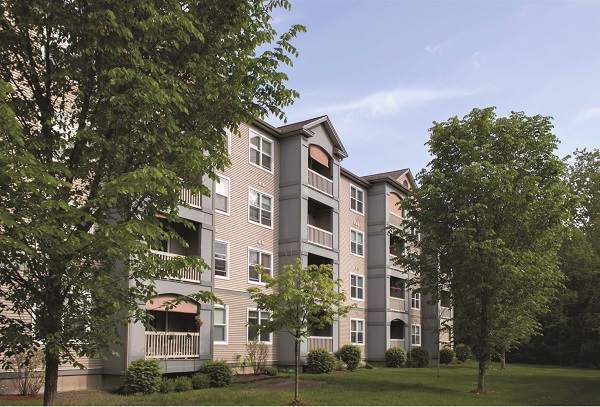 Northern Meridian was built in four phases, the first building opened in 2003, while buildings two, three, and four opened in '04, '12 and 2016 respectively, providing a total of 148 apartments. The South Burlington location is convenient to Colchester, Winooski, Essex, and Burlington allowing residents to enjoy events at the Flynn Theater or St. Michael's Playhouse, art galleries, shopping, music venues, lectures, the Fleming Museum, and sporting events at UVM. Residents also have easy access to nearby houses of worship, walking paths, grocery stores, city parks, and Burlington International Airport.
Each Northern Meridian apartment is on a single level and has two bedrooms, two bathrooms, a kitchen, a dining area, a covered balcony, space for in-unit laundry, and welcomes a small dog or indoor cat if the residents have one or the other. If you were to walk around the Lime Kiln Road property, you will appreciate the views of the Green Mountains. You will also see the many large windows which give some residents the mountain view and all residents an abundance of natural light.
At Northern Meridian, basic utilities are included in the monthly rent except for telephone, cable, and internet. The complex has ample parking options as well as a variety of common areas such as rooms for socializing, community kitchens, a heated, indoor swimming pool, a fireplace lounge, a billiards room, in-house libraries, as well as a media room with a 75" television, DVD player, and reclining leather seats. Each of the buildings has an exercise room with treadmills and recumbent bicycles, and there are also free weights and an elliptical machine available for residents.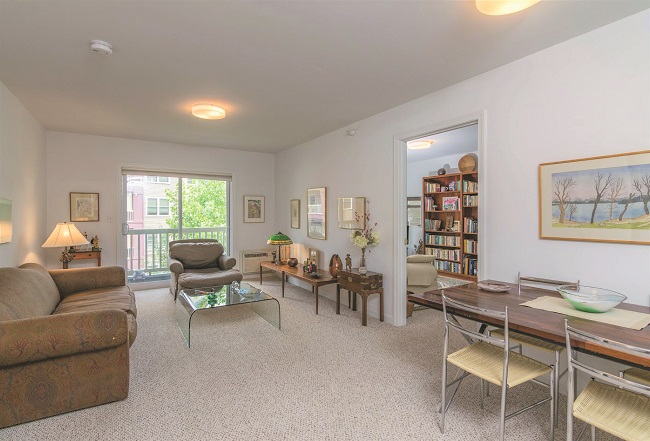 For people who like to enjoy the fresh air, there is outdoor seating, as well as barbecue grills, fire pits, and gardening areas. Some residents even start seedlings indoors then move them to their outdoor garden. "Northern Meridian offers an attractive alternative for homeowners looking to spend more of their leisure time on activities that feed the soul rather than on house upkeep and property maintenance," Chase said.
After retirement, Donna Kirby and her husband moved to Northern Meridian from their home in Winooski. "I absolutely love living here," she said. "It's a wonderful communal setting." Kirby said she and her husband were relatively young when they moved to Northern Meridian and were worried that they wouldn't feel comfortable being in a senior living environment. But that has not been the case. Kirby said residents are independent, active, and some have yet to retire. She noted that many of her neighbors take full advantage of the amenities such as the gardening options and the indoor pool. Residents often get together and plan various activities including coffee hours, puzzles, games, and movie nights—whether at the property or a local movie theatre—, Wii bowling tournaments, sip and paint sessions, crafting parties, and an annual summer barbecue.
Kirby also commended the level of responsiveness from the staff who respond to requests as soon as possible. "No more mowing and home repairs," she said. "When something is broken, it is fixed quickly. I couldn't ask for nicer staff or residents."
Like Kirby, resident Linda Bruso also raves about the responsiveness of Northern Meridian's staff. She recalls waking up on Palm Sunday to find water under her sink. She called the emergency number and within half an hour a worker came, discovered the source of the problem, and in less than thirty minutes it was repaired.
Bruso said everyone knows their neighbors, but they can choose to be as involved in community life as they wish. "Everyone is friendly," she said, "and you can take part in as many group activities as you want, but you can also keep to yourself if you prefer that. I'm really, really, happy and like everything about living here, especially having my own washer and dryer."
According to Northern Meridian's Director of Site Administration, Donna Kaczmarek, people have distinct reasons for entering senior housing. Whether native Vermonters or new to the area, some people are simply moving closer to family or the amenities available in the Burlington area. Many people, Kaczmarek explained, are looking to downsize as they feel that they are spending too much time doing household repairs, raking leaves, cutting grass, and shoveling snow. While others, she noted, state they are spending too much money on property taxes and other household bills. At Northern Meridian residents can stop worrying about these types of household matters as maintenance is just a phone call away and each rent payment covers nearly everything.
"We're confident people looking for an independent living community with an easy lifestyle will have no regrets when they choose Northern Meridian Senior Housing," said Kaczmarek. "It simply checks off all the boxes."
Northern Meridian Senior Housing is located at 325-331 Lime Kiln Road in South Burlington, Vermont 05403.
For more information call 802-419-6439, email nm@nevilleco.com or visit NorthernMeridian.com.
Phyl Newbeck writes for a wide variety of Vermont newspapers and magazines. She is the author of Virginia Hasn't Always Been for Lovers: Interracial Marriage Bans and the Case of Richard and Mildred Loving.
Related Articles & Free Vermont Maturity Magazine Subscription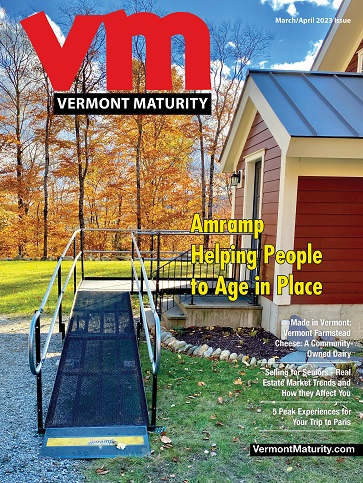 Champ: The Mysterious Legend of Lake Champlain's Monster
The Vermont Republic – The Story of When Vermont was an Independent Country