This holiday, give a gift that keeps giving and requires no dusting. Gift friends and family a beautiful amaryllis that is sure to generate smiles as they watch the bulb transform into beautiful blossoms.
Consider gifting the DIYers on your list with a growing kit that includes all the essentials: pot, potting mix, decorative moss to cover the soil, and bulb. It's everything they'll need to plant, watch, and grow an amaryllis.
New gardeners and those who claim to have a brown thumb will appreciate receiving a pre-planted bulb. You will enjoy the selection and planting process, and the recipient will get to enjoy the satisfaction of growing this no-fuss gift.
Plant the bulbs in a quality potting mix with the top half above the soil surface. Grow a single bulb in a pot that is seven to eight inches deep and five to six inches across with drainage holes. Or group several bulbs together in a larger container. After planting, water the potting mix thoroughly and place the container in a cool sunny location. Water sparingly until the bulb sprouts, which can take several weeks to a month or more.
Amaryllis may also be grown without any soil at all. Place several inches of pebbles in the bottom of a glass vase or watertight container. Cover the pebbles with water. Set the bulb on top of the pebbles, adding more stones around the bulb to hold it in place, but leaving the top one-third of the bulb exposed. Add water as needed, keeping it just under and not touching the bottom of the bulb. Look for unique containers, baskets, or other items to showcase these beauties.
Grow a few extra bulbs so you can enjoy the long-lasting blooms as cut flowers. Wait until the buds are fully formed and soft to the touch. Cut the stems to the desired length and place them in a clean vase with fresh water. Secure the stems in place with colorful stones, ornaments, faux berries, or use a vase with a narrow opening.
Create a gift that lasts even longer with a selection of amaryllis bulbs that bloom at different times. Include early blooming bulbs grown in the southern hemisphere, such as Alaska with its double white flowers, Opal Star with its single sun bleach red blooms, and Cape Horn with jumbo rose pink flowers. Plant these bulbs in early November so your recipient has colorful blooms for the holidays.
Keep the color coming by gifting amaryllis from Holland and other areas in the northern hemisphere. These bulbs bloom from January through March, depending on the variety and when they are planted. Three or more varieties will provide months of midwinter flowers.

Remind your gift recipient to relax while waiting for their amaryllis to start growing. The bulbs don't sprout until they're ready, and it's impossible to know exactly when that will be. Once the bud begins to emerge, the daily transformation is thrilling to watch.
Gifting amaryllis is sure to bring you and those on your gift list lots of joy. Order bulbs early for the best selection, gather needed accessories, and have fun preparing this unique holiday gift.
Melinda Myers has written more than 20 gardening books, including Small Space Gardening. She hosts the "How to Grow Anything" DVD series and the Melinda's Garden Moment TV & radio segments. Her website is MelindaMyers.com.
Related Articles & Free Vermont Maturity Magazine Subscription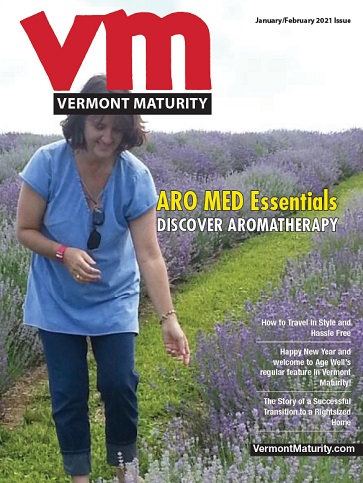 Gardening Gifts for Any Occasion
How Grow a Beautiful Indoor Succulent Garden
How to Grow Herbs in Containers
Free Subscription to Vermont Maturity Magazine