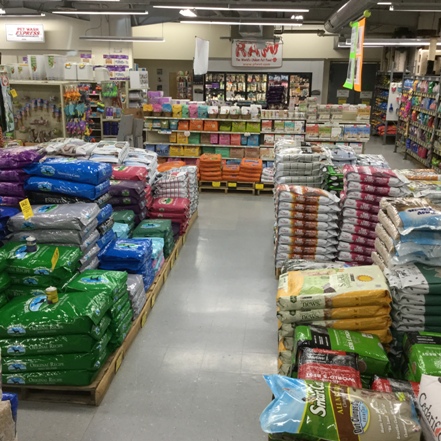 Pet Food Warehouse: The Source for Everything a Pet Lover Needs
In September of 1983, Jonathan and Kim Lash opened Pet Food Warehouse in a small retail space in Winooski. Almost four decades later, the company has grown to two significantly larger spaces in South Burlington and Shelburne while remaining true to their mission statement: to improve, enhance, and enrich the lives of all pets in our community. Although the majority of their customers are cat and dog owners, PFW also caters to those with birds, fish, reptiles and other small mammals.
Kim Lash lead the company as the sole owner and president for 24 years after the sudden passing of her husband Jonathan in 1995. Kim leaned on Kevin Eddy who had been hired as a warehouse hand in 1989 and had quickly established himself as a key employee and member of the PFW family. Kevin took over as food buyer and began overseeing the distribution side of the business, eventually becoming the company's general manager. A self-deprecating sort, Kevin describes himself as the quintessential "jack of all trades and master of none." When Kim decided it was time to retire in 2019, it was only natural that she would sell the business to Kevin and his wife Stephanie.
Today, Pet Food Warehouse has almost 50 employees and Kevin is proud that many have been with the company for two decades or more. The South Burlington location on Williston Road includes Pet Wash Express; a self-service pet wash with two elevated tubs and all the fixings for a spruced-up pup. The store on Shelburne Road in Shelburne was recently expanded and renovated for an improved shopping experience.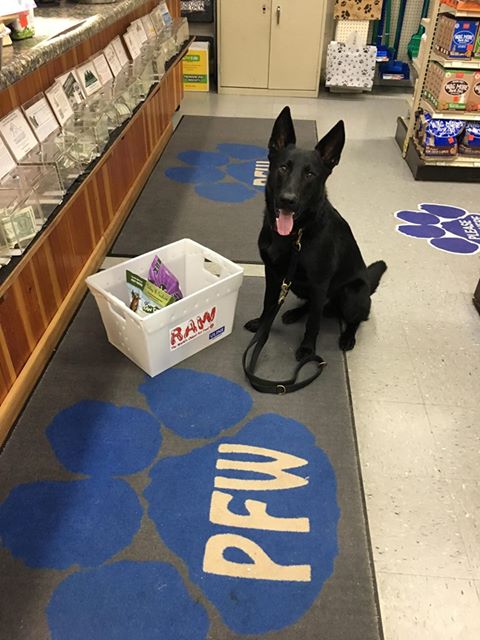 Pet Food Warehouse has a wide variety of food for dogs, cats, and other animal companions. When they opened, customers generally had to choose between dry kibble and canned food but these days, the options have increased to include grain-free recipes, some of which can include legumes, as well as freeze-dried, dehydrated, and frozen raw food for a variety of diets. Pouches, toppers, and gravies are also available to enhance the nutritional needs of pets. In addition, PFW now sells supplements with homeopathic herbs and CBD products.
"Treats and chews are always a great seller," said Phil Trussell, PFW Accessory Buyer and Advertising Coordinator "because people like to have a snack on hand for training purposes or just to reward their animals." PFW suggests healthier chews like Bully Sticks, Water Buffalo Horns, or raw frozen marrow bones rather than rawhide or synthetic nylon chews.
In addition to taking care of the nutritional needs of pets, PFW caters to their psychological needs. Old favorites like Nylabones, Kong rubber toys, and tennis balls are still available for your canine companion, but Phil notes that there are wider offerings now. "We have learned more over the years about the needs and stimulations of the minds of our pets," he said. "We carry self-engaging and interactive puzzle toys and every type of crinkle, squeak, honk, or rattle that will bend the ear or wag the tail of an inspired pet."
Pet Food Warehouse actively supports humane societies, shelters, and rescue organizations in their mission to better the lives of animals and place them in forever homes. One example of this outreach is the Pronature Pal program which pays adoption fees, food for a year and a PFW gift card for an adopted pet every month. The animals chosen by the humane societies of Chittenden County, Addison County, Central Vermont, and the North Country Animal League.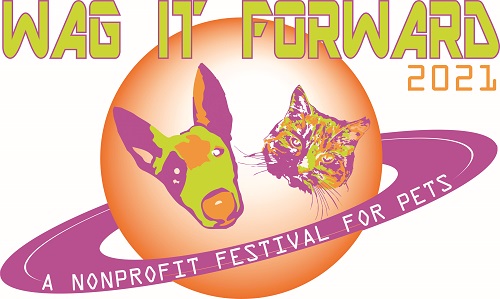 The staff also takes part in the annual Wag It Forward: A Festival for Pets hosted at the Champlain Valley Exposition in Essex. That event raises awareness and funds for local welfare and rescue groups by hosting dozens of animal welfare organizations from Vermont along with industry manufacturers, local vendors, games, and demonstrations. Proceeds are divided equally among several non-profit animal welfare groups. In four years, they have raised over $58,000 and hope to add to that total at the Expo on September 26, 2021.
Pet Food Warehouse has programs to help their long-time customers save money. All sales, including the Pet Wash Express are part of the Paw Point Loyalty program. Expenditures are totaled up for each customer's account and accumulate to be used for future purchases with no expiration date.
The staff at Pet Food Warehouse attend monthly training sessions and are always on the lookout for new opportunities to learn how to better serve their community. They are open to suggestions of new products from customers, as long as the products are in line with their mission to improve, enhance and enrich the lives of pets.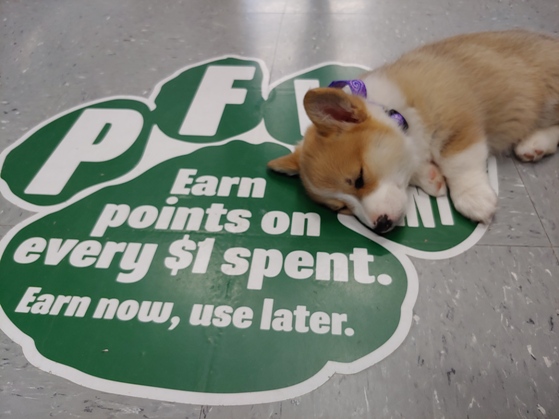 The pandemic has obviously forced the company to make some changes, including the addition of contact-less pick-up. In February, they launched an on-line service where customers can set up an account and order food, treats and accessories to be delivered to their homes or picked up at the Williston Road location.
Vermont Pet Food and Supply is owned and operated by PFW, and is a distribution center, running operations out of a warehouse in South Burlington. As Pet Food Warehouse has been embracing and servicing the pets in Chittenden County, Vermont Pet Food and Supply has applied the same philosophy throughout Vermont. VPFS delivers to hundreds of pet specialty, farm and feed businesses and Vermont's favorite mom and pop style stores, who supply their own communities, for thirty years as well.
Kevin raves about his employees. "The awesome group of talented, dedicated, caring people that I get to work with is the most rewarding part of owning Pet Food Warehouse," he said. "I believe you are only as good as the people on your team and we have an awesome group of people. Things are constantly changing with new challenges arising, and it is satisfying to meet and overcome these trials with these great people."
The feeling the staff has about their boss is mutual. "We all miss Kim [Lash] being here daily," said Phil, "but we are very excited and proud to have Kevin Eddy at the helm. He is a true leader to the staff and PFW family."
Pet Food Warehouse is located at 2455 Shelburne Road in Shelburne and 2500 Williston Road in South Burlington. You can also visit their website at Pfwvt.com.
Related Articles & Free Vermont Maturity Subscription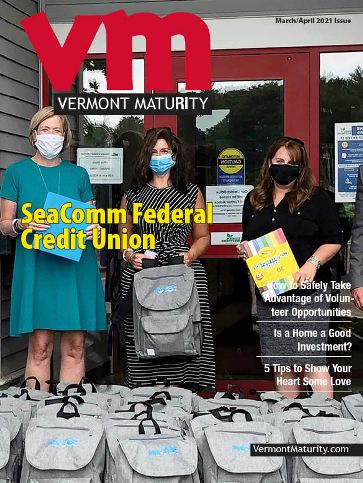 How to Cut the Cost of Owning a Pet
Senior Adults See Health Benefits from Dog Ownership
Want To Be Healthier? Get a Pet!