Sometimes things happen that touch your heart.
My wife and I were leaving the Fire House Restaurant in Barre. We came out, arm in arm, stopping before crossing the street. As we stood there waiting, an old pickup carrying two young men came along and stopped. The driver, seeing us waiting to cross, waved us ahead. When we reached the other side of the truck, the passenger rolled down his window and yelled, "Hey old timer, I hope I still love my old lady the way you do when I'm as old as you!"
We began to laugh and couldn't stop. So much for our self-perceived youth. We looked at each other and knew why we were laughing. It was so true and so funny at the same time. When we reached our car, we saw a truck driver standing beside his truck laughing as hard as we were.
I realized the young man was right. I first saw Ruth working on the second floor of the Springfield College administration building. She was the assistant to the director of guidance: I was enrolled in the guidance department's Master's degree program.
Now, here we were, 58 years later, crossing the street in Barre. How had we stuck together all these years? I am certain the young man had no idea how our love had lasted—but he knew it was important enough that when his time came he wanted to feel the same way. I am not sure exactly how it happened either, but I am sure glad it did.
It is not easy to look over the years and figure out what makes love stay. There are so many events—some good, some not so good—that make up a lasting relationship. Sometimes I think it may be just good luck or just not wanting to give up. Or maybe you find a life rhythm with another person that just feels good, comfortable and rewarding.
I know that as the years go by things change. Some get better, some stay the same while others seem to go away. How that mix develops makes a difference. Sometimes you recognize the changes and sometimes you cannot. The trick to a lasting relationship, it seems to me, is figuring out what is important to your relationship—and making necessary adjustments as changes occur.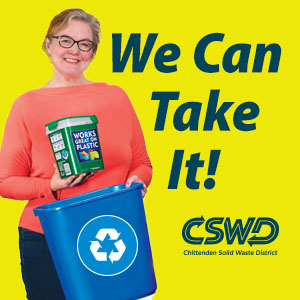 I am not sure anyone gets it all right all the time, but when you come close, it really is exceptional. That young man was right: I do love my old lady and I am thankful she still loves this old man.
Bill Skiff grew up on a farm between Cambridge and Jeffersonville. After a career in education, he now lives in Williston, where he is a justice of the peace and Fourth of July frog-jumping official. In "Places I've Played," he shares his experiences of growing up in Vermont.
Related Articles & Free Subscription
Free Subscription to Vermont Maturity Magazine