Welcome to Age Well's regular feature in Vermont Maturity!
Warm summer weather is here, and our staff and volunteers are visiting older Vermonters at their homes, delivering Meals on Wheels, coordinating care, and bringing them a friendly smile helping them to age with confidence and dignity. Keep reading to learn more about our offerings, health, and wellness tips, and much more:
Health & Wellness – Stay Cool This Summer
Vermont may have very cold winters, but we also have seriously hot weather in the summers. Older Vermonters and people with disabilities and chronic conditions are at greater risk for serious heat-related illnesses, and even death when the statewide average temperature reaches 87°F or hotter. Keep reading for tips to stay cool during hot weather: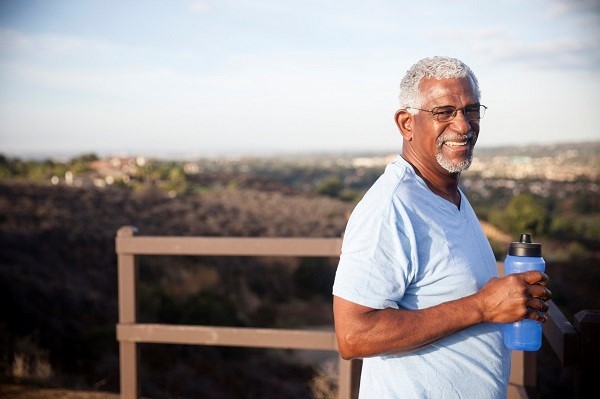 1) Drink up! Drink plenty of liquids, such as water or fruit or vegetable juices. Stay away from drinks containing alcohol or caffeine. Remember, start drinking water before you feel thirsty. If your doctor has told you to limit your liquids, ask what you should do when it is very hot.
2) Block the sun. Use blinds and curtains to help block the sun from heating your home. Be sure to still allow some light so you can still see and can safely navigate your home.
3) Cool your home at night. The late evenings and overnight are often cooler than during the day. Open your windows at night and let the night air cool down your home.
4) Stay downstairs. If your home has multiple levels, try to spend most of your time on the lower floors. Heat rises and can make the upper living areas much warmer.

5) Dress for the weather. Wear lighter-colored fabrics that absorb and store less heat. Some people find natural fabrics, such as cotton, to be cooler than synthetic fibers.
6) Limit your physical activity during times of high heat. Don't try to exercise or do a lot of activities outdoors when it's hot. Check the weather to see when the coolest part of the day will be. Often early morning and evening are cooler.
7) Cool down with a shower. Feeling warm? Cooldown by taking a shower.
8) Sign up for VT-Alert. VT-Alert will notify you of emergencies such as heat advisories: Vem.vermont.gov/vtalert.
9) Watch for symptoms of heat illness. Muscle cramps, heavy sweating, nausea, headache, or light-headedness are symptoms of heat-related illness. Most can be treated with fluids and by resting in a cooler place. Dial 9-1-1 or get immediate medical help if you are concerned about your or someone else's health.
The risk in our region for heat-related illnesses increases when temperatures reach the mid-to-upper 80s, especially on sunny, humid days. During the 2018 heatwave, four Vermonters died from excessive heat and there were 15 times more heat-related emergency department visits than normal.
Don't forget, when you do spend time in the sun, be sure to apply sunscreen 30 minutes before you go outside and wear a hat. Reapply sunscreen every two hours and immediately after swimming or excessive sweating. Have a safe, sunny, Spring & Summer.
Self-Neglect: What to Look For
Have you noticed a sudden change in one of your loved ones over 60? Such as recent untidiness? Unwashed clothes? Poor hygiene? Do they seem to be confused or making unsafe decisions? They may be self-neglecting. Age Well is the designated agency in Northwestern Vermont to receive referrals for self-neglect.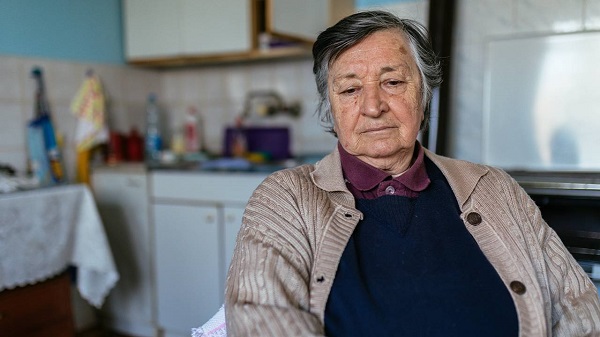 Self-Neglect Definition:
"The term 'self-neglect' means an adult's inability, due to physical or mental impairment or diminished capacity, to perform essential self-care tasks including:
(A) obtaining essential food, clothing, shelter, and medical care; (B) obtaining goods and services necessary to maintain physical health, mental health, or general safety; or (C) managing one's own financial affairs.
This definition excludes people who make a conscious and voluntary choice not to provide for certain basic needs as a matter of lifestyle, personal preference, or religious belief and who understand the consequences of their decision."
Self-Determination Definition:
"Self-determination is the power or ability to make decisions about one's life without outside compulsion. This means that all older Vermonters have the right to direct their own lives as they age. Whatever services, supports and protections are offered, older Vermonters deserve dignity and respect, must be at the core of all decisions, and have the right to accept or refuse."
Definitions from the Vermont Department of Disabilities, Aging, and Independent Living (DAIL) Self-Neglect Task Force.
Warning Signs of Self-Neglect:
Sudden or recent behavioral changes
Poor hygiene
Physical environment in poor condition
Untreated wounds
No recent medical appointments or visits
Resistance to necessary care services
Weight loss
Poor safety awareness
Note: Self-neglect does not refer to someone who makes these lifestyle decisions and is able to understand the consequences of their actions. Rather, an individual who is unable to meet their basic needs because of physical or cognitive impairment.
Possible Causes of Self-Neglect:
Dementia
Mental health disorders
Medication
Other medical condition
Substance use
Social Isolation
What Happens After a Referral?
Symptoms of self-neglect can be serious, so referrals for suspected self-neglect are prioritized and assigned within one business day. Typically, self-neglect referrals are assigned to a Specialized Care and Service Coordinator, who will attempt to contact the individual right away to schedule a visit. The Care and Service Coordinator will continue working with the client as long as the client continues to engage and there are unresolved goals or self-neglecting behaviors. The self-neglect assessment is completed at regular intervals, no less than annually.
How to Help Someone who is Self-Neglecting:
If you think a friend, loved one, or a patient may be self-neglecting, call the Helpline at 800-642-5119 to make a referral. Age Well's Specialized Care & Service Coordinators will contact the individual within two business days (unless determined that the situation requires a faster response).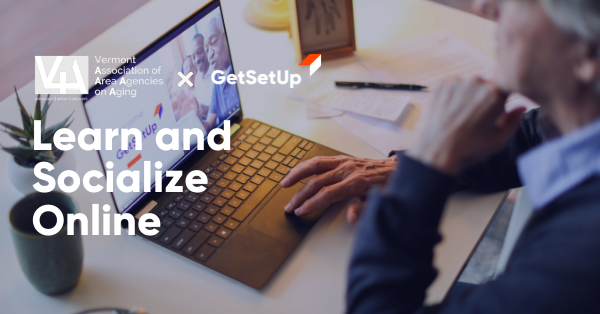 GetSetUp
Age Well along with the other Vermont Association of Area Agencies on Aging have partnered with GetSetUp, the largest and fastest-growing online platform dedicated to virtual learning, specifically for older adults. GetSetUp provides live interactive classes by older adults for older adults, which they can access easily right at home. Learners can choose from a catalog of over 3,000 classes that shift weekly and are available around the clock for the next year. Learn more and sign up for free classes at: Getsetup.io/partner/Vermont.
Age Well Programs & Services
Age Well believes that health happens at home and focuses on lifestyle, happiness, and wellness—not on age. For nearly 50 years, Age Well has provided adults 60 years and older in Northwestern Vermont with the necessary support to manage their daily living needs, to keep them active, healthy, and independent.
Age Well offers care & service coordination, Meals on Wheels; community meals; wellness programs; social activities; transportation services; expertise on Medicare, insurance, and long and short-term care options; and a Helpline to older Vermonters, and their families and caregivers. Age Well services are provided at no cost throughout Addison, Chittenden, Franklin, and Grand Isle counties. For more information about our services and other resources, call the Helpline at 800-642-5119.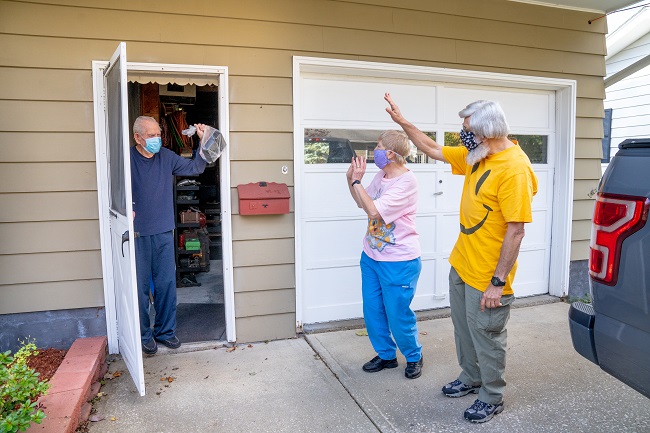 Giving Back & Volunteering
Join our network of over 1,000 dedicated volunteers, without whom our work would not be possible. There are many ways you can give back to the older adults in your community including providing transportation, friendly visits, grocery shopping, budgeting assistance, delivering Meals on Wheels, donating your used car, making a cash donation, and leaving a gift for Age Well in your will or trust.
Age Well's services are provided free of charge, your support helps us keep these services free and accessible to those in need. To learn more about volunteer opportunities please call 802-662-5249, email volunteer@agewellvt.org. or log onto our website: AgeWellvt.org/giving-back/volunteer.  
How to Contact Age Well
Learn more about Age Well services by calling the Helpline at 800-642-5119 or visiting our website AgeWellvt.org. You can also find stay up to date by following us on social media on Facebook, Twitter, Instagram, & LinkedIn.
Related Articles & Free Vermont Maturity Subscription Sign Up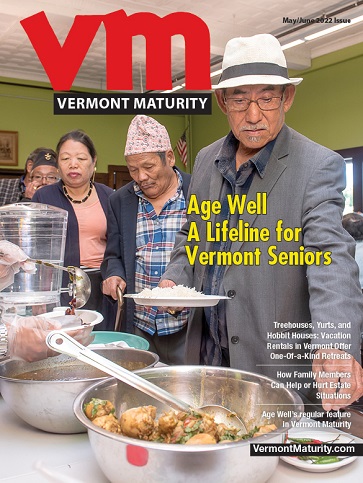 6 Tips and Tricks to Lift your Mood
The Best Types of Exercise for Older Americans