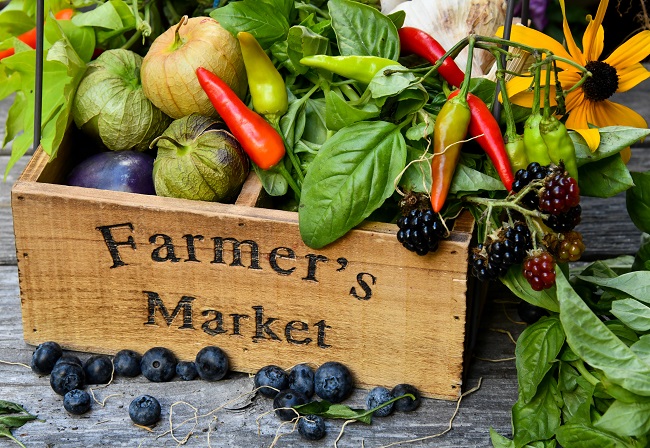 There are more farmers markets in Vermont than there are weeks in the summer but visiting a new market each week would surely make the best of the season. Many of the state's farmers markets are held weekly, outdoors from May to October. A farmers market trip is as much culinary and artistic entertainment as it is a chance to pick up fresh produce. What has remained unchanged is the chance to meet and befriend the farmer, producer, or artist behind what you find.
Market regulars will get to know the vendors and the seasonal rhythm of what's available. Radishes and baby greens in the early spring, squash and root vegetables in the fall and every year something new to try. Many, but not all, allow prepared or "value-added" products – something made with the farm-grown produce such as salsa or samosas. And some farmers markets are also part craft fair, with artists selling their wares beside those selling produce and food. Several feature live music.
To whet your appetite, here's a small sample of the more than 50 markets around the Green Mountain State:
The Burlington Farmers Market is celebrating its 42nd year this summer. It remains at its South End location, at 345 Pine St., where it has been since 2019. This is a large market, which runs 9 a.m. to 2 p.m. Saturdays through October 29.
In addition to farm-fresh produce, Burlington vendors sell pre-made or made-to-order foods such as breakfast sandwiches, pastries, fresh bread and kimchis, to name just a few. The market boasts more than 70 regular vendors and another 50 who will be there periodically, according to the market's website.
In addition to food, the Burlington Farmers Market includes artists and crafters selling clothing, jewelry, paintings and more. Among the new-to-the-market vendors this year are a local rock star who brews ginger beer, a mother-son duo who knit sweaters from Vermont-raised wool, a pasta maker, wine makers and a farm that focuses on salad ingredients.
A visitor could easily spend an hour or more at this market. Go early and grab breakfast while shopping for the freshest dinner ingredients, or go later and pick up a baguette, local cheese, and a bunch of radishes for a picnic lunch before roaming for art or new duds. Burlingtonfarmersmarket.org
The Shelburne Farmers Market is also on Saturdays, from 9 a.m. to 1 p.m. through October 15. It's held in the middle of Shelburne Village at 12 Church St. Expect locally grown produce, meats and dairy, including Shelburne Farms cheese. This market also typically includes prepared foods, flowers, and art. Sbpavt.org/the-market
The Winooski Farmers Market is another weekend market in Chittenden County. This one is Sundays from 10 a.m. to 2 p.m. Organizers call this market in downtown Winooski "small but mighty," and it is held on Winooski Falls Way. Downtownwinooski.org/winooski-farmers-market
Several of Chittenden County's smaller towns have their own farmers markets where visitors can get a literal and figurative taste of the town. Some of these markets are on weekday afternoons and serve as a gathering place for locals to catch up with neighbors after school and work while shopping or even eating dinner.
The Jericho Farmers Market is held on Thursdays, from 3-6:30 p.m.  A Jericho librarian is often at a booth, sometimes sharing space with students promoting youth programs or projects. In the center of this market, which is held at Mills Riverside Park, a slate of local musicians entertain shoppers and dancing children. There are usually a handful of ready-to-eat meal options, including a popular Mediterranean food booth, pizza, and gyros. Maple products, spirits, and art are also on the market's menu regularly. Among the new vendors this year are purveyors of baked goods, wine, and CBD products. Jerichofarmersmarket.com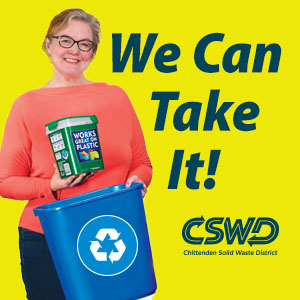 The Richmond Farmers Market is held Fridays, from 3-6:30 p.m. at Volunteers Green, 286 Bridge St. This year's list of vendors includes Prima Materia, which sells "small batch high quality gourmet and functional mushrooms and products;" a sheep creamery selling cheese and gelato as well as hand-dyed yarns; a vegan cheesecake maker and even Alaskan salmon caught and frozen by a Vermont couple. Richmond-farmers-market.square.site
The Champlain Islands have two summer farmers markets: 10 a.m.-2 p.m. Saturdays at St. Joseph's Church in Grand Isle and 3 p.m.-6 p.m. Wednesdays at St. Rose of Lima Church in South Hero. Summer is a great time to take a drive to the Champlain Islands or bring your bike and take advantage of the relatively flat terrain and Island Line Rail Trail. The markets here offer a literal taste of the land: its vegetables, meats and even wine. Plus, the talents of its residents who sell craft baked goods, spirits, and artwork. The Champlain Island Farmers Market website even promises "the friendliest salespeople you'll ever meet." Champlainislandsfarmersmarket.org
For a drive in the other direction, check out the Stowe Farmers Market, Sundays 10:30-3 p.m. at 2043 Mountain Road. The vendor list for this summer includes some fabulous names, such as Rowdy Cow Farm, a local meat purveyor; Positive Purls, creator of felted hats and accessories and Wild Woogs, maker of upcycled cuddly monster dolls. Of course, all the traditional farmers market fare can also be found at Stowe, which lists more than 50 vendors for its 2022 summer season. Stowefarmersmarket.com
Families enrolled in 3SquaresVT can double their buying power at participating farmers markets. With the Cash Crop program, $10 in 3SquaresVT benefits buys $20 worth of local food. See Nofavt.org/cropcash for more information and participating markets.
Most of Vermont's summer season farmers markets end their run in October. (Fewer towns continue with indoor winter markets.) Vermont's most bountiful season is delicious, entertaining, and ephemeral, so grab your market bag and get out there.
Clover Whitham has been a journalist at Vermont newspapers for more than a dozen years and is now a freelance writer and editor near Burlington.
Related Articles & Free Vermont Maturity Magazine Subscription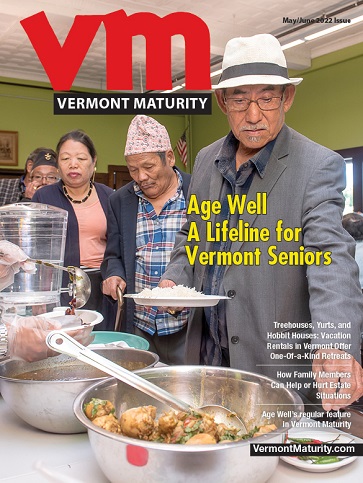 The Vermont Republic – The Story of When Vermont was an Independent Country
Treehouses, Yurts, and Hobbit Houses: Vacation Rentals in Vermont Offer One-Of-a-Kind Retreats
Free Subscription to Vermont Maturity Magazine