What It's Like to Live Life Roaming in an RV?
Who hasn't daydreamed about packing just the essentials and hitting the road for a few weeks, or even full time? For some, retirement or empty nests are the perfect excuses to make that dream a reality.
Christine Carrington started living that dream when she retired at 60 in 2004. She now travels across the country with her dog, Edna, in a 1994 Toyota Winnebago Warrior.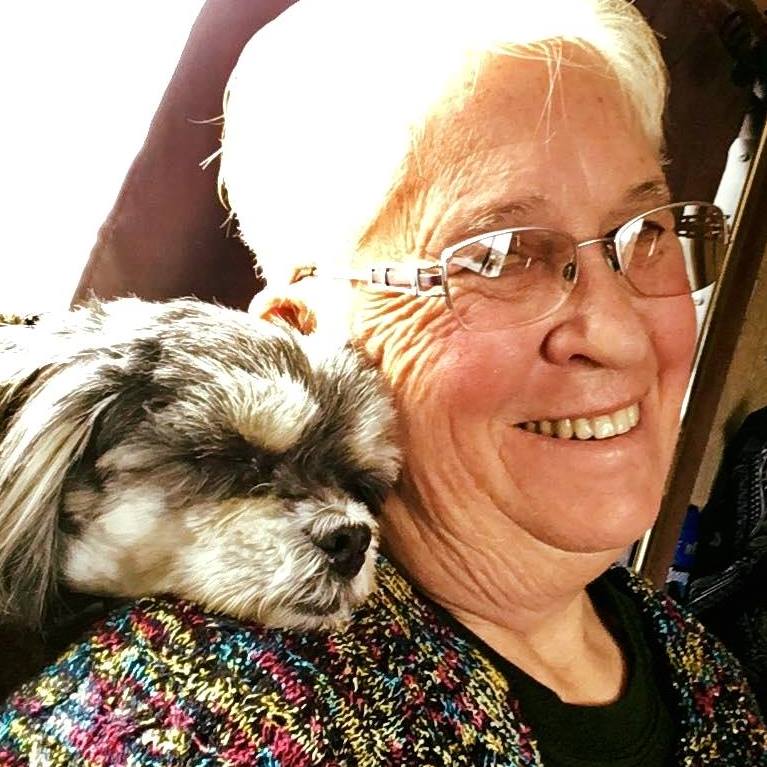 Carrington spends her summers at a campground in Vermont's Northeast Kingdom, where she's from. She leaves Vermont before October ends and heads someplace warmer, either Arizona, Florida, New Mexico or Texas.
"I sold my house and everything I owned, moved into my RV and have been traveling ever since. I love the freedom it gives me to go anywhere, no reservations, just up and go when the mood strikes.
"Of course being able to always go where it is not too hot or cold is a big draw. Best of all, I love making new friends," Carrington wrote via email in January.
Do Your Homework
Now is the perfect season to do research, both about RV units and all that is necessary to live on the road. Several consumer shows take place in the Northeast in the winter and spring, which allow customers to view and walk through many units in a day. Dealerships also host events and can work with customers to purchase and prepare an RV in time for summer.
At a consumer show or dealership, customers can try out the seats, stretch out in the beds, see if the showers are big enough and get plenty of inspiration from that new RV smell.
But the first question is, what kind of recreation vehicle is right for you?
The main categories of RVs are:
Towable RVs: These units are towed by another vehicle or mount on the back of a pickup truck. Some of today's towable trailers can have the same amenities found in motorized RV, and some are light enough to be towed by a sedan.
Motorized RVs: Also called motorhomes, in these the living area is built on a motorized chassis and can be larger than a towable RV.
Park model RVs: These look like moveable houses. They're designed to be parked for a season or longer.
There are a few basic questions future travelers may want to mull before heading to the dealership, such as:
How many weeks do you think you'll be on the road?
How many people will be joining you?
How do you want to get around? If you don't want a motorized unit, what is your vehicle capable of towing?
What amenities do you want with you?
Still not sure? A dealer can steer customers in the right direction. At an RV dealership several experts may help customers through a purchase.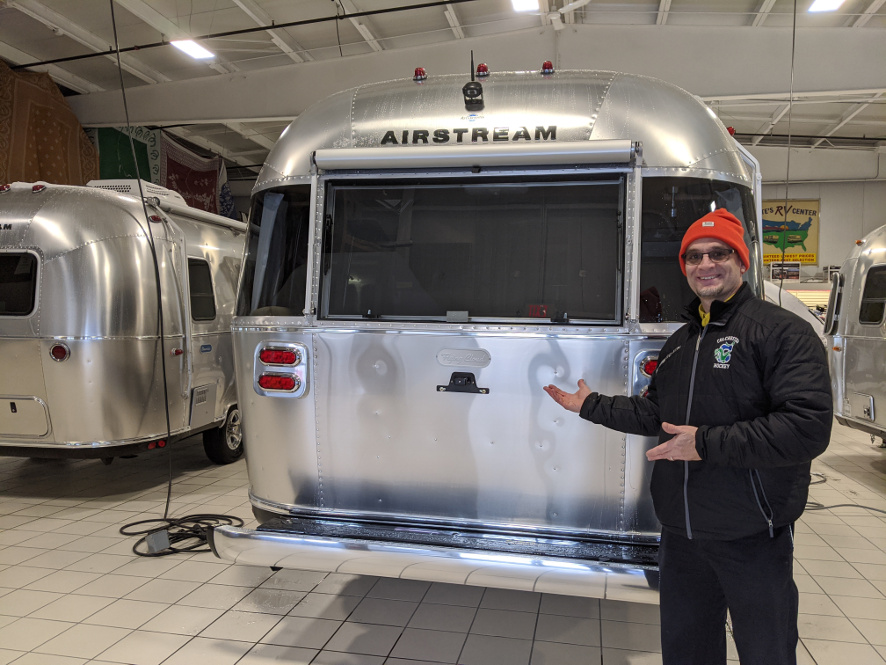 At Pete's RV Center in South Burlington, for example, a customer's first guide will be an RV consultant. The consultant helps answer those questions and others to narrow down a list of options.
When customers enter the Pete's RV Center showroom they will see up to six RVs inside and hundreds more outside. Adjacent to the showroom is a store full of RV essentials, from camping chairs and grills to leveling jacks and awnings.
There is also a service center and garage. Post purchase, customers learn all about operating and maintaining their RV from an orientation specialist.
Try Before you Buy
Before purchasing, Phil LeClair, marketing director at Pete's RV Center, suggests first trying out an RV lifestyle. He recommends camping with RV-owning friends or family, or renting a unit, to get a sense of what feels right.
There are also several online resources that can help customers narrow down their choices and educate themselves about what it takes to operate and maintain an RV. There are tools to compare RVs, video walk-throughs of units and even how-to videos for common maintenance tasks. LeClair points out an RV is a home on wheels, and with that comes home maintenance.
At a dealership, customers can test drive RVs to get a sense of how it feels to tow or drive the units on the road. LeClair says those who plan to camp for more than 2 weeks a year are good candidates to buy an RV rather than rent. He also estimates about 25 percent of his Vermont customers who are 55 and older plan to RV full time.
The Allure of the Open Road
Suzanne Zisselsberger is planning to join the world of full time RVing. She's long been a fan of both tent camping and seasonal camping in a travel trailer. Now Zisselsberger and her husband, who is about to retire, are preparing to sell their house in Vermont and head south with their towable camper.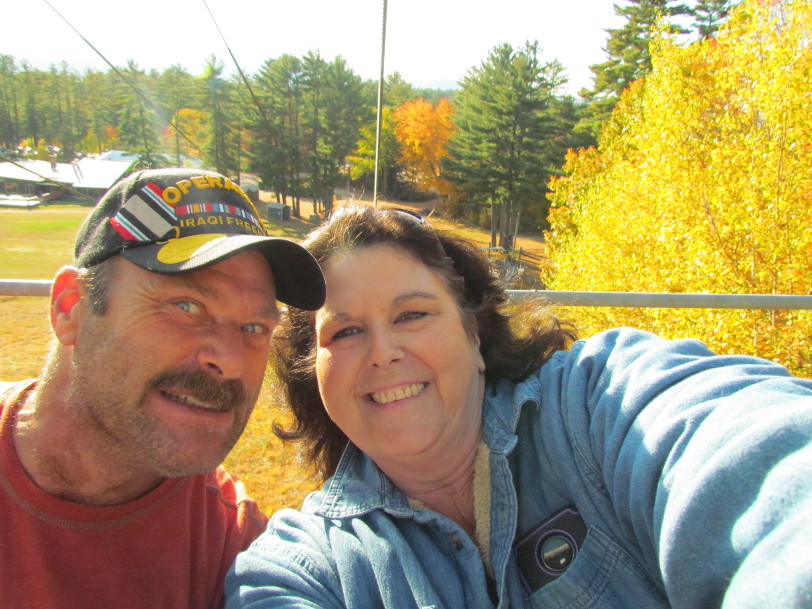 Zisselsberger first experienced full time camping when she was 13. Her family sold their home and lived in a travel trailer on the south Florida coast after her father retired. Zisselsberger says she loved being homeschooled and spending her time fishing, clamming and boating. That adventure lasted only a few months but later, when her own son was 5, Zisselsberger dove into tent camping as a Campfire leader. In 2004, she and her husband bought their first fifth wheel trailer.
Zisselsberger says she likes the ability to take the comforts of home, and her pets, with her.
"There are new adventures everywhere you go," she said. "I love state parks the most … I love the woods, the wildlife and the views. I myself, feel free."
Steven Lee Fletcher, who maintains RVTipOfTheDay.com and RVBasics.com, has spent about 25 years RVing full time. Fletcher said the draw to RVing is the same now as when he started. "The adventure of seeing what is just around the next curve in the road, over the next hill, and in the next town," he wrote via email from California.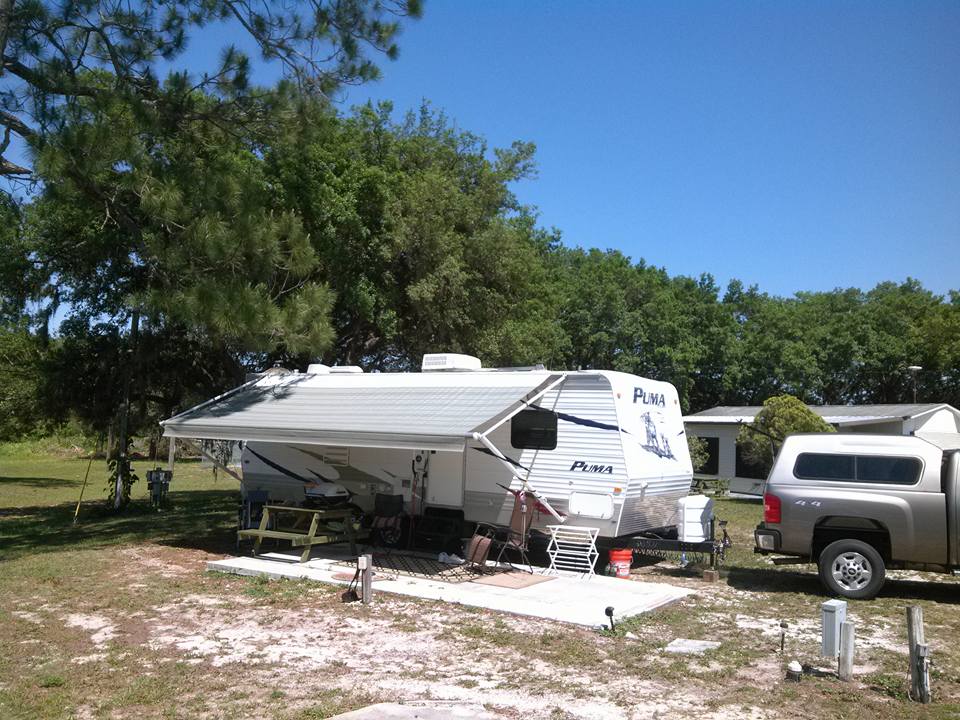 For Fletcher, the journey to RVing started with Sunday drives with his grandparents when he was about 5 years old. "I was told I would cry when I realized they were bringing me home," Fletcher said.
Fletcher also loved joining his father, a truck driver, on the road for day trips. Gradually, Fletcher's travel experience grew.
"In 1962 Dad bought a new car and rented a small travel trailer and took us to Seattle, Washington for the World's Fair. This made me realize there were places other than lumber yards at the end of the trip. Although the journey is still just as important, and sometimes more so, as the destination," Fletcher said.
More family trips expanded his world, and when Fletcher was 17 he enlisted in the Navy and his international travel began. When he married his wife, Fran, the couple began their own tradition of Sunday drives, which over time got longer. In 1978 they took a month off to drive across the country in a 1965 Chevy van. That "grand adventure" stuck in their memories and eventually inspired them to RV full time in 1998. They lived in an RV park for about a year before selling their business, then hit the road.
"Home has always been where we parked our house," Fletcher said.
Several years ago Fran was diagnosed with Alzheimer's disease, so the couple parked their RV. Fran died in October.
"It won't be the same without Fran but my plan, if all goes well, is to get back on the road and continue the adventure," Fletcher said.
Resources:
A comprehensive resource for all things RV, including a recreational vehicle comparison tool: https://gorving.com/
Documentary featuring perspectives on mobile living, including Vermonter Christine Carrington: https://www.youtube.com/watch?v=Lg37Cbx-kak
Pete's RV Center video resource library: https://www.petesrv.com/check-out-our–video-library
RV lingo explanation video from Pete's RV Center: https://www.petesrv.com/check-out-our–rv-lingo
Clover Whitham has been a journalist at Vermont newspapers for more than a dozen years and is now a freelance writer and editor near Burlington.
Related Articles & Free Subscription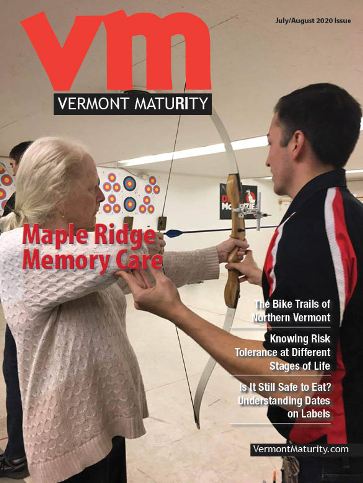 Hold the Salt—Five Freshwater Havens for a Lakeside Retirement Overseas
The Vermont Republic – The Story of When Vermont was an Independent Country
Thrifty Travel: How Retirees Can Find Cheap Travel Accommodations