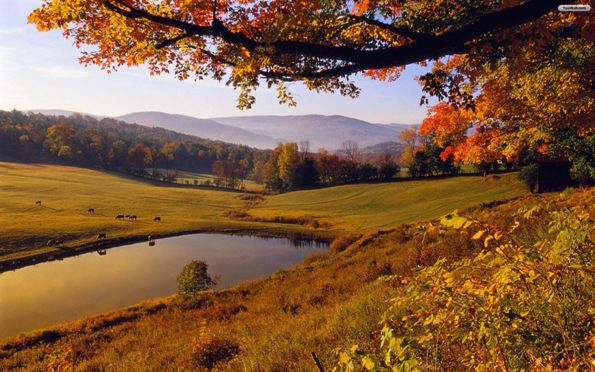 You'd be hard pressed to find an unworthy foliage drive in Vermont given that even the interstates cut through rolling hills and overlook idyllic valley villages. But there are several famed routes that will squeeze the best of what Vermont has to offer into one calendar-worthy drive. Make time to take in the views at scenic lookouts, gather a picnic at a village store or even stretch your legs on a hike. Foliage season varies year to year, but the state's Foliage Forecaster tool can help you determine when each region should experience peak color.
Covered Bridge Tour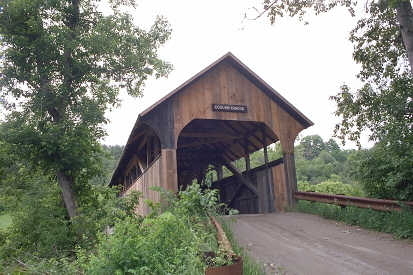 Montpelier to Woodstock and Killington, 140 miles
This three-hour tour (without stops) is about as Vermonty as you can get. It starts in the state capital and takes you to postcard-perfect Woodstock, through mountain towns and back up the iconic Vermont Route 100. And of course, it has covered bridges.
In Montpelier you can start by admiring the recently redone Ceres statue atop the golden dome of the statehouse, and visit the shops and restaurants of the country's smallest state capital. Hit the road by heading south on Vermont 12 toward Northfield. In Northfield you'll find five public covered bridges, three in close proximity on Cox Brook Road. The other two are the Slaughter House Bridge (Slaughter House Road) and the Stony Brook Covered Bridge, also known as Moseley Covered Bridge, on Stoney Brook Road.
Continue on Route 12 south to Woodstock, which also boasts some more lovely covered bridges: the Lincoln Covered Bridge on U.S. Route 4 near the Lincoln Inn and Restaurant in West Woodstock; Middle Bridge on Mountain Avenue near the intersection with North Park Street in Woodstock; and the Taftsville bridge near the intersection of Vermont 12 south and U.S. 4.
To loop back to Montpelier, from Woodstock, take U.S. 4 west to Killington, where you can pick up Vermont 100 north. This official scenic byway runs along the eastern edge of the Green Mountain Forest through picturesque and historic towns.
Attractions to consider on this loop are the Capitol District in Montpelier and Roxbury Gap, a mountainous, partially dirt road will take you to an elevation where you can look down on the foliage unfolding below. In Northfield, take 12A to Roxbury where you'll find Warren Mountain Road, which turns into Roxbury Mountain Road.
Additional attractions include Marsh-Billings Rockefeller National Historic Park at 54 Elm St., in Woodstock, Billings Farm and Museum at 69 Old River Road in Woodstock and Moss Glen Falls, a waterfall along Vermont 100 in Granville.
Poetry and Mountain Vistas
Middlebury to Appalachian Gap tour, 70 miles
This loop takes you from the pictorial college town of Middlebury up through the heart of the Green Mountains. The bridges in the heart of Middlebury offer ideal vantage points from which to take in the foliage and the town. When you're ready, head for the hills by taking U.S. 7 south to Vermont 125 east toward East Middlebury, also known as the Robert Frost Memorial Drive. Just past the village of Ripton you'll find the Robert Frost Interpretive Trail, an easy hike dotted with Frost's poems on trailside plaques.
Further east along Vermont 125 is the Texas Falls Recreation Area, another opportunity to immerse yourself in the foliage and stop for a picnic. The Texas Falls Nature Trail loop is about 1.2 miles long and takes about 1 hour to complete. A hike isn't necessary to find great photo opportunities, though. Parking is at the Falls Observation Site.
Continue the drive east on Vermont 125 to Hancock, where you take a left on Vermont 100 north, another scenic highway through the valley towns of Granville and Warren. After about 20 miles on Vermont 100 you'll find Vermont 17, also known as the Appalachian Gap Road. At the peak of the gap road you'll find stunning vistas of the valley and mountains, as well as access to the Long Trail. You may even catch a glimpse of Lake Champlain and the Adirondack Mountains to the west on a clear day. To head back, wind your way west down the Appalachian Gap Road to Bristol. You can stay on Vermont 17 back to U.S. 7 or take Vermont 116 as an alternate route to U.S. 7. Take U.S. 7 south to Middlebury.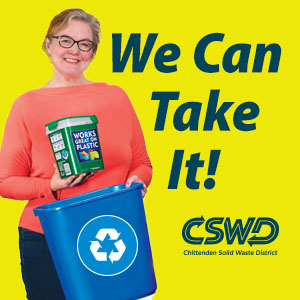 Attractions to consider include the Robert Frost Interpretive Trail , the Texas Falls Recreation Area and Bristol Falls, also known as Bartlett Falls.
Islands to Mountains
Burlington to the Champlain Islands to Mt. Mansfield, 110 miles
The Champlain Islands offer a foliage backdrop unlike any other in Vermont and are an easy drive from Burlington. From the city, travel north on U.S. 7 to the junction with U.S. 2 at Chimney Corner in Colchester, then take U.S. 2 east to South Hero, the first of the island towns. Before crossing the water you'll drive through the Sand Bar National Waterfowl Management Area and pass Sand Bar State Park. You can follow U.S. 2 to the northernmost island town of Alburgh, where you'll find Alburgh Dunes State Park with one of the longest natural sand beaches on Lake Champlain. Head back to mainland Vermont via Vermont 78 east.
On the eastern shore of the lake you'll find Missisquoi National Wildlife Refuge, a preserved wetland habitat for migratory birds. Head back south either on Interstate 89 or the more rural route, U.S. 7, to St. Albans City. Visit the shops, restaurants and a history museum in this small downtown for a pit stop. From St. Albans you can head south to Burlington or head east for more mountainous foliage backdrops in contrast with the lakeside vistas of the Champlain Islands.
From St. Albans take Vermont 104 south to Fairfax then on to the village of Cambridge. In Cambridge take Vermont 15 west to Underhill. These foothills towns hold views of Mt. Mansfield, or stop for a hike at the Underhill State Park which sits at the base of the mountain. Take Vermont 15 west to U.S. 2/U.S.7 to return to Burlington.
Attractions in this loop are Battery Park Overlook at Park and Battery streets and Burlington Waterfront Park at 10 College St.in Burlington, St. Albans Museum at 9 Church St. in St. Albans City, Sand Bar State Park , Alburgh Dunes State Park, Missisquoi Wildlife Refuge and Underhill State Park.
Clover Whitham has been a journalist at Vermont newspapers for more than a dozen years and is now a freelance writer and editor near Burlington.
Related Articles & Free Subscription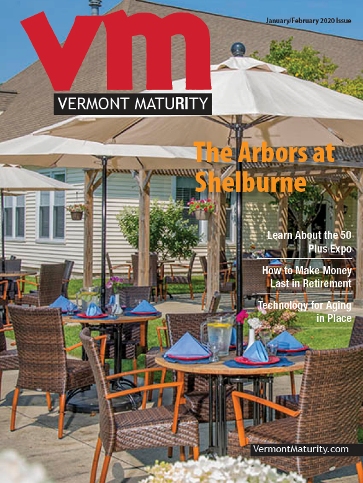 The Bike Trails of Northern Vermont
The Vermont Republic – The Story of When Vermont was an Independent Country
Free Subscription to Vermont Maturity Magazine