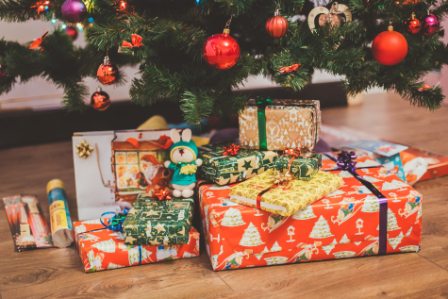 As much as I love Christmas, I must confess that there are some things about the holiday season I dread. I always get that heart-pounding feeling that my feet are in the starting blocks and any second I'll hear the signal to start running as fast as I can to make it to the finish line before midnight on December 24.
It's easy to let the busy chaos of Christmas get the best of us. We feel obligated to meet the expectations of everyone — kids, friends, relatives, communities and even our employers.
This year, try these five ideas to keep spending under control and to make your dollars go further.
Give Retail Value
Determine the amount you want to spend on each person on your list. Let's say you designate $50 for your sister. To your utter amazement, you find a gorgeous sweater at a high-end sample sale. It's her size and favorite color, marked down to $30. It's perfect. Don't spend another $20 on your sister to satisfy a notion that you must meet the $50 allotted. Your mission is complete. You purchased a lovely gift and cut the cost by at least 75 percent (you know what cashmere goes for these days!) The actual cost is your secret — and a reasonable way to cut the expense of Christmas.
Create Limits
There's something to be said for setting limits on how many gifts to give the kids and other family members. Fewer gifts mean less shopping, less wrapping and of course less spending. You may discover that less is more than enough.
Create Family Gifts
Rather than buying individual gifts for all the kids in one family, consider a single gift that will be enjoyed by everyone like a board game or DVD. Start thinking and soon your creative juices will kick in.
Get Creative
Not a talented artist or crafter? Don't worry. You can still create your own gifts If you have the basics like a computer, printer, paper supplies, writable CDs and DVDs, you can create unique gifts, and then duplicate as needed, giving the same gift to many on your list.
Ideas include a Family Calendar that is customized for your family and includes the names, dates and all pertinent information of every person's birthday, anniversaries and other significant dates. You can even search "printable calendar" online to find templates.

A Family Cookbook is another great idea, and could be a compilation of your own recipes and family favorites that have, perhaps, been passed down from previous generations.
Share your Family Memories in stories, pictures or movies. Select and transfer family photos and videos that capture the essence of your family's life over the past year. Add captions and short stories and you will have created the equivalent of an electronic scrapbook that can be easily duplicated.
As we head into the holiday season, don't concentrate so much on the money you have to spend, but rather on all that you have to give — your time and talents, too. It's the gifts that celebrate love and hope that bring us together as friends, families and communities. No matter how much you have to spend, we all have something to give. 
This article was contributed by Mary Hunt
Related Articles & Free Subscription
Give Your Christmas Tree a Second Life in the Landscape
Keep Holiday Plants Looking Their Best
Free Subscription to Vermont Maturity Magazine