Are you ready to be off on another Armchair Trip? Since the weather has been heating up, this time we'll head up and up into the Blue Ridge mountains for three days in eclectic Asheville. Then we'll drive down the mountain and across the state to lovely Carolina Beach, where we'll kick off our shoes and bury our feet in the soft sand, then dip them into the cool waters of the sea.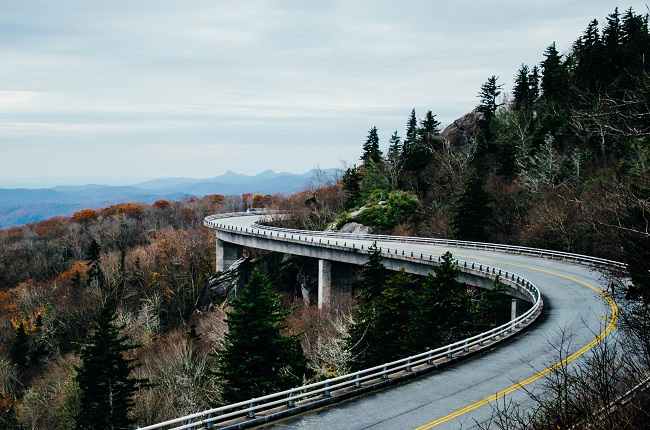 Monday… Driving the Scenic Route to Asheville
We will board a plane to Charlotte, NC on a Monday. After we pick up our rental car, we'll head up into the mountains to cruise along the high ridges of the Blue Ridge Parkway, then shift over to drive through expansive valleys until we reach Asheville. We will enter the mountains on their eastern end, driving up Highway 321 to the quaint little mountain town of Blowing Rock, where we'll stop for lunch and a walk-about before hopping up onto the Parkway.
The Blue Ridge Parkway snakes along the top ridge of the Appalachian Mountain chain, spanning 469 miles in Virginia and North Carolina. Started in the 1930s, during Franklin Roosevelt's presidency, it was completed in 1966, with a 7.7 mile "missing link" around Grandfather Mountain. This gap was closed some 20 years later by the Linn Cove Viaduct when technology had advanced enough to make its construction a possibility.
After a leisurely drive along the Parkway, with stops at overlooks along the way to take in the views, we'll shift over to 19E to travel the rest of the way to Asheville. Here we will still be surrounded by beautiful countryside, but without the breath-stopping drop offs and "King of the Mountain" vistas.
In Asheville, we'll be staying downtown at the Cambria Hotel, in the heart of it all. This will put us across from Grove Arcade, close to College Street, with its restaurants and music venues, and near tiny Wall Street, with its shops and cafés. Dinner tonight will be at Hemingway's Cuba Restaurant on the 4th-floor of our hotel, dining on Empanadas de Pollo followed by flan while watching a brilliant mountain sunset.
Tuesday… Vanderbilt's Castle
Today, we'll gape at the palatial interiors of Biltmore House and stroll the gardens. We'll also have tickets to the multimedia experience: Monet & Friends and an included winetasting at Biltmore Wineries. It won't take us long to grasp that we could just as easily be walking through one of the decadently lush French châteaux in the Loire Valley, where the French kings escaped Paris to hunt and dance, carouse and play.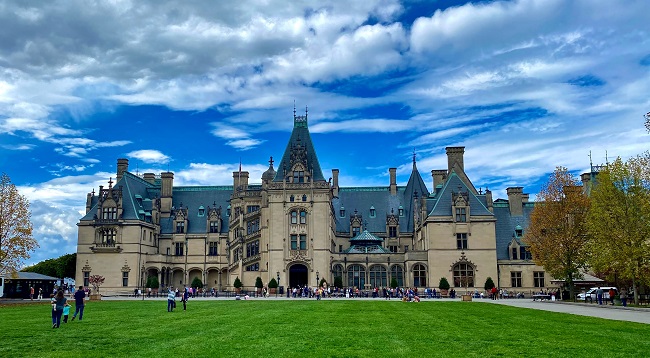 When we at last escape the maze of this massive house, we'll walk for a while through the acres and acres of perpetually blooming gardens. Pansies. Snapdragons. Rhododendrons. Climbing hydrangeas. Wisteria. Lilacs. Blue Iris. Azaleas – lavender, fuchsia, white, and flame. And we will step into the conservatory to see the orchids, Calah Lilies, and Flamingo Flowers. Then it will be time for our showing of the Monet & Friends 3-D experience. And after that, we'll have the option of a wine tasting at Biltmore Wineries.
When we've finished with the estate, we'll drive across the way to charming Biltmore Village, home to the numerous brilliant artisans imported here from Europe in the 1880's to create this French Renaissance chateau in the mountains, with all its carvings and sculptings, woodworkings and glasswork. Here we'll wander through the delightful New Morning Gallery, then browse through a few of the other village shops in search of "wearable art" and other unique treasures.
Dinner will be at La Cantina in Biltmore Village. As we ease into our seats with a sigh of exhaustion, we'll order a pitcher of red or white sangria and share an order of nachos, then select something appealing from the menu. Our goal will be to sit a while, share stories and enjoy the cool mountain air.
Wednesday… Asheville Immersion
Today we'll start by walking over to Babette's at Grove Arcade for coffee and beignets. Or we'll venture a bit further to The Med on College Street for a full Southern breakfast feast, complete with biscuits and gravy, sausage, eggs, and grits.
After breakfast, we'll immerse ourselves for a few hours in the shops at the Grove Arcade. Constructed in the 1920's by E.W. Grove, who made his fortune by inventing a tasteless Quinine "Chill Tonic" that "sold more than Coca-Cola" and "relieved the chills of Malaria," the Arcade was Grove's vision of a "palace of dining and shopping enchantment." Before he built Grove Arcade, Grove had recently completed the Grove Park Inn overlooking Asheville, where we'll be dining this evening.
At the arcade, we'll split up for a while so we can wander at will through shops without time pressure. Our "Meet-up" spot will be the Battery Park Book Exchange, where the first to arrive can locate a comfy hangout spot, then text the other where they are sitting. Lunch will be at one of the plentiful restaurants surrounding the arcade. Noni's Rotisserie Chicken? Modesto Italian? Here we'll pick an outdoor table, under a brightly colored umbrella, and indulge in a leisurely lunch while we watch the people go by.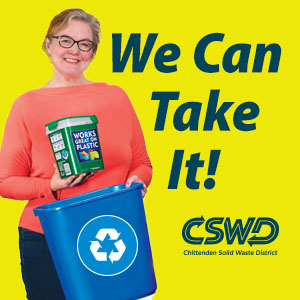 After lunch, we'll cross the street to the delightful Pinball Museum for a return to our youth. Here we'll purchase a wristband that entitles us to play the 30+ functioning machines for as long as we'd like. Dinner this evening will be at sunset at the Terrace Restaurant of the Grove Park Inn, looking out across Asheville to the surrounding mountains. This will be the perfect culmination of our visit to Ashville.
Thursday… Driving East Until We Reach the Sea
Today will be a day of contrasts… ending with oysters. We'll start the morning at high altitudes, and by late afternoon have our shoes off and our feet in the ocean. To break up the long drive, we'll stop for a seafood feast at Dale's Seafood, with views overlooking Lake Waccamaw. Oysters, scallops, shrimp, catfish, clams (or several of these combined)? We'll want to order enough extra food to take along plenty of great leftovers.
In Carolina Beach, we'll stay at the ocean-front Hampton Inn & Suites, with the ocean in our front yard, next to the Boardwalk. Our priority after checking in will be to get out to the boardwalk for a nice long walk, taking in our surroundings. We'll turn left and walk north, then turn back the other way, then kick off our shoes and walk down to dip our feet in the water. When we spot an empty swing along the boardwalk, we'll claim it and "set a spell." Tonight, we'll reheat our remaining plunder from Dale's and dine on our balcony overlooking the ocean, with our shoes off, watching as darkness falls and the moon rises over the water.
Friday… Boardwalk & Beach & Maybe More
Today we'll awaken to the sounds of the surf, and a complimentary breakfast to enjoy before we leave our hotel. Since our room is right on the beach, with the boardwalk beside our front door, we may decide not to bother with the car today. We'll have a loose plan of activities, but we'll keep in mind that we are at the beach. So, we'll reserve the right to veer off course whenever we so choose just to lounge in the sun beside the ocean-side pool… Or bob or boogie board in the surf… Or walk the beach…
For our beach time, we'll rent two comfy beach chairs and an umbrella. For outings, we'll have the fascinating North Carolina Aquarium, just a few miles away. We also may want to check out little Fort Fisher that valiantly managed to keep the port of Wilmington open until the final few months of the Civil War, the last remaining supply route open to Robert E. Lee's Army.
Tonight, we'll treat ourselves to a seafood feast at Jack Mackerel's Island Grill on the covered patio. Maybe stuffed flounder with pasta. Or a seafood trio with flounder, shrimp, and oysters. Or fresh lump crab. Or Scallops. And we'll finish up by sharing a slice of the Godiva Chocolate Cake.
This evening, we'll sit on our balcony again, watching the moon on the water and relaxing to the sounds of the waves. Tomorrow we'll be flying home. But we'll leave a bit of our hearts here in sweet Carolina, and vow to return for real one day.
Now retired from a 40-year career in education, Dr. Duckworth co-authors, with son Brian Lane, the "Great Trip Guide" Series—detailed guidebooks to taking memorable, immersive, fully independent trips in Europe, Canada and the USA (GreatTripGuide.com). Contact Carolee Duckworth at cwcamer@charter.net.
Related Articles & Free Vermont Maturity Magazine Subscription
An Armchair Trip to Two Southern Beauties: Charleston & Savannah
How to Travel in Style and Hassle Free
Medicare Coverage Options for Retirees Eager to Travel
Free Subscription to Vermont Maturity Magazine