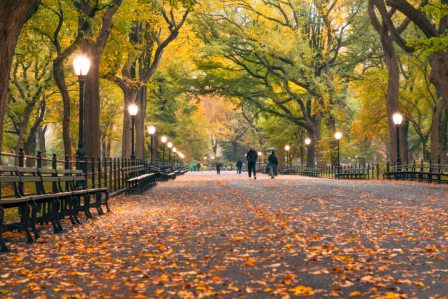 My mom read her morning paper on a park bench that was "adopted" by the Madoff family (yes, that family). My own daily park route takes me past William Shakespeare and Sir Walter Scott on the Literary Walk. Two guys on bass and guitar, usually strumming "Sweet Georgia Brown," stand by the statue of the beloved husky Balto, whose dogsled team carried antitoxin through a blizzard to halt a diphtheria epidemic; invariably, a kid is sitting on its back being photographed.
Practically everyone in New York has a favorite spot in the park. Joggers love the track around the Jacqueline Kennedy Onassis Reservoir (she ran there frequently). For birders, it's the dense foliage of the Ramble. Pug owners congregate at Pug Hill.
In fact, a roster of famous New Yorkers introduce their own pet places, marked with small green signs and identifying numbers, to passersby via cell phone. Dial 646-862-0997 plus that number to hear Alec Baldwin talk about playing ball at the Great Lawn (16#), John McEnroe at the Tennis Courts (37#) and Yoko Ono at Strawberry Fields (36#), celebrating its 25th anniversary this year.
I recently met Doug Blonsky, the president and administrator of the Central Park Conservancy, at the Loeb Boathouse, the park's idyllic lakeside restaurant, for a park tour. His megawatt enthusiasm stokes the park engines.
We headed north along the East Drive, and a few minutes later he slowed in front of a bronze panther crouching on a boulder.
"The park is full of marvelous animal sculptures, even though most people only know Balto," he said. "I love this one — it's called 'Still Hunt.'"
We walked past the reservoir and into the park's northern reaches to one of its crowning glories: the Conservatory Garden at 105th Street and Fifth Avenue. It's actually three floral landscapes in distinct styles — Italian, English and French — in continuous bloom from early spring through late October. The six-acre gardens and filigree wrought-iron Vanderbilt Gate are beloved backdrops for wedding ceremonies and photographs, as are several other bucolic spots around the park (permits required for both). Every month of the year something is blooming somewhere; a park bloom schedule notes where and when.
Just north of the garden we slipped into a time warp of American history. This rugged terrain is where the Brits camped out during the American Revolution, monitoring George Washington in nearby Harlem, and almost 40 years later the Americans rebuilt their fortifications in the War of 1812. McGown's Pass, Fort Clinton and Nutter's Battery were all defenses against the British, who never did invade the area. The stone shell of Block House No.1, near 110th Street, is the only remnant left.
The craggy landscape overlooks the Harlem Meer, once a swamp and now a tranquil lake for fishing. The Charles A. Dana Discovery Center, one of four activity centers, provides free poles, unbarbed hooks, and bait for catch-and-release fishing.
"Our three other centers also lend game equipment," Blonsky said. "At Belvedere Castle we give out a backpack with binoculars and bird guides for self-guided birding in the Ramble. At the North Meadow Recreation Center it's bats, balls and other sports equipment for play around North Meadow fields. And at the Chess and Checkers House, game pieces for the 24 game-board tables."
Looping south on the West Drive the landscape opens up to wide meadows, with dozens of ball fields. Blonsky stopped at a particularly barren stretch.
"This used to be dense forest before a freak storm last August roared across the park, uprooting more than 500 trees," he said. "The devastation was brutal, but we're looking on it as an opportunity to clear out some long-neglected tree stands and make meadows for people to picnic and new habitats for bird life."
Most of the downed trees have been turned into mountains of wood chips for mulch, but one huge fallen trunk is still there as a reminder of the park's worst day.
Most people know the park best for its public events — the Shakespeare Festival in summer, New Year's Eve fireworks and midnight run, the Great Lawn performances of the New York Philharmonic and the Metropolitan Opera — but creating a place for small pleasures is exactly what its two designers, Frederick Law Olmsted and Calvert Vaux, had in mind when they won the 1858 design competition to turn 843 city acres of swamps and rocky schist into the first public park built in America. Their vision, as Olmstead put it, was to create "long spaces that you could dream away in" and provide separate spaces for walkers, horseback riders, birders, ball players, picnickers and cars. Their solution was a brilliantly interlocking design: They sank through-traffic transverses below ground (and eye) level and discreetly set 36 distinctively designed bridges across ponds and lakes and over the drives and bridle paths that loop around the park.
This Greensward Plan was a monumental effort that took 15 years and more than $14 million (roughly $200 million today). To begin with, Olmstead and Vaux had to relocated 1,600 residents who were living in several small villages; move nearly 5 million cubic yards of stone, earth and topsoil; and transport flocks of sheep upstate from the Sheep Meadow (lest they be used for food by Depression-era New Yorkers).

Today Central Park is the model for urban parks worldwide and a National Historic Landmark since 1963. Its lakes and woodlands, gardens and trails, rocky schists and dense rambles are the heart of the city and, with 30 million visitors a year, New York's second most popular attraction after Times Square.
It is run by the Central Park Conservancy, a private, not-for-profit organization that provides 85 percent of Central Park's $27 million annual operating budget; the rest comes from the city. The stats are staggering: 250 acres of lawns, ball fields and playgrounds; 150 acres of lakes and streams; 69 miles of roads and paths; 6,000 trees, including 1,700 prized and endangered American elms — not to mention monuments, bridges and buildings.
All this is in the care of 250 staff and a few thousand volunteers. It's no surprise that volunteering is one of the ingenious ways the park solicits support. You can endow a tree ($5,000), donate daffodils or tulips ($1 per bulb) or work (35 gardeners help the Conservatory Garden staff of five).
A favorite way is to adopt one of the 9,000 benches ($7,500). Their bronze plaques tell moving tales of love and loss: "Michelle, Will you marry me? Love, John" and "To My Knight in Shining Armor; the Love of My Life, Mouse."
Central Park is the front yard for half a million people who live within a 10-minute walk. Some days it seems every one of them is there, usually with a dog or a camera. And it isn't long before someone asks me to take their picture by a tree — or astride Balto.
If You Go
"Seeing Central Park" is the official map for all the walks and sights, the location of cafe/snack bars and restrooms. Pick it up at a kiosk or visitor center near main park entrances, or visit Centralparaknyc.org.
Loeb Boathouse serves American food every day at lunch or weekend brunch, and at dinner from April through November. Its casual cafe is open from 8 a.m. to 8 p.m., winter to 4:30 p.m.
Kids (and adults, too) who visit Central Park in New York love to have their pictures taken on Balto, the beloved husky whose dogsled team brought needed medicine through a blizzard.
Clowns and jugglers are among entertainers who enchant kids every weekend at New York's Central Park.
Bethesda Fountain overlooks the lake and the Loeb Boathouse, Central Park's only formal restaurant.
Joan Scobey is a freelance travel writer. 
Related Articles & Free Subscription
12 Steps to Take the Minute Your Identity Is Stolen
How to Pay Half as Much for Your Next Vacation
How To Throw Out Your Phone On A Summer Road Trip
Free Subscription to Vermont Maturity Magazine