My husband Tim and I sold our home, got rid of most of our possessions, stored the things we treasured most and hit the road three years ago to live internationally without a home base. Naturally, our family was astonished when we made such a radical move, but they've come to embrace our exciting new life and celebrate the notion that older people can choose to do more now than any earlier generation.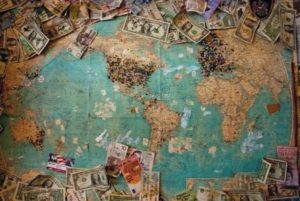 We've had hundreds of questions, too, the most prevalent being about money. People are fascinated about how we can possibly afford to live in London, Paris, Lisbon, Berlin, Dublin — nine countries in three years— without completely going through our savings and ending up on our children's doorsteps.
First, we aren't wealthy, but we have an excellent financial advisor who gives us a monthly stipend from the proceeds our reasonably sized portfolio generates. That money, plus our social security checks, provides us with enough to live almost anywhere as long as we do it carefully.
We have learned by doing, and in over three years we have not needed to ask our financial guy for more than we agreed upon when we started our adventure. Our biggest costs are transportation, food and lodging, and when we devised the plan to spend our remaining active years on the road, my husband Tim set out to become an expert in finding ways to control our expenses in those areas.
Transportation
Tim learned quickly that "repositioning" cruises were our best bet for getting ourselves to a part of the world where we wanted to spend several months. Most cruise lines move their equipment from one part of the world to another twice a year, and passengers who come along enjoy all the benefits of a regular cruise at about half the price. All the same shows, abundant food and activities are available to repositioning passengers, and since most of the them are retired, it's a great place to meet new friends who share our interests. These cruises are generally in the spring or fall, which is not prime travel time for those with jobs or children.
Housing
Staying in hotels is not only cost-prohibitive, but it also isn't the best way to get to know a city. Being able to live like the locals was one of our original objectives in setting out to live a home-free lifestyle, so being cooped up in a hotel was obviously not the answer. We discovered HomeAway.com and VRBO.com early, having owned property vacation rentals ourselves several years ago in Mexico, so choosing them to supply our havens on the road was a natural for us. At about half the cost of hotels, we enjoy a living room, a kitchen and, most of all, the opportunity to live in a real neighborhood in the places we visit. We try to stay no less than 30 days in any location, and sometimes longer, which allows us to bargain a bit with the owner. When we're visiting off-season, Tim has sometimes structured some truly amazing deals. Many of the owners and neighbors we have enjoyed through the years have become our really close friends, a benefit we never anticipated.
Food
Vacation rental houses and apartments allow us to shop in the local markets and cook as many meals at home as we wish. Almost every city in the world now offers farmers markets, and we make a real effort to find them. Not only can we save money, we also get much better products and have more of an opportunity to understand the culture we are visiting.

We've found that having lunch out and a light meal in the evening at home is not only healthier for our bodies, but it also improves our budget. Although most people don't want to live full time on the road, these methods can work just the same for a three week vacation as they have for our three year excursion.
Lynne Martin is the author of Home Sweet Anywhere, How We Sold Our House, Created a New Life, and Saw the World.
Related Articles & Free Subscription
Hold the Salt—Five Freshwater Havens for a Lakeside Retirement Overseas
Thrifty Travel: How to Find Inexpensive Travel Accommodations
Free Subscription to Vermont Maturity Magazine