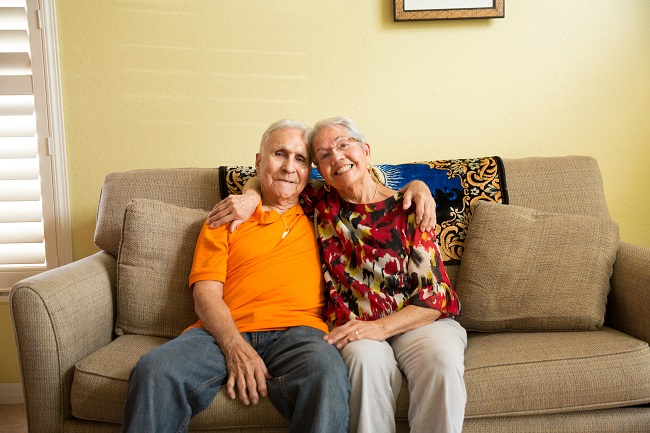 Welcome to Age Well's feature in Vermont Maturity! It is hard to believe winter is almost here. Age Well staff and volunteers have been busy as ever providing wraparound services to help older Vermonters age with confidence and dignity. Keep reading to learn more about new offerings, health, and wellness tips, and much more.
Age Well News
Medicare Open Enrollment is Upon Us
The annual Medicare Open Enrollment Period is started on October 15 and lasts through December 7, 2022. This is the time of year to check your Medicare drug coverage for 2023 and to change your drug plan if necessary. It also offers an opportunity for those Medicare beneficiaries who do not have a drug plan to enroll into one.
State Health Insurance Program counselors are available in each of Vermont's Area Agencies on Aging. Whether it is helping someone access their prescription at a lower copayment, helping someone transition from coverage through Vermont Health Connect to Medicare, or assisting someone who is still working and eligible for Medicare, SHIP counselors are the most trusted source of Medicare information and assistance. Call Age Well's Helpline and ask for SHIP at 800-642-5119.
Support Finding Fuel Assistance
No one should go without heat during the cold Vermont winter, Age Well can help you navigate and understand the various fuel assistance programs you may be eligible to receive. Call the Helpline to learn more at 800-642-5119.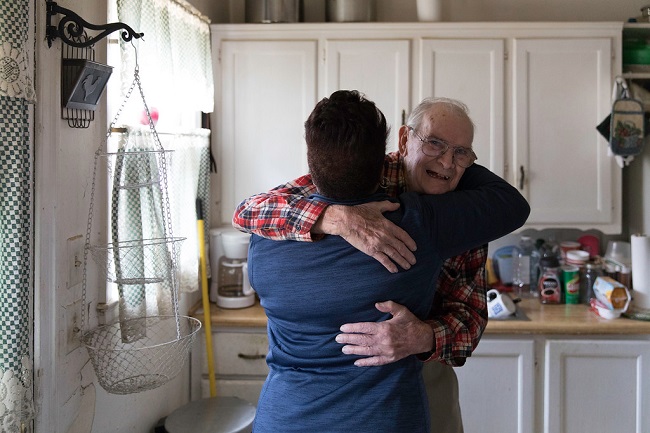 Make New Friends as a Friendly Visitor
When you sign-up to become a Friendly Visitor volunteer you will matched with an Age Well client based on common interests with the hope of developing an ongoing supportive relationship that spans months to years. It's a very personalized role; each person is going to have different needs. Activities can vary including reading for someone who is visually impaired, going on walks, crafting, baking, and more. It's really whatever the client requests, but it's always interesting and rewarding. Learn more about volunteering by contacting our Volunteer Services team at 802-662-5249 or volunteer@agewellvt.org.
Eating Healthy with 3SquaresVT
Eating healthy is so important for a variety of reasons. On a fixed income, it can be more difficult. That's where 3SquaresVT comes in. If you meet income guidelines, you will receive money every month to use to purchase food. It's important to know that everyone that is eligible, will receive assistance and you're not taking away benefits from someone who might need it more than you. You may qualify even if you have money in your bank account or own your own home. The average monthly benefit for an older Vermonter living alone is $100.00.
3SquaresVT is a federal USDA program called SNAP nationally. 3SquaresVT benefits bring federal tax dollars into Vermont and stimulates the local economy. Vermonters who meet income requirements can receive the benefit. Everyone should apply, especially those on a fixed income. We know that there are many eligible individuals or couples who have never received this benefit. There is no limit to the number of Vermonters who can receive this benefit, so we encourage all individuals to apply.
You can apply for 3SquaresVT on-line, by mail, or call the Helpline at 800-642-5119. Age Well staff can help you easily navigate the application, answer any questions you may have, and help you recertify as needed.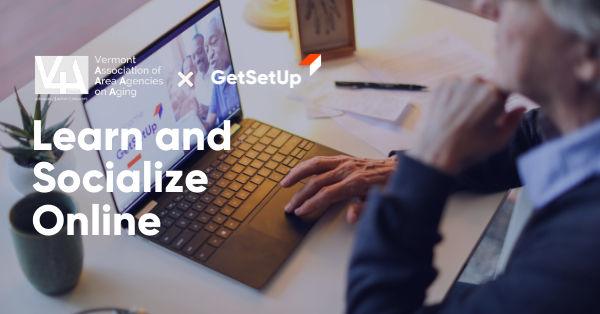 GetSetUp
Age Well along with the other Vermont Association of Area Agencies on Aging have partnered with GetSetUp, the largest and fastest-growing online platform dedicated to virtual learning, specifically for older adults. GetSetUp provides live interactive classes by older adults for older adults, which they can access easily right at home. Learners can choose from a catalog of over 3,000 classes that shift weekly and are available around the clock for the next year. Learn more and sign up for free classes at Getsetup.io/Partner/Vermont.
Age Well Programs & Services
Age Well believes that health happens at home and focuses on lifestyle, happiness, and wellness—not on age. For over 40 years, Age Well has provided adults 60 years and older in Northwestern Vermont with the necessary support to manage their daily living needs, with the goal of keeping them active, healthy, and independent.
Age Well offers Care & Service Coordination, Meals on Wheels; community meals; wellness programs; social activities; transportation services; expertise on Medicare, insurance, and long and short-term care options; and a Helpline free of charge to older Vermonters and their caregivers in Addison, Chittenden, Franklin, & Grand Isle counties.
Give Back this Holiday Season
Without generous donors, our work would not be possible. Age Well's services are provided free of charge, your support helps us keep these services free and accessible to those in need. Your support means when an older Vermonter calls, we are there to answer and meet their needs. Whether one-time, monthly or in honor of someone special, your gift helps older Vermonters here in Northwestern Vermont age well. Make your tax-deductible gift today at Agewellvt.org/Giving-Back. Age Well is a 501(c)3 non-profit, Tax EIN 22-2474636. Donations are tax-deductible.
Legacy Giving
Make generosity a part of your legacy. Your planned gift would play a key role in the future of Age Well and enable us to adapt and thrive, ensuring the health and wellness of our aging population for years to come. To leave a gift to Age Well, consider using the following language in your will. "I give and bequeath unto Age Well, tax ID #22-2474636, ___% of the rest, residue, and remainder of my estate to be used for general charitable purposes."
Benefits of Making a Legacy Gift
You leave a legacy that will be remembered.
Know that your generosity will help generations from now have access to healthy meals, care coordination, and more to help them age well.
It costs you nothing now, and you retain control of your assets throughout your lifetime.
You lessen the burden of taxes on your family
You may receive estate tax savings
Age Well's Development Team share your passion to ensure older Vermonters have access to services to age with confidence. We would enjoy speaking with you to find out more about your goals and how we can best serve you. Contact Sara Wool, Director of Development & Major Gifts at swool@agewellvt.org or 802-662-5229. Thank you.
How to Contact Age Well
Learn more about all of Age Well's services and ways you can give back by calling the Helpline at 800-642-5119 or visiting our website AgeWellVT.org.  You can also find stay up to date by following us on Facebook, Twitter, Instagram, & LinkedIn.
Related Articles & Free Vermont Maturity Magazine Subscription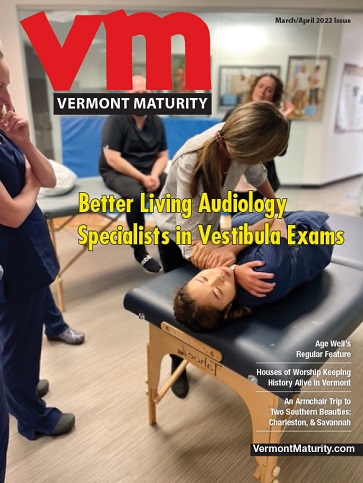 Vermont's Covered Bridges are Where History and Beauty Converge