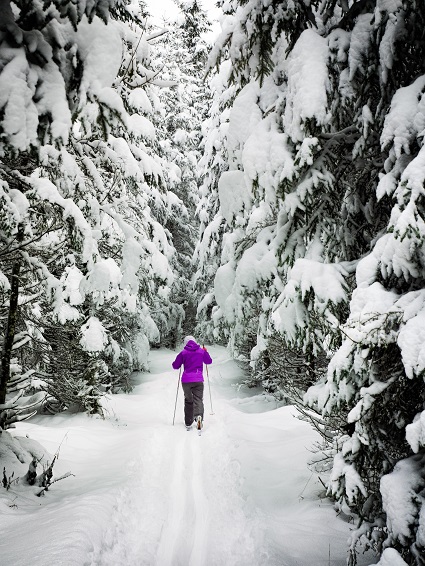 Cross-country skiing has been having its moment in the bright winter sun. In 2018, the United States brought home its first Olympic gold medal in Nordic skiing when Kikkan Randall and Jessie Diggins won the women's sprint relay with a breathtaking finish. Then, last winter, headlines proclaimed Nordic skiing as "the ideal pandemic workout." Equipment sales soared across North America for the sport that got people out of the house in a way that was naturally socially distanced. Vermonters were part of the trend.
"Despite a shortened season due to snowfall, skier days at Vermont's cross country ski areas were up 14 percent last winter compared to the 2018-19 season (the last uninterrupted season) and we expect to see another strong winter this year," Ski Vermont President Molly Mahar said.
Skirack in Burlington saw an increase in sales last fall and that strong demand continued through the winter, said equipment buyer Kyle Darling.
"This year's starting off similarly, with even more early season interest," he said. "A lot of folks missed out on equipment last season and they're looking early. Combine that demand with a global supply chain that's having issues with delays and shipping problems and finding what you want can get tricky."
Cross-country skiing can be a relatively accessible antidote to cabin fever and pandemic restriction fatigue.
"Cross country skiing provides a low cost, low impact opportunity to get outside, get some fresh air and exercise during the winter months. It is also a peaceful way to enjoy beautiful Vermont scenery with friends and family," Mahar said. "We know that being outside is the safest place to be from a COVID standpoint, and many people have found a new or renewed interest in getting outside for sports and activities as a result of the pandemic."
It's also a customizable sport, said Darling. Pandemic or not, its flexibility is part of the attraction.
"I think the ability to exercise on their own, or with a small group of people, appealed to a lot of people. They can go out into the woods, through the fields, and get away from the stress of everyday life. It can be pretty solitary if you want it to be, or it can be a really social occasion, works for everyone," Darling said.
Vermont is home to more than two dozen cross-country ski areas, plus other trail networks maintained by clubs or volunteers. From far northern to far southern Vermont, there are trails of all kinds to discover. Some will be expertly groomed for both classic and skate style skiing, some are ungroomed backcountry trails. Each ski area has unique terrain and amenities, and most offer trails suitable for all skill levels.
"Cross-country skiing is relatively easy to learn, but it is a good idea to take an introductory lesson at a cross-country center if you are trying it for the first time," Mahar said.
Most ski resorts offer ski lessons and equipment rentals. There are two styles of cross-country skiing: classic and skate styles. In classic skiing, skiers keep their skis parallel and when available, inside groomer-set tracks. Skate skiing involves shorter skis and forward motion achieved with diagonal, V-shaped strides on wider groomed trails. Most beginners start with classic, as it's easier to pick up.
Many lists of cross-country ski resorts in Vermont start with Trapp Family Lodge. It is among the largest with more than 100 kilometers of trails that include about 60 kilometers groomed. The trail system includes field trails as well as black diamond trails that climb up to a cabin in the woods. And should the Trapp family name ring a bell: yes, it's the von Trapp family of Sound of Music fame. The resort, located in Stowe, offers lessons, rentals and onsite lodging. On campus you'll also find a bakery, brewery and other winter sports and activities beyond skiing.
Most downhill skiing resorts also have cross-country trail networks, as is the case at Bolton Valley Resort. Bolton Valley Nordic offers 15 kilometers of groomed trails and upwards of 100 kilometers for those interested in backcountry skiing, Alpine touring, splitboarding, snowshoeing and winter fat tire biking. Bolton is known for its backcountry terrain but also offers rentals and lessons for beginners.
Catamount Outdoor Family Center, located in Williston just 8 miles from Burlington, is a great place to start out when the snow is good. The location's lower elevation means its season is often shorter than others' but when the snow is good the terrain is an ideal mix of flat or rolling trails for novices and more challenging terrain for those who want it. Rentals and lessons are also available, as are snowshoeing and fat tire biking.
In southern Vermont, Prospect Mountain Nordic Ski Center often has snow earlier and longer than even the surrounding towns thanks to its 2,250 foot elevation in the mountain town of Woodford. Prospect has more than 30 kilometers of wide, groomed trails making it a great place to learn both styles of skiing. Tracks for classical skiing are usually set on both sides of the trail with a wide skating lane in the center. Prospect also has a large base lodge that serves food and drinks, plus a rental shop and lessons by appointment.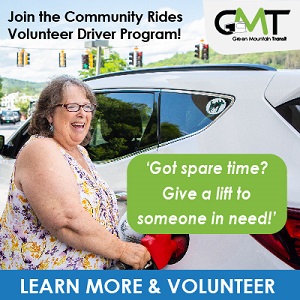 A growing number of cross-country resorts are adding snowmaking abilities to their trail systems. In central Vermont, Mountain Top Inn & Resort has a 2 kilometer snowmaking loop as part of its 60 kilometer trail system. The nordic center has been operating for 50 years and also offers lessons, rentals and some pet-friendly trails. With an onsite lodging and a spa, it's a great place for an in-state winter getaway.
This is just a small sample of the cross-country resorts in Vermont. Other options for those with equipment include volunteer-maintained trail networks, such as Camels Hump Nordic in Huntington, and other public open spaces. Local ski clubs and ski shops could help recommend new trails to explore.
Check out Ski Vermont's cross-country ski resort finder tool at: Skivermont.com/mountain-finder
Trapp Family Lodge: TrappFamily.com/skiing-snowshoeing.htm
Bolton Nordic: BoltonValley.com/winter/activities/nordic-skiing-snowshoeing
Catamount Outdoor Family Center: CatamountOutdoor.org
Prospect Mountain Nordic: ProspectMountain.com
Mountain Top Inn & Resort: MountainTopInn.com
Camels Hump Nordic: CamelsHumpSkiers.org
Clover Whitham has been a journalist at Vermont newspapers for more than a dozen years and is now a freelance writer and editor near Burlington.
Related Articles & Free Vermont Maturity Subscription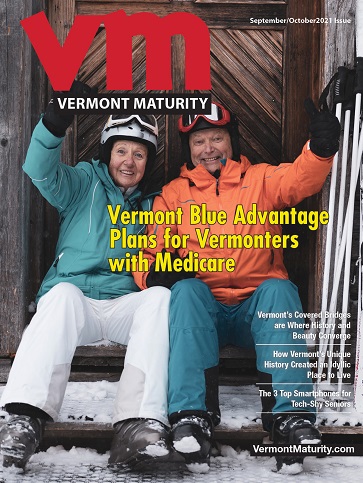 Skiing in Vermont: Big Ideas and Quirky Characters
The Vermont Republic – The Story of When Vermont was an Independent Country
Free Subscription to Vermont Maturity Magazine