In less enlightened times, they were once called Dowager Homes. Later, the notion of Granny Flats came into prominence. More recently, Secondary Suites or Accessory Residences have become common urban-planning terms.
But Denise Nagelschmidt quips that her parents – Ruth and Stuart Sharp – actually landed at "a resort." After all, these fortunate seniors don't need to cook for themselves anymore and there's a pool outside the nine-room Colchester house where they're ensconced on the spacious ground floor. Their daughter and her husband, Charlie, live upstairs.
When aging moms and dads can no longer manage independently, the answer might be a separate unit on property that would otherwise host only their grown children. If the potential costs don't allow expansion, some people opt to share whatever space is available.
To address such choices Home Instead Senior Care, a nationwide company with a franchise in South Burlington, has just launched Too Close for Comfort? This initiative is "brand new and cutting-edge," suggests Karen Koechlein, the local branch's community service representative. "There's never been a resource like it before."
For starters, Home Instead is offering a free 19-page guidebook to help parents and their offspring chart a course for the future. "It's about figuring out how they make the decisions that are best for them," she notes. "How might it affect small children in the family? How might it affect if we go on vacation? We also include a cost calculator to understand possible changes in their financial situations. And my staff will be trained to answer simple questions."
In exploring potential "emotional rewards, changes in the dynamic of a household, tips on intergenerational living, comfort and safety," the goal is to determine what works best, says Koechlein, who will soon be presenting information about this resource at senior centers and church groups across the five Vermont counties served by Home Instead. "It's ready to roll."
As a touchstone for people who may feel adrift, Koechlein adds, "at least they'll have tools to decide if they can even begin the conversation."
Nagelschmidt began that chat with the Sharps a few years ago, before 'Too Close for Comfort?' was on the scene. Ruth, 88, and Stuart, 91, were still in Peabody, Massachusetts in late 2005, unwilling to consider assisted living. Instead, they moved from their house to an apartment that was not ideally suited for them.
"I would call my mother every night and noticed she was having [memory] trouble. Dad was on a walker then; he's now in a wheelchair," says Nagelschmidt, 49. "My husband and I wondered if we should relocate there or should I just keep going back and forth all the time."
The couple thought of building an addition on their house but realized it was not a good option. They eventually found a place with a bedroom, office and living room on the first floor, as well as comparable quarters upstairs. Grab-bars and a ramp were installed for safety and accessibility. By October 2006, despite some reluctance to leave behind their five grandsons and three great-grandchildren, the Sharps could call themselves Vermonters.
"It's alright," observes Ruth, when asked how she likes the new digs.
"I'd like to see a few changes but other than that it's OK," Stuart contends.
What sort of changes?
"I only think about that when I'm dreaming," he surmises.
"We've all had to compromise," Nagelschmidt points out. "We waited until it was the right time to live together."
The right time for Dawn Densmore of Highgate Center is now. After a period of indecisiveness her father, Gardner Palmer, finally migrated north from Virginia in May. Although dementia wasn't an issue for the 84-year-old widower, she's had to grapple with his physical limitations.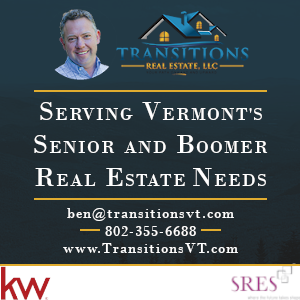 "He can't do stairs," Densmore, 57, explains. "My biggest worry is that he doesn't want to use a walker, only a cane. He sees that as being disabled, but he's already fallen a few times."
She purchased a house, conveniently next door to her own, that already had a finished basement, a bedroom and bathroom with a walk-in shower. "All I had to do was put in a kitchen," Densmore says of the ranch-style dwelling, where she rents out the upper level to help cover expenses. "His place in Virginia had a few steps to get inside but this one has none."
The Highgate Center abode also is adjacent to a man-made lake, not a bad perk for this retired carpenter.
A few of Densmore's eight siblings are from neighboring towns and they'll check on Palmer, a native of Georgia in the Green Mountain State, during the week. "It'll be me on weekends, doing his laundry, taking out the trash, probably grocery shopping," she says. "I think he's still able to be on is own for the most part, especially once he gets going on a walker. Maybe he can even try fishing or at least sit on the bench by the water. It will be brave new world."
'Too Close for Comfort?' is a nascent program, but Densmore did have a toehold in the brave new world of organizing living arrangements for her father. For six years, she's been working as a part-time Home Instead care provider, in addition to her full-time job as a director of outreach and public relations at the University of Vermont's College of Engineering and Mathematical Sciences.
"I've been working day and night to afford the right and privilege of moving my dad nearby," Densmore says. "I deal with the physical needs of people as they decline, so I'm not afraid of the level of care he'll need. I know exactly what I'm walking into. And I'm so excited to have him here."
As a lovely personal touch, she had a large section of the picket fence he built three decades ago on another Vermont site installed outside his 2009 dwelling. And his forwarded mail was waiting on the kitchen table for him when he first arrived. Densmore acknowledges: "It's the little things. I want him to feel like this is truly his home."
Denise Nagelschmidt, executive director of the Vermont Children's Aid Society, needed to take time off from her previous job to handle the transition when the Sharps moved into their Colchester "resort." At the moment, she's pondering the next step – because there's always a next step in the aging process – for coping with her father's mobility problems. Perhaps he'll envision whatever changes are necessary in one of his dreams.
Now, Nagelschmidt relies on Home Instead care providers to spend five hours with them each weekday. However, she has begun to realize there are many fellow travelers on the complex path to giving beloved elders a new lease on life.
"At a dinner party recently, there were about 20 people asking me what to do," she recalls. "A woman I work with moved to Maryland for two years to be with her parents. Another friend built an addition for her mother but they wound up not being able to live together. With my folks, even though it's easier than I anticipated, we just play it by ear day to day."
This article was contributed by Susan Green.
For more information about 'Too Close for Comfort?' visit Homeinstead.com or call 802-860-4663.
Related Articles & Free Subscription
10 Things to Look For When Selecting a Caregiver
Making it Possible for Vermonters to Age in Place
Tips for Hiring a Home Healthcare Worker
Free Subscription to Vermont Maturity Magazine