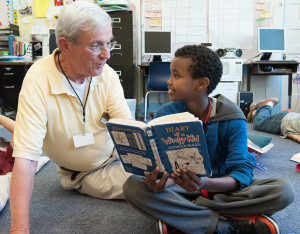 Retirement provides the luxury of time to spend with family, on new interests or traveling. But sometimes, retirees can find themselves with a little too much time on their hands.
After a career with the City of Burlington, Margaret Ruttledge of Winooski wanted something to do.
"I needed something to give me a reason to get up in the morning, otherwise I just slept all day. I was getting fat and lazy," she said with a laugh.
So, Ruttledge joined United Way's Foster Grandparent program, a long-term program that places volunteers in preschool, elementary school or middle school classrooms.
"We match older adults with a lifetime of enthusiasm and skills with children within early education settings," said Ellen Biddle, director of the program. "They work with children the teachers identify as being in need of some extra support, whether its academic support or just needing an extra caring adult in the classroom to provide them with a positive role model and encouragement."
Ruttledge spent seven years volunteering in a first grade classroom at JFK Middle School in Winooski. She said many of the kids would come into the classroom not knowing how to read, write or do math. By the end of the year, they could do all those things.
"It really makes you feel good to think you can help somebody learn," she said. "It really gives you a good sense of accomplishment. I just love the kids and they seem to all love me, too."
She now volunteers with toddlers at the Pine Forest Children's Center in Burlington.
"It keeps me younger," she said. "I'll be 86 in July, but everybody tells me I don't look and they say I don't act it."
Volunteering can give retirees a flexible way to meaningfully contribute to the community. In addition, a growing body of studies has shown that volunteering improves physical health, reduces depression rates and even reduces mortality rates—especially for older volunteers, according to the Corporation for National and Community Service.
Several local agencies offer a variety of ways to get involved.
United Way of Northwest Vermont runs two volunteering programs for those 55 and older—RSVP and Foster Grandparents.
"They both engage volunteers 55 and older in important work out in the community," said Biddle, director of both programs.
RSVP matches volunteers with organizations based on their skills, interests and number of hours they want to volunteer.
"The RSVP program is incredibly flexible," Biddle said, adding that volunteers take on roles from delivering meals to serving on advisory committees. "That program is wide open. There's no restrictions in terms of how many hours volunteers contribute. Some volunteer one hour a week, some every holiday season, some every week all year long."
Some volunteers want to share the knowledge they built during a career, and others want to do something completely new, Biddle said.
"We do a great job matching the individual and their passion with what's needed out in the community," she said.
The Foster Grandparent program requires a minimum of 15 hours a week, and provides a small stipend to remove any barrier to volunteering, such as gas and car repair costs. Some volunteers work as many as 40 hours a week.
"They love it," Biddle said. "It's a way for them to feel useful and that they're contributing. It keeps them in good health, keeps them positive and it's such a win-win. The children love and need them so much and they love and need the children so much."
Biddle said approximately 200 volunteers are involved with RSVP volunteering opportunities. Currently, there are 26 foster grandparents placed in schools.
"We would love to have so many more," Biddle said of the foster grandparents. "We have schools all over our region asking us for foster grandparents."
Age Well, an agency of experts and advocates for the aging population of Northwestern Vermont, also provides volunteering opportunities, including delivering Meals on Wheels. It also runs the Companionship Program, which matches volunteers—almost all retirees—with older Vermonters who have requested visitors.
"The clients are some of the sweetest people I've ever met," said Molly Bongiorno, volunteer program assistant with Age Well. "My heart goes out to them. They're alone and don't have a lot of contact with the outside world. Just seeing a friendly face even once a week makes a big difference. They're so deserving of having people come visit with them and pay attention to them."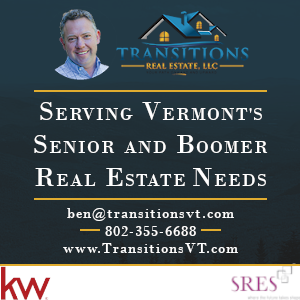 She added that the benefits go both ways.
"(The volunteers) have almost a better time than the clients," Bongiorno said. "I've heard a lot of people say they think they're getting more out of it. They love seeing the difference they're making in a client's life. They find it very rewarding."
The program also pays a small stipend to volunteers, making it ideal for retirees on a fixed income, Bongiorno said.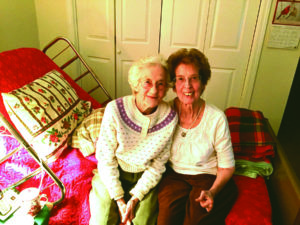 Janice Kent of Williston began visiting Pillsbury Manor North resident Dorothy Anderson through the Age Well's Companionship Program last summer.
Kent said the pair immediately took to each other.
"We were a perfect match," Kent said. "She and I just clicked when we met."
"She is the sweetest person you'll ever meet," Kent said. "She's very, very sharp. She's much older than I am, so she's very wise. She gives me good advice on things, and she's a lot of fun."
Kent now visits twice a week, always stopping to say hello to several other Pillsbury residents while there. The pair often have dinner together, play games or just visit.
Anderson said she looks forward to the visits. While she does have family nearby, she said losing her husband of 66 years in 2011 left her with more alone time than she'd like.
"I've never been alone in my life," she said. "To just sit in this chair—you like to look forward to someone coming. It means a lot, to know someone is coming to see me."
Kent said she also benefits from the relationship.
"It makes me feel good to help someone else," she said. "I lost my husband two years before and I wasn't doing anything, I wasn't getting out. This really helped me to get out and mix with people."
Kent said that while Dorothy has plenty of other visitors, they have formed a bond.
"I think it means a lot to her, and to me" Kent said. "We just love each other."
Whether retirees take on volunteering as another full time job, or only put in a few hours here and there, Biddle said volunteering just makes you feel good.
"It gives you a boost and makes you feel needed and vital," she said.
 Ruttledge went a step further.
 "It's made my life a joy," she said.
For more information about Age Well or to volunteer, visit Agewellvt.org or call 662-5249. For more information about United Way or to volunteer, visit Unitedwaynwvt.org or call 861-7832.
Related Articles & Free Subscription
A 3-Point Check-Up for Your Retirement Plan
Bank or Credit Union: Which is Right for You?
Free Subscription to Vermont Maturity Magazine