More than 13 million people visit Vermont each year, making tourism one of the largest industries in the state. A growing number of Airbnb and vacation rental options help house all those visitors, in addition to the state's many hotels, inns and bed and breakfasts. Those rental options can be a great way for those who already live here to explore another corner of the state in a unique way.
The AirBnB and VRBO websites each list more than 300 Vermont properties, and many capitalize on the surrounding natural beauty and embrace the rustic charm the state is known for. There are condos and apartments in the larger cities and towns, and outside of town there are cabins of all sizes, treehouses, dome houses, yurts and at least two abodes that look like something from J.R.R. Tolkien's imagination. Tiny homes are also popular in both urban and rural settings.
It's clear many of the vacation rental hosts have worked hard to design spaces that reflect a certain aesthetic or theme.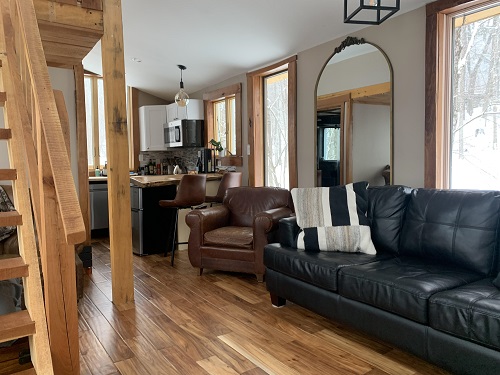 For Tony Olmstead, his "treehouse" property near Killington is something of a family legacy. Olmstead built the one-bedroom elevated structure himself in his spare time during the pandemic on property that has been in his family for generations. He opened it to his first guests in November 2021.
"My grandfather had a dairy farm a long time ago in the area and I wanted to pay tribute to him and have people enjoy the area as I did when I was a kid," Olmstead said.
He said he considers the project an homage to his parents as well, both of whom he lost to cancer, and it is something he can pass down to his own son. Olmstead's day job is in finance, but his treehouse building experience began as a child. Even back then, his treehouse building skills earned the trust of his grandfather and father enough to join him in sleep outs in the trees.
During the pandemic construction of the AirBnB house Olmstead had to wait out shortages of certain lumber. He installed many custom features, including slate tile in the bathroom, double shower heads, radiant heat panels that keep it cozy inside when it's below zero outside and a propane fireplace for easy and immediate ambiance. A deck surrounds the treehouse on three sides, and 7-foot windows and sliding glass doors let in the view. There is also a hot tub on the property.
"I did use a lot of trim that was directly from lumber right off of the land here and that makes me feel good knowing that something my grandfather and dad once stood near was forever memorized," Olmstead said.
"I personally thought a lot about the design and how I wanted it to look and feel. I also wanted the treehouse to have some features that would set it apart and wanted it to be comfortable and warm," he added.
Guests reviewing the property laud the attention to detail "A fantastic and magical experience! Great location and such peaceful seclusion," wrote one guest in February.
For Danny Roberts, his Owl's Nest cabin in Grafton is the realization of a dream to own a property in the mountains. Roberts grew up in north Georgia and spent most of his adult life in the Pacific Northwest. When he moved back east, he found the cabin in Grafton built by his neighbors.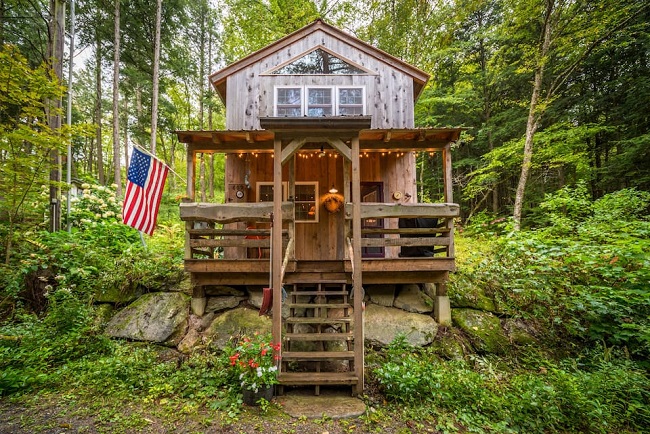 "The cabin was built with all the quirk and charm that I had envisioned. One of the things I love most about it is its tiny footprint and the fact that it was built using lumber milled directly from the property, and many other reused historic items such as the spiral stair, doors, sinks, handles, etc.," Roberts said.
Roberts bought the property five years ago and since then has worked to make it as self-sustaining as he could. He's installed solar, an indoor composting toilet and greywater system.
The town of Grafton is one of Vermont's beautiful historic villages. Its quaint town center includes historic buildings, dining, and shopping. Nearby are museums, hiking, The Vermont Country Store, Grafton Village Cheese, Retreat Farm, Grafton Trails & Outdoor Center, and many other ways to relax and enjoy Vermont's seasons.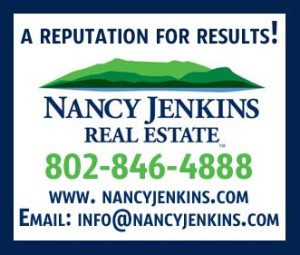 "To be honest, 50 percent about what I love about the cabin is the little town of Grafton and the amazing area around it. … It's a movie-set charmer of a village and the area is chock full of gorgeous farms and landscape," Roberts said.
Several guests reviewing the property on Airbnb said they've loved the Owl's Nest so much they returned for second or third visits.
"The most amazing stay ever. The cabin is so cute, cozy, and quiet. It has everything you need to have a great stay. The layout is so creative and unique," wrote one guest in February.
In the southern Vermont town of Sandgate visitors can stay in a "whimsical stone abode" that
Boston Magazine called "the best possible combination between the postcard-perfect cliffside suites of Santorini (Greece) and a hobbit house." Gardens and stone walls surround the smooth white domed exterior of the cottage. Inside the one-bedroom domicile looks more like a Mediterranean retreat than a home in the Green Mountains. Several guests called their stay "magical."
In Middletown Springs, a home built into the earth also evokes the land of Tolkien complete with circular doors, lush greenery and references to Hobbits and dragons in the decor.
These unique properties are just a tiny sample of the offerings in Vermont. It's clear many vacation rental hosts in the state have worked hard to create inviting, memorable spaces for anyone who wants to explore a new corner of the state.
Some of the more popular properties already have limited availability for summer and fall of 2022, so long-range planning may be necessary. There are many yet-undiscovered gems to be found online as well. When searching for homestay options make use of filters to narrow your choices based on lodging type, price, accessibility, in addition to location and date.
Clover Whitham has been a journalist at Vermont newspapers for more than a dozen years and is now a freelance writer and editor near Burlington.
Related Articles & Free Vermont Maturity Subscription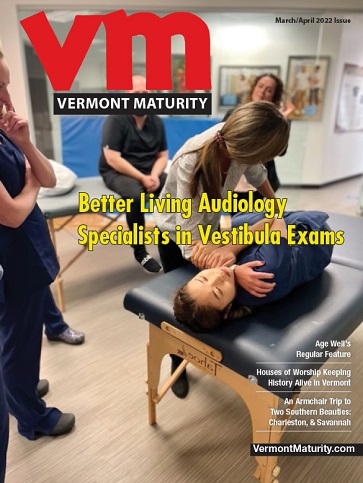 How Vermont's Unique History Created an Idyllic Place to Live
The Vermont Republic – The Story of When Vermont was an Independent Country
Vermont's Covered Bridges are Where History and Beauty Converge
Free Subscription to Vermont Maturity Magazine