Welcome to Age Well's regular feature in Vermont Maturity!
Warm summer weather is almost here, and our staff and volunteers are visiting older Vermonters at their homes, delivering Meals on Wheels, care coordination, and a friendly smile to older adults, allowing them to age with confidence and dignity. Keep reading to learn more about new offerings, health, and wellness tips, and much more:
Celebrate Older Americans Month in May
Older adults play vital, positive roles in our communities – as family members, friends, mentors, volunteers, civic leaders, members of the workforce, and more. Just as every person is unique, so too is how they age and how they choose to do it – and there is no "right" way. That's why the theme for Older Americans Month (OAM) 2022 is Age My Way.
While Age My Way will look different for each person, here are common things everyone can consider:
Planning:Think about what you will need and want in the future, from home and community-based services to community activities that interest you.
Engagement: Remain involved and contribute to your community through work, volunteer, and/or civic participation opportunities.
Access: Make home improvements and modifications, use assistive technologies, and customize supports to help you better age in place.
Connection: Maintain social activities and relationships to combat social isolation and stay connected to your community.
Age Well is excited to celebrate Older Americans Month. Ensuring that older adults remain involved and included in our communities for as long as possible benefits everyone. Please join Age Well in strengthening our community. For more information, visit Acl.gov/oam/2022/older-americans-month-2022.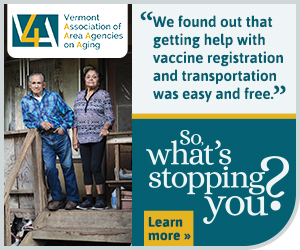 COVID-19 Vaccine support
Whether it's getting your first, second, or your booster shot, the Area Agencies on Aging are available and ready to assist. Getting vaccinated is free, safe, and easy, and once fully vaccinated, you are helping to strengthen our communities—your families, your neighbors, and your friends. If you would like support getting the COVID-19 vaccine or booster, are homebound, lack transportation, or just have questions, call our Helpline at 800-642-5119, and for more information, visit Vaccine4vermont.com.
Spring cleaning? Consider donating your vehicle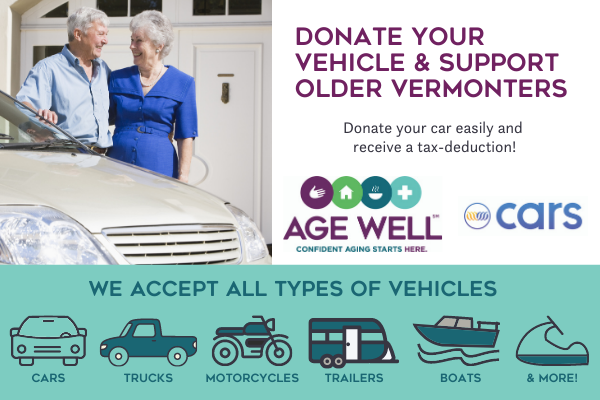 Donating your vehicle to Age Well is easy and impactful through our partnership with CARS, Inc., (Charitable Adult Rides & Services). They strive to accept all types of donated vehicles, running or not, including cars, trucks, trailers, boats, RVs, motorcycles, campers, off-road vehicles, planes, heavy equipment, farm machinery, and most other motorized vehicles. Plus, they will tow your vehicle at no cost to you!
Donating your unwanted vehicle is easier than selling it, and vehicle donations made to Age Well are tax-deductible.
Health & Wellness
June 15th is World Elder Abuse Day
June 15th is World Elder Abuse Awareness Day (WEAAD), a day in which communities around the world are encouraged to gather, learn about, and promote a better understanding of abuse and neglect of older adults.The purpose of WEAAD is to provide an opportunity for communities around the world to promote a better understanding of the abuse and neglect of older people by raising awareness of the cultural, social, economic, and demographic processes affecting elder abuse and neglect.
As the leading experts and advocates for the aging population, we believe that health happens at home and focus on lifestyle, happiness, and wellness—not on age. We are against ageism and work to change the narrative around aging in our community so all Vermonters can age confidently. Our Helpline and Care & Service Coordinators are typically the "first responders" to elder abuse situations. Our staff is trained and works closely with Adult Protective Services to identify and remedy self-neglect and abuse cases. Questions or concerns? Call the Helpline at 800-642-5119.
June is Alzheimer's and Brain Awareness Month
Alzheimer's disease is the leading cause of dementia—a collection of symptoms that can include issues with memory, problem-solving, and emotional regulation, with symptoms so severe they can interfere with daily routines. Alzheimer's disease is a progressive, fatal disease that physically erodes the brain resulting in not only cognitive decline but a loss of motor control in later stages. 1 in 10 Americans over the age of 65 are impacted by Alzheimer's disease and dementia.
Caregiving for a person with dementia is a long-term situation that changes constantly. Think of it as a marathon, not a sprint. Age Well supports family caregivers in everything we do. Caregivers can get assistance navigating social service programs and finding paid providers through our Helpline and Care and Service team. They can stay socially connected with a volunteer match through our Volunteer Program. Caregivers will also receive the assessment of their general needs through the Caregiver Support program. This program provides respite funding for income-eligible families, assists with problem-solving and skill-building, and offers evidence-based caregiver classes and dementia education. Questions or concerns? Call the Helpline at 800-642-5119.
Age Well's Restaurant Ticket Program
"It's very nice for seniors to get together and share a good meal. The most important thing to me is the opportunity to socialize and take part in the activities. I'm very happy to be there." – Shirley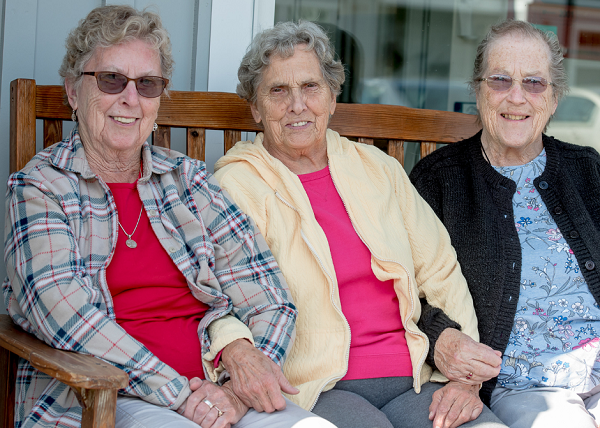 Staying socially engaged is one of the most important things you can do for yourself. It can increase your mental alertness, improve your emotional well-being, and help you stay physically fit. Age Well's popular restaurant ticket program allows for a more intimate outing at many local restaurants.
Tickets are available at the Age Well office at 875 Roosevelt Hwy, Ste. 210 in Colchester or you can call 802-662-5200 for more information. Older adults can make a $5 suggested donation to receive a ticket to dine at one of the participating establishments. Note: Tickets do not include gratuity. Click here for a list of participating restaurants and more information.
Eat Smart, Move More, Weigh Less
Eat Smart, Move More, Weigh Less is a 15-week weight management program that works because it is not a diet—it's a lifestyle!
All classes are conducted online by a Registered Dietitian and participants can conveniently attend classes from home or office using a computer or mobile device.
Age Well is covering the cost of the program. Participants must be 60+ years of age and live in Addison, Chittenden, Franklin, or Grand Isle counties.
The upcoming program start dates are May 23, June 20, and August 8.
If you are interested in signing up for these classes, please contact Ally McAuslan at amcauslan@agewellvt.org.
Choices for Care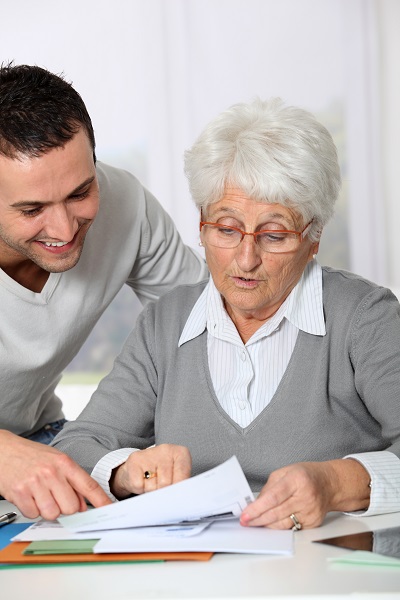 Age Well is equipped to make an independent lifestyle a reality. As a Choices for Care provider, Age Well offers you a continuum of care. We will coordinate a customized, in-home visit to connect you with the necessary resources, assist with everyday activities, and make informed decisions.
Choices for Care is a Medicaid-funded, long-term care program that pays for care and support for older Vermonters and people with physical disabilities. This program helps people with everyday activities at home, in an enhanced residential care setting, or in a nursing facility.
To be eligible, you must:
Be a Vermont resident,
Be at least 65 years old OR at least 18 years old with a physical disability,
Meet the financial criteria, and
Meet the clinical criteria for nursing home level of care.
For more information, call our Helpline at 800-642-5119.
Age Well Programs & Services
Age Well believes that health happens at home and focuses on lifestyle, happiness, and wellness—not on age. For nearly 50 years, Age Well has provided adults 60 years and older in Northwestern Vermont with the necessary support to manage their daily living needs, to keep them active, healthy, and independent.
Age Well offers care & service coordination, Meals on Wheels; community meals; wellness programs; social activities; transportation services; expertise on Medicare, insurance, and long and short-term care options; and a Helpline to older Vermonters, and their families and caregivers. Age Well services are provided at no cost throughout Addison, Chittenden, Franklin, & Grand Isle counties.
Volunteering & Giving Back
There are many ways you can give back to the older adults in your community including providing transportation, friendly visits, grocery shopping, budgeting assistance, delivering Meals on Wheels, donating your used car, making a cash donation, and leaving a gift for Age Well in your will or trust.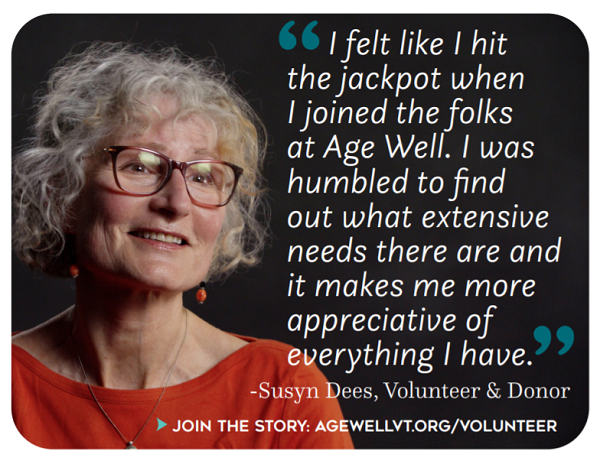 Join our network of over 1,000 dedicated volunteers, without whom our work would not be possible. Age Well's services are provided free of charge, your support helps us keep these services free and accessible to those in need.
Thank you to our business volunteer teams who have done such amazing work this past year. Have you considered creating a volunteer team at your place of work?
Age Well volunteers delivered 300,000 meals to our older neighbors in 2021! Learn more about volunteer opportunities please call 802-662-5249 or email: volunteer@agewellvt.org. For more information visit the website: Agewellvt.org/giving-back/volunteer.
Age Well News
Check out Age Well's press page, which showcases news and articles related to our work, as well as our achievements at Agewellvt.org/news-events/press.
How To Contact Age Well
Learn more about Age Well services by calling the Helpline at 800-642-5119 or visiting Agewellvt.org. You can also find stay up to date by following us on social media on Facebook, Twitter, Instagram, & LinkedIn.
Related Articles & Free Vermont Maturity Subscription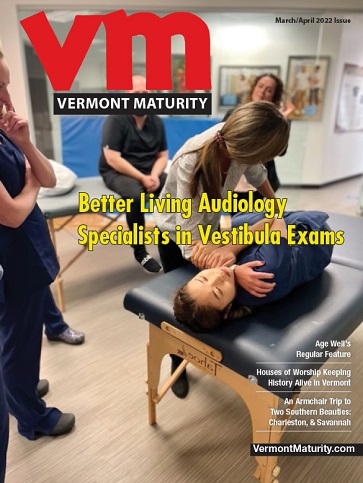 Curious About CBD? Here's What it Can and Cannot Do for You
How to Age Well January 2022: A Special Feature Presented by Age Well
How to Age Well November 2021: A Special Feature Presented by Age Well