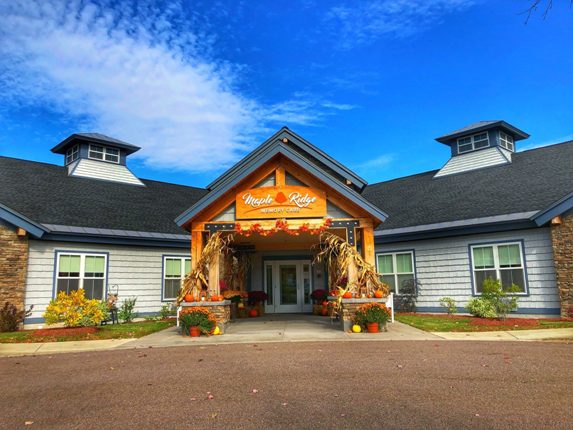 Families with a loved one suffering from memory impairment know the challenges faced when choosing a facility that can provide adequate care. Finding the right care facility is an important and difficult decision. Memory care is a distinct form of long-term care designed to meet the specific needs of a person with Alzheimer's disease, dementia, or other types of memory issues. When it comes to choosing the right memory care community for a loved one, a careful examination of the services provided will help determine which facility is the best fit. Memory care communities offer a wide range of services. At Maple Ridge Memory Care, residents not only receive all the additional help they need, but also are allowed and encouraged to live as independently as possible.
Maple Ridge Memory Care is located in beautiful Essex Junction in the heart of northwestern Vermont. Maple Ridge is a 50-room senior living community that is exclusively dedicated to seniors with Alzheimer's disease and other forms of dementia. Maple Ridge Memory Care consists of two neighborhoods; each is comprised of private and companion suites with private bathrooms. There are cozy sunlit common areas, a town center for gatherings, and multiple secure courtyards for enjoying Vermont's outdoor sights and sounds. The property is adjacent to the Essex Resort and Spa and residents and associates are invited to walk freely together.
The entire leadership team at Maple Ridge Memory Care is trained as Dementia Certified Practitioners. The team's mission is simple: to provide a home-like setting where residents truly thrive, despite the limitations of their memory loss. This mission is accomplished with the implementation of a program called AspireCare.
AspireCare
Maple Ridge Memory Care's AspireCare is both a lifestyle and a therapy program. AspireCare embraces a mindful, non-pharmacological approach, which is based on research and best practice. This unique, holistic program of nurturing care is offered to every resident. A custom designed rhythm for each resident's day includes all of the research-proven components of good care for those with Alzheimer's and related dementias.
Each resident's custom designed "rhythm of the day" includes all of the research-proven components of good care. The staff at Maple Ridge Memory Care is highly trainend in techniques specific to Alzheimer's and related disorders and they also receive specific AspireCare training. The AspireCare training for Maple Ridge's direct care staff far exceeds Vermont's requirements and is the cornerstone of their care. Maple Ridge Memory Care also partners with community experts and specialists from various healthcare fields to maintain exceptional holistic care for the residents.
AspireCare provides a wide range of professional services and amenities, such as a licensed dementia trained staff and Registered Nurse leadership. In addition, AspireCare provides specialty services, including individualized diets, podiatry services, transportation to appointments, pet therapy, community education, support groups, and a lively activities calendar. Maple Ridge Memory Care's activities program takes advantage of what the residents can do, providing a balance of physical and cognitive engagement with an abundance of fun.
Dining Service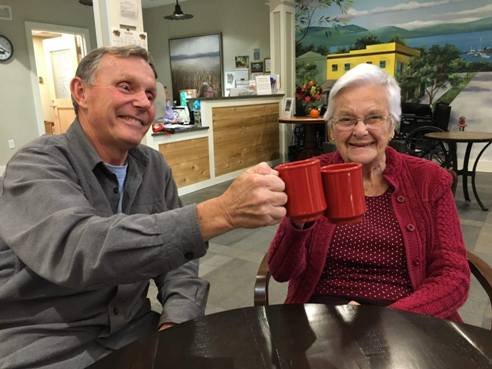 Maple Ridge Memory Care's staff understands that, along with appropriate activity and good health care, diet is vital to maintaining health, particularly for those with memory loss. Maple Ridge's compassionate dining program is a significant component of AspireCare. It stimulates the appetite with an appropriate dining room atmosphere and provides choices for those with limited dining ability. Most importantly, the food at Maple Ridge is homemade, not preprocessed, and has a combination of fresh, Vermont-sourced vegetables, whole grains, and proteins to provide a balance of enjoyment and health.
Communication Training
A cornerstone for success at any memory care facility is communication. In the case of seniors who are losing their ability to process information, how something is said is very important. The communications training at Maple Ridge Memory Care is extensive, unique, and deeply meaningful to both the residents and staff.
The Maple Ridge Family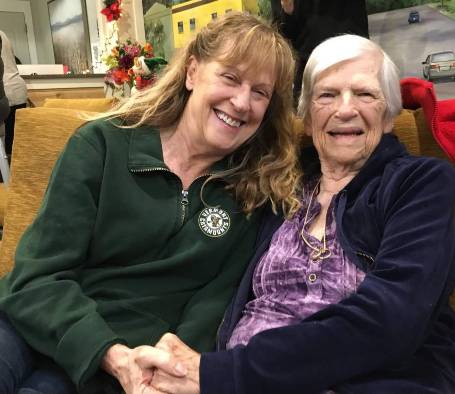 What truly sets Maple Ridge Memory Care apart is the people. Associates, staff, residents, and the residents' families are all on the same journey and are very much a family. Like any other family, they turn to each other for guidance, compassion, love, and laughter. Our families are essential to how we make decisions in our care, and our associates pull it all together with consistency and transparency. Maple Ridge's residents feel warmth, compassion, love, and a sense of togetherness which helps bring a smile every day.
Memory loss does not take a vacation, nor does it lessen during a pandemic. For people with loved ones suffering from a memory related illness, finding a memory care facility that not only provides the necessary medical care, but also a stimulating environment is of the utmost importance. Families must look beyond the websites and brochures and dive deep into how residents are cared for, families are treated, pricing is disclosed, and decisions are made. Maple Ridge Memory Care is transparent and straightforward; not only with pricing, but with programs, policies, and procedures. All in all, it is AspireCare's all-encompassing approach to providing top-notch care that allows Maple Ridge Memory Care's residents to continue to aspire.
For more information, please call Jane Samuelsen at 802-872-1700 or visit MapleridgeEssex.com.
Related Articles & Free Vermont Maturity Subscription
How Sleep and Memory Work Together
Memory Care Communities: One-Size Does Not Fit All
Money and Memory: Beyond Retirement Planning