So, let's head back to our cozy chair for another Armchair Trip, traveling in our minds. This time we'll head south to two havens of lively spirits and awesome music— Memphis and New Orleans. Unleash your "imaginings" and join me where music "calls out from every door" and wooden trolleys make their lazy way up and down the waterfront and through the city.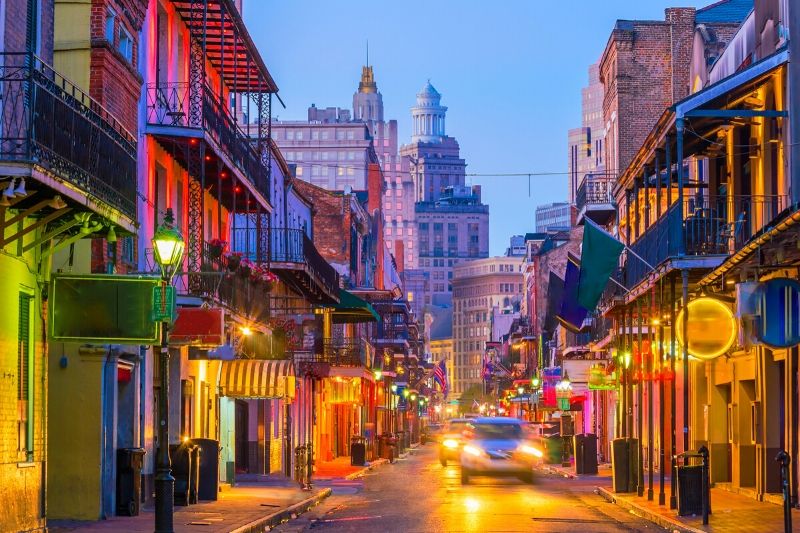 We'll immerse ourselves in blues and soul, rock, and jazz. We'll dip into history and culture, from Civil Rights to World War II to the transformative power of music by greats like Elvis, Louis Armstrong, and BB King.
There will be sculpture gardens and French markets, charbroiled oysters, and world-famous BBQ… And when we tire out, there will be balcony bars, where we can pause for drinks with people-watching, sitting in front row seats that overlook the spectacles of Beale Street and Bourbon Street.
Monday
We fly to Memphis and Uber to our accommodations near Beale Street, center of all the music and action. Memphis is the birthplace of Rock 'n' Roll, home of the Blues and starting point for Soul. Music legends like Elvis, Johnny Cash, B.B. King, W.C. Handy and Otis Redding made their marks on Memphis. Well before our trip, we will have booked a room at the Hampton Inn & Suites, with a complimentary breakfast, sitting area and kitchenette. We won't be needing a rental car at all on this trip since we'll be getting around by foot, trolley, and train…
After a morning of airports and airplane pretzels, we'll be starving. So, once we've checked in, our first quest will focus on food and we'll jump right into the heart of the action—Beale Street—making a beeline for Alfred's on Beale, for a birdseye view from the shaded balcony. We'll share an order of fried green tomatoes and barbecued nachoes, then split a bowl of chicken and sausage gumbo. And as we feast, we'll look out over Beale Street, spotting venues we'll want to return to later.
After lunch, we'll walk toward the Mississippi River and catch the Main Street Line of the Memphis Trolley (MATA) to get oriented to the city, heading North as far as Civic Center Plaza, then South all the way down into the historic Main Street Arts District.
This evening, we'll return to Beale Street and meander in and out of the many superb music venues, listening (and maybe dancing). It's all right here on Beale Street. What we don't hear this evening we'll come back to in the next few days. And we'll soon develop a few favorite spots to return to again and again.
Tuesday
We hop the trolley to the Rock and Soul Museum, where we'll catch the free hourly Graceland and Sun Studios Shuttle to visit Elvis' home and Sun Studios, the recording studio where he began his rise to fame. The shuttle follows a circuit, and will drop us first at Graceland, then leave Graceland at the top of each hour for a 1-hour stop at Sun Studios, then take us back to Memphis.
At Graceland we will hear many Elvis stories, and gawk at the white-living room with white piano, the purple-themed bedroom he built for his parents and his beyond unbelievable jungle room. We'll board his private plane, with its vast dining table, circled by comfortable chairs, and his huge bed, with a seatbelt strung across it for sleeping midair. We'll want to check out the Automobile Museum, with Elvis' pink Cadillac, as well as other special exhibits like Elvis: Live from Vegas and Elvis in Hawaii.
When we're ready for a break, we'll catch lunch at one of the on-site eateries: Vernon's Smokehouse, named after Elvis' father, or Glady's Diner (featuring PB&B grilled in butter, or in bacon grease the way Elvis liked it), or Minnie Mae's Sweet Shop, named after Elvis' grandmother, the only place "in the world" where you can experience Peanut Butter & Banana ice cream.
Wednesday
We spend hours absorbed in the National Civil Rights Museum, built around the Lorraine Motel where civil rights leader Martin Luther King Jr. was shot and killed on April 4, 1968, at age 39. This will be an immersive experience. We'll stand in the hold of a slave ship among statues of the victims and walk through a bus where Rosa Parks sat up front. We'll stand at a lunch counter where sit-in demonstrators are occupying the stools. And we'll see Martin Luther King's actual motel room and balcony at the Lorraine Motel, looking just as it did the day he was shot, with his bed partly turned down and the Gandhi book he was reading at the time lying face down on it.
We may decide to take a break midway through our visit to grab some lunch at the nearby Grecian Gourmet Taverna and catch our second wind before returning to see the rest, including the window across from Dr. King's motel balcony through which James Earl Ray allegedly fired his fatal shot, then escaped as far as London's Heathrow Airport before being captured.
This evening we'll be back to Beale Street for dinner on the outdoor patio at Silky O'Sullivan's, an Irish pub in a 100-year-old building, with a tasty BBQ menu & a pet goat. Then more great music, moving place to place down Beale Street.
Thursday
We head for New Orleans. And what better way to get there than by catching the City of New Orleans train in Memphis as it makes its daily 900-mile, 16-hour run from Chicago to New Orleans. We'll board the train at 7 am and glide along for 359 miles (8 ½ hours), from Memphis to New Orleans, reaching New Orleans at 3:30 pm. Time will pass by pleasantly, with nothing pressing to be done except to sit in the Sightseer Lounge, watching the countryside go by.
In New Orleans we'll Uber straight to our elegant accommodations at the Bourbon Orleans Hotel in the French Quarter. This will put us in the heart of it all… close to the Mississippi River, Bourbon Street, the French Market, and Jackson Square.
The French Quarter is where New Orleans had its beginnings, remaining French for the next 70 years until 1762 when Louisiana was transferred to Spain for the next 40 years. So, that's why the look and style of the French Quarter has Spanish influences, including the lacy ironwork and architecture.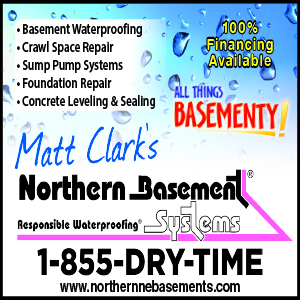 The famous "Bourbon Street" in the French Quarter, named not for the drink, but for Louisiana's 18th-century French ruling family, was once a splendid residential street. Chartres and Royal were the chief shopping streets. But as the city blossomed, suburbs sprang up upriver and downriver. Canal Street divides what was once the French section of town from the American Sector.
We'll probably be hungry at this point, so, we'll take a 5-minute walk to Napoleon House, in a 1914 home with a palm-filled courtyard, to eat a "real N'awlins" Muffaletta sandwich—a gigantic sandwich invented a century ago at a Sicilian Deli in New Orleans. The spicy, tangy olive salad (green and black) is what sets this meat and cheese sandwich apart—salami, ham, mozzarella, and provolone, on oven-fresh Italian bread.
After lunch, we'll take a leisurely walk-about to get oriented. This evening we'll join the throngs on Bourbon Street and have "the full experience." When we've had our fill of that circus, we'll retreat to the Jazz Playhouse, hidden inside the elegant Royal Sonesta Hotel, where some of New Orleans' greatest jazz talents are showcased.
Friday
We head back towards Jackson Square, this time to dig in and explore. We'll walk through the French Market, and as we pass Café du Monde, we'll check out the line. One of our goals for today is to experience a Café to Monde beignet. And since there's always a line at Café du Monde, we'll want to monitor the line and pick our "beignet time" accordingly.
This evening we'll check out Fritzel's European Jazz Club, the oldest jazz club in New Orleans. We'll stay awhile, then move on down Bourbon Street, keeping an eye out for twinkle-lighted courtyards with live music.
Saturday
We start our day with breakfast from room service on our balcony with a view. Maybe eggs benedict with mimosas… Then we'll hop the trolley along St. Charles Avenue to admire all those magnificent mansions. When we've seen enough, and picked out a few of our favorites, we'll hop off the trolley for a short stroll, then catch it heading back the other way.
On our way back, we'll hop off at Lee Circle and walk to the remarkable World War II Museum. Why does New Orleans have a huge World War II Museum? Think landing boats… The all-essential craft designed by Andrew Higgins, with over 20,000 of them built in his New Orleans-based shipyard. Eisenhower credited Higgins and New Orleans with the success of the Normandy Landing and the subsequent winning of the war.
We'll start our museum visit in the aircraft building, listening on earphones to stories told by the actual pilots and crews of the planes on display. Then we'll go over to the main building and walk through the immersive War in Europe exhibit on the first floor. When we need a break, we'll stop by the on-site café, then go up to the War in the Pacific exhibit on the second floor.
Tonight, will be our final night in New Orleans. So, we'll want to make it special. And there's no better place for our final splurge than the incomparable Court of Two Sisters, at a table in the courtyard, under the twinkle lights, where we will have made reservations months in advance.
Here we will feast and soak in the ambience and say "au revoir"—goodbye, until we meet again…
Now retired from a 40-year career in education, Dr. Duckworth co-authors, with son Brian Lane, the "Great Trip Guide" Series—detailed guidebooks to taking memorable, immersive, fully independent trips in Europe, Canada and the USA (GreatTripGuide.com). Contact Carolee Duckworth at cwcamer@charter.net.
Related Articles & Free Vermont Maturity Subscription Sign Up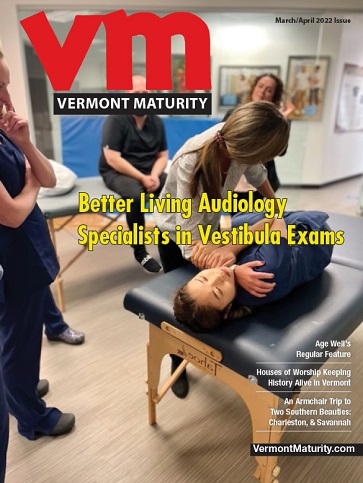 How to Find Inexpensive Travel Accommodations
How to Travel in Style and Hassle Free
Medicare Coverage Options for Retirees Eager to Travel
Free Subscription to Vermont Maturity Magazine