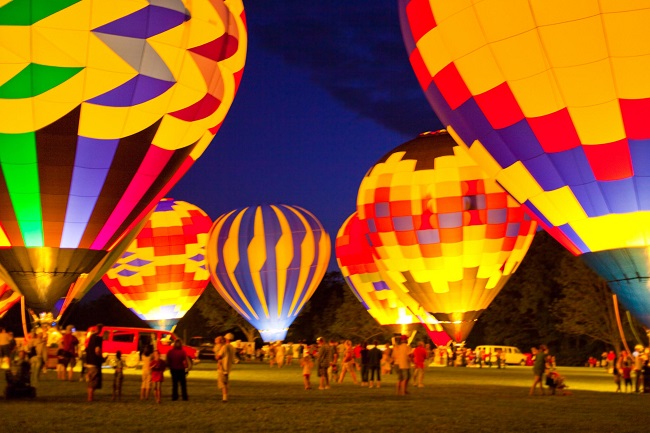 Let's imagine setting off for our next Armchair Trip in early October. This time we'll be mentally travelling to New Mexico, starting in Santa Fe for two days. Then back to Albuquerque for three days, where we will experience the vibrant cultural mix—Anglo, Spanish and tribal Pueblo, Navajo, and Apache— of this relaxed and welcoming high desert city "with a small-town attitude." While here, we will immerse ourselves fully in the celebrated Balloon Fiesta, watching hundreds of balloons take to the sky by day and glow radiantly after dark.
Throughout our trip, we will be surrounded by rugged desert, other-worldly rock formations, and brilliant sunsets. And by the many artists and craftsmen who have flocked to this area to paint and sculpt and weave and photograph all of this natural beauty.
Tuesday: Drive to Santa Fe & Relax on the Plaza
We'll fly to Albuquerque on the first Tuesday in October and rent a car for the 1¼-hour drive North to Santa Fe, where we will have booked our accommodations well in advance at Hotel Chimayo, just half a block from the Plaza in Old Town. This will put us just where we want to be, within a short walk to the Plaza with all its shops, restaurants, and liveliness.
For our welcome meal, we'll pick Thunderbird Bar & Grill, a French bistro just a 5-minute walk from our hotel, with outdoor tables perched up on an inviting upstairs balcony. We'll take our time over dinner, watching the flow of activity on the streets below and across the street on the Plaza. After dinner, we'll circle the square, browsing shop windows for places where we'll want to return.
Wednesday: Trek into The Hills, Georgia O'Keefe & Turquoise
On Wednesday we'll pick up complimentary coffee and breakfast bars in our hotel lobby, then wait out front for the Great SW Adventures driver for our prebooked half-day trip to Chimayo. This will provide us a fascinating introduction to the area, a taste of Spanish and Pueblo cultures, and an introduction to the amazing landscapes north of Santa Fe. We'll visit the Spanish village of Chimayo, with its legendary church, local arts, and beautiful setting. From a high cliff we'll overlook breathtaking views of the mighty Rio Grande as it snakes its way across the valley, then disappears into the distance. We'll see the remains of rooms dug into cliffs by early cliff dwellers, forming back rooms in the multi-storied structures out front. And we'll visit local weavers whose work features these same glorious hills and sunsets. Perhaps we'll purchase a sample to carry home.
When we arrive back in Santa Fe, we'll walk next door for lunch at Anasazi Restaurant. We'll choose a table inside to enjoy the classical music, striking artwork and elegant decor. After lunch, we'll head for the Georgia O'Keefe Museum. Georgia O'Keefe made her mark in New York City but was deeply inspired by New Mexico's natural beauty when she traveled through here in 1917. She instantly felt that this was "her country," where "the sky, the stars and the wind were different." In 1949 she made New Mexico her permanent home. When she passed away in Santa Fe in 1986, at age 98, her ashes were scattered atop Pedernales Mountain, a peak she often featured in her paintings.
And now for some liberty to roam at our own pace, taking our own good time browsing hand-crafted native jewelry around the Plaza, displayed, and sold by the artists themselves under the shaded adobe facade of the Palace of the Governors. Dinner tonight will be at a place that is truly special— La Casa Sena—seated in the enchanting garden courtyard.
Thursday: To Albuquerque & The Tramway Up Sandia Peak
This morning we'll breakfast on the Plaza in the flower-bedecked outdoor patio at the historic Plaza Café, then head to Albuquerque, New Mexico's largest city, sitting in the high desert, nestled in the Rio Grande Valley at the foot of the Sandia Mountains. Our hotel, Hotel Andaluz, will be a delightful discovery—an historic, beautifully restored, and perfectly located downtown hotel, a 5-minute drive from Old Town. We will settle in quickly to the enticing lobby and welcoming restaurant, Tapas & Vinos.
Then we'll drive back North to the Sandia Peak Tramway, where we'll use our prebooked tickets for the 2.7-mile ride to the top, 10,378 feet up, dangling above deep canyons and breathtaking terrain. From the observation deck at the peak, we'll have panoramic views of the Rio Grande Valley. Our 5pm dinner reservations at TEN3 will overlap with sunset, when the desert skies will transform into spectacular swatches of peach, gold, violet and pink.
Friday: Balloonfest Special Shae Rode & Mass Ascent
This morning we'll be up before dawn, excited that today we'll get to see the spectacle we have traveled so far across the country to experience—the launch of hundreds of balloons into the desert sky. We will have purchased tickets well in advance at the Chasers' Club, a dedicated viewing area at the side of the field where we will have access to a catered breakfast, tables and chairs, and restrooms.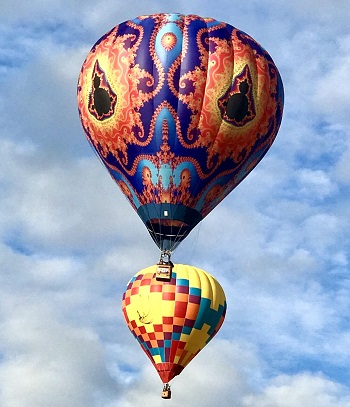 We'll need to arrive at Fiesta Park before dawn. To avoid the ordeal of parking at such a huge and heavily attended venue, we'll use the Park & Ride service, allowing us to leave our car at Coronado Mall and hop on a shuttle bus to deliver us straight to the field.

The starting balloon event will be Dawn Patrol, beginning at 6am, both a choreographed balloon display and an opportunity for the pilots to assess the day's winds. And then, the wonder we have been waiting for…Mass Ascension. We'll watch in awe as balloons and more balloons are inflated, then released to float up and up until the sky is filled.
While we're at the park, we'll check out shops along "Main Street," making sure to stop by the shop with the giant stuffed alpacas out front. Here we can select an impossibly soft, vibrantly colored Alpaca sweater (or two) for a fraction of what we would pay in a store. If the morning is chilly, we may decide to skip the bag and wear our new sweater out of the shop. And we'll visit the Artisan's Tent, where talented artisans display and sell their work.
Around 9am we'll hop back on Park & Ride to return to where our car is parked and be off to explore Albuquerque. We'll start with an informative and entertaining trolley tour, parking our car in the lot of Hotel Albuquerque, Old Town, where the trolley will pick us up. After our tour, we'll leave our car here while we walk to Little Anita's for lunch, then across the street into Old Town to wander the shops and stroll through Old Town Plaza, the heart and center of town since Albuquerque was settled here in the early 1700s.
Saturday: Pueblo Culture & Night Magic Glow
Today we'll start at the Indian Pueblo Cultural Center that traces the tribal history of the 19 Pueblos of New Mexico. Then back to Fiesta Park for an evening session, where we will have splurged on wristbands for the Gondola Club. So, we'll be able to drive our car straight to VIP parking, up near the field, with shuttle service to drop us off, complimentary drinks and a catered dinner with entrées like Grilled Atlantic Salmon or a carving station of Herb-crusted Prime Rib.
When the "Night Magic Glow" starts up at 6pm, against a neon sunset sky, we'll venture out onto the field and walk among the balloons, saying "ooh" and "aah" and picking out our favorites. And then we'll watch as balloons inflate and light up, knowing that our memories of this spectacular event will last us a lifetime.
Now retired from a 40-year career in education, Dr. Duckworth co-authors, with son Brian Lane, the "Great Trip Guide" Series—detailed guidebooks to taking memorable, immersive, fully independent trips in Europe, Canada and the USA (GreatTripGuide.com). Contact Carolee Duckworth at drcaroleed@gmail.com.
Related Articles & Free Vermont Maturity Magazine Subscription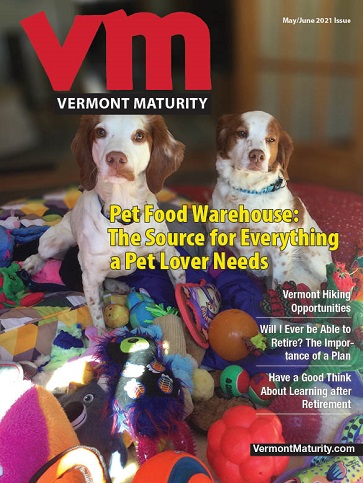 A Trip to North Carolina Offers Mountain Highs & Feet in the Sand
California Dreaming: Touring Napa, San Francisco & the Pacific Highway
Montréal & Quebec City Offer a Trip to France without Crossing the Atlantic
Free Subscription to Vermont Maturity Magazine