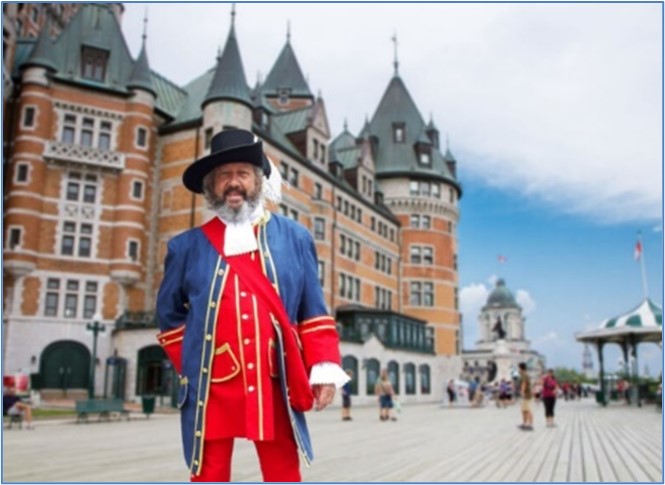 This trip will take us to Canada to visit two historic cities, Montréal, and Quebec City, rich in unsurpassable French cuisine, culture and "joie de vivre," with winding cobbled streets and graceful squares, flanked by 17th and 18th-century stone houses and churches. We'll immerse ourselves first in the international, but also old, city of Montréal, perched along the St. Lawrence River, and called by some the "Paris of North America."
From Montréal we'll travel 3½ hours by train to the more provincial Quebec City, also set along the St. Lawrence, and known to be one of the most beautiful cities in the world. In Quebec City we'll divide our time between "Haute Ville" ("High City," perched up above the river) and "Basse Ville" ("Low City," down at river's edge), making our way up or down using our choice of road, stairs, or funicular.
Monday… Across the Border to Montreal
We'll board a plane to Montréal on a Monday in and settle into our room at the ideally-located Hôtel Uville, near the river and across from Quai Alexandra. This will put us in the heart and center of Old Montréal. Our initial goal once we've checked in will be all about food, preferably French food! And we'll have a destination in mind— Modavie (1 Saint-Paul Street West), a French bistro just a 5-minute walk from our hotel.
After lunch, we'll head to Place ("Square") Jacques-Cartier—a haven of restaurants and shops, buskers, and ice cream vendors. We'll walk up the hill along one side of the square, then cross to the other side and meander back down the hill toward the harbor. We'll stop in to look at Boutique Bonjour Montréal Gift shop and Galerie le Chariot.
As we near the river, we'll see ahead La Grande Roue ("Big Ferris Wheel"), a 60-meter mammoth dominating the waterfront. We'll use our prebooked tickets for the 20-minute ride, with the river and city spread out below. From atop the Grande Roue, we'll spot Terrasses Bonsecours, an open-air restaurant, with food, cocktails, dance club, and rooftop patio, where we'll head next for our 5 à 7 sangria, followed by dining and dancing at the water's edge.
Tuesday… Old Montreal on the St Lawrence
On Tuesday we'll grab a light breakfast at what will become our "go to"—Tommy's Café – a 2-minute walk from our hotel. Here we'll order a breakfast croissant or maybe an almond croissant, stuffed with fresh fruits and mascarpone. Then we'll visit the Montréal Museum of Archaeology & History, located at the very spot where Montréal was born. We'll start our visit here in a sloping auditorium that overlooks the architectural remains under the building and learn of the 1,000-year human occupation of this area.
Lunch will be back in Place Jacques Cartier at L'Usine de Spaghetti ("Spaghetti Factory), with casual Italian eats served amid stone walls, plus all-you-can-eat salads & bread. As one client described it, this is "the best Italian food I've tasted outside of Italy itself. Jaw droppingly good." We'll allow time for the 5-minute walk to Grande Quai to arrive early for our 2 PM Bateau Mouche cruise of the St-Lawrence.
After our ride, we'll find an outdoor table at Créperie Chez Suzette and share a totally decadent treat. Then we'll head to the 193-year-old gothic-style Basilica for the 6 PM AURA multimedia show—a 4-act artistic and technical marvel weaving together powerful music with a mesmerizing light show projected onto the architectural elements, ceilings, and walls of the Basilica. We'll use the rooftop Terrasse Nelligan at the Nelligan Hotel as our meetup spot after the show, a 2-minute walk from the Basilica.
Wednesday… Train to Quebec City
Today we'll take the 9:06 AM train to Quebec City, arriving there at 12:22 PM. Our prebooked train tickets will be in "Business Class" (not Economy) for an additional $50 or so, where we'll have a more comfortable seat with a table, newspapers, exclusive access to the Business Class Lounge and a 3-course catered meal, with complimentary full bar service and hot or cold beverages at will.
In Quebec City, we'll be staying at Hôtel Manoir Vieux-Québec, just 150 feet from Château Frontenac, the epicenter of activity. We will have eaten lunch on the train, so we'll be ready to set out to orient ourselves as soon as we've checked in. And this orientation will not take us long. All we'll need to do is spot the looming, almost sinister, Hotel Frontenac and start there, walking out our door and over to Terrasse Dufferin, the broad boardwalk in front of the Frontenac. Here we'll have a look around, then continue over to the wall overlooking the river. Standing at the wall, we'll quickly grasp the geography of the city, with Haute (high) Ville and Basse (low) Ville.
We will have scheduled at 3 PM a 1-hour small group guided tour of the spectacular Château Frontenac. We'll meet with our bilingual guide at Au 1884, a small café on Dufferin Terrace. Our guide will be easy to spot, dressed in period costume, and will show us through the Château, regaling us with history, stories and anecdotes about famous people who have visited here. After our tour, we'll head to Sam's Bistro for our 5 à 7 drinks, and then to Brasserie Française Chez Jules for dinner. Both are close to the Frontenac.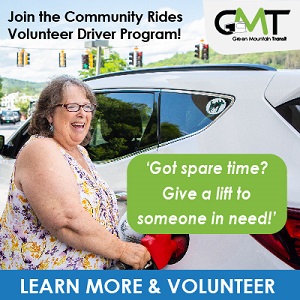 Thursday… Haute Ville & Basse Ville
Today we'll be back and forth between High and Low Ville, starting with a croissant and coffee along the streets of Old Town in High. We'll find Rue de Tresor, the narrow alley where local artists sell their artwork, and stop by some shops along these narrow streets. We'll step into the 30-minute Quebec Experience—a vivid 3-D show that reenacts the grand, but often grim, realities of the evolution of the city. The difficult weather conditions European explorers endured in the 17th century. The disease and fire that plagued immigrant workers in Old Port in the 18th century. The wars between French and British troops in the 19th century. The modern construction disasters in the 20th century. Guns and cannons point at the audience to increase the affect. A simulated bridge comes crashing down. Faux flames and screams fill the hall.
We'll catch lunch in Haute Ville at Café-Terrasse La Nouvelle-France, under the green umbrellas. After lunch, we'll take the funicular down to Basse Ville, where we'll spend the afternoon wandering at will, finding the river, and taking in the Museum of Civilization… "a place of knowledge and ideas that will transport you into great cities of the world, fascinating ancient civilizations, and the heart of Quebec society." We'll meet up for our 5 à 7 drinks and a relaxed pub dinner in Basse Ville at Pub des Borgia, on the patio, under the cheerful red umbrellas.
Friday… Cruise to Montmorency Falls
We'll treat ourselves this morning to a prebooked 9 AM brunch at Place Dufferin Restaurant at the Frontenac, overlooking Dufferin Terrace. We'll ask for a window seat to enjoy the incomparable view of the river and indulge in the sumptuous buffet. After brunch, we'll have free time in Haute Ville, then head down to Chouinard Pier by 2 PM for our 1½-hour cruise to spectacular Montmorency Falls—272 feet high, 98 feet taller than Niagara! As we cruise, our costumed guide will reveal the unsuspected history of the city, river, and surroundings.
Tonight, will be our final evening in Quebec City. So, we'll return to Haute Ville to change into something stylish, then be off to dinner and jazz at Le Charles Baillairgé, the sophisticated restaurant and jazz bar in the Clarendon Hotel.
Tomorrow we'll say "Au Revoir" to Quebec City… "Until we meet again."
Now retired from a 40-year career in education, Dr. Duckworth co-authors, with son Brian Lane, the "Great Trip Guide" Series—detailed guidebooks to taking memorable, immersive, fully independent trips in Europe, Canada and the USA (GreatTripGuide.com). Contact Carolee Duckworth at cwcamer@charter.net.
Related Articles & Free Vermont Maturity Magazine Subscription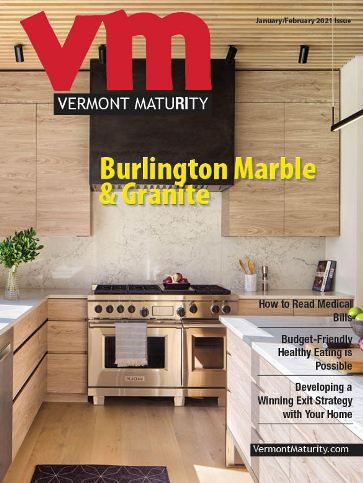 A Trip to North Carolina Offers Mountain Highs & Feet in the Sand
An Armchair Trip: Memphis to New Orleans on "The City of New Orleans"
How to Travel in Style and Hassle Free
Free Subscription to Vermont Maturity Magazine