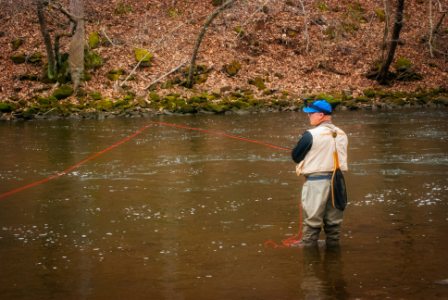 Few things compare to the adrenaline rush triggered by a trout striking a fly at the end of a fly line. The fisherman, with rod in hand, feels a short tug at the end of his line and, knowing a fish has thought the fake fly to be real, he snaps the rod skyward, tightening the line and sinking the hook in the fish's mouth. A battle then ensues, fisherman versus fish, with the fisherman reeling in line, then releasing line, reeling in again as the fish runs, then darts back toward the fisherman, perhaps leaping in the air while trying to shake the hook. Should the fisherman manage to keep the hook in the fish's mouth, the fish will eventually tire, and the fisherman can reel the trout ashore.
Yet even on days when fish disdain artificial flies, fly fishing makes for a wonderful excuse to breathe fresh air and listen to the meditative sound of running water.
"It's another way to get outdoors and enjoy nature and be away from the everyday hassles of living and working," said Roger Ranz, the owner of The Classic Outfitters, a fishing tackle store in South Burlington.
Plenty of anglers cast lines into Vermont waters. In 2009, the last year for which data is available, the state sold nearly 89,300 fishing licenses to residents and another 41,400 to nonresidents, according to Eric Palmer, director of fisheries for the Vermont Fish & Wildlife Department (Vermont residents 65 and older can buy a permanent fishing license for $36). A 2010 survey by the department found that 19 percent of residents and 46 percent of nonresidents fishing for trout in rivers and streams used flies, and for good reason: Vermont has plenty of places to fish.
"In just about any corner of the state you can find a trout stream," said Brian Chipman, a fisheries biologist with the Fish & Wildlife Department.
Bigger rivers like the Winooski and the Lamoille hold larger rainbow and brown trout; smaller, colder streams — prevalent throughout the state — usually hold brook trout.
"In Vermont, you don't have to go more than 15 minutes to go from stream to stream to stream," said John Synnott, co-owner of Stream and Brook Fly Fishing, which offers lessons and guided trips throughout the state.
Not that all fly fishing needs to take place in rivers and streams. Nor do trout need to be the target. Choosing where to fish in northwestern Vermont, said Central Vermont Trout Unlimited President Paul Zuchowski, ultimately "depends on what you're going for." Pike and bass inhabit warmer, slow-moving rivers and many of the state's ponds and lakes. Lake Champlain contains even larger fish, including bowfin, gar and carp.
The tricky part often comes in picking the right fly to catch the fish, though that facet of the sport contributes to its appeal.
"It becomes a more cerebral activity along with enjoying the outdoors," Ranz said.
Flies, typically made by wrapping some combination of thread, hackle and hair around a hook, can imitate insect larvae, baitfish or actual flies. A fly fisherman or woman must choose the right fly for the stream, for the season, for the time of day.
"I would say, as you're approaching whatever you're going to fish, a lake, a river, see what's going on," said Brian Cadoret, president of the New Haven River Anglers Association (NHRAA) and a guide for Stream and Brook.
Cadoret suggested looking to see if birds are feeding on bugs and said to watch for fish rising to the surface to feed. He recommended checking the water for minnows.
"Then open your fly box and see if you have anything similar," he advised.
Learning to Fly Fish
Fly fishing does require beginners to invest money and time.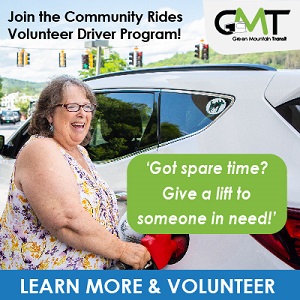 "It's not a cheap sport to get into," Synnott acknowledged, though he added, "Once you have invested, the cost is nothing, or minimal."
Improving technology has lowered the costs of fly fishing gear to make it, Ranz said, comparable to the cost of conventional fishing tackle. Ranz said The Classic Outfitters can sell a basic outfit — rod, reel, line — for around $120.
Yet having the gear and knowing how to use it are two separate things. Aspiring fishermen and women can take a class or hire a guide. Doing so allows fishermen and women to try fly fishing and improve technique before investing in a set of tackle and other equipment. Those not looking to foot the bill of a guide can advance their skills by taking courses. Central Vermont Trout Unlimited and the South Burlington Recreation & Parks Department offer a fly fishing workshop each spring, and the Fish & Wildlife Department offers "Let's go Fishing" programs geared toward children but open to anyone.
Though in some ways a solitary sport, fly fishing can connect people over the water.
"You like to fish with a friend," said Ed Collins, a 65-year-old Essex Junction resident who works at The Classic Outfitters one afternoon per week.
Collins said fishing with another person provides companionship, but also safety in case of an injury. Even while fishing solo, however, a fisherman or woman may find company.
"On busy areas, you're constantly running into fishermen," Cadoret said. "Usually it's just, 'Hello, what are they biting on?'"
But Cadoret said it's not uncommon to then chat for several minutes and trade flies or take photos.
More socialization takes place off the water. NHRAA, for instance, organizes events with guest speakers. Anglers can also meet up at conservation efforts. NHRAA and Trout Unlimited often organize river cleanups where members gather to pick up trash along waterways. And respect for nature serves as an integral part of fly fishing, because the sport is ultimately about enjoying nature.
"It's really just that feeling of being in a river," Synnott said. "Some people feel that's where you belong, standing in a river, whether you catch fish or not."
This article was contributed by Greg Duggan.
Related Articles & Free Subscription
Free Subscription to Vermont Maturity Magazine