Vermont Maturity is published 6 times yer year in both a print and digital format. It is written for Vermonters age 50 and older that live in Chittenden County and surrounding areas. Each issue includes articles on healthcare, finances, local topics of interest and other items of interest to Vermonters age 50 and older. Click here for a free subscription.
Read Some of Our Most Popular Articles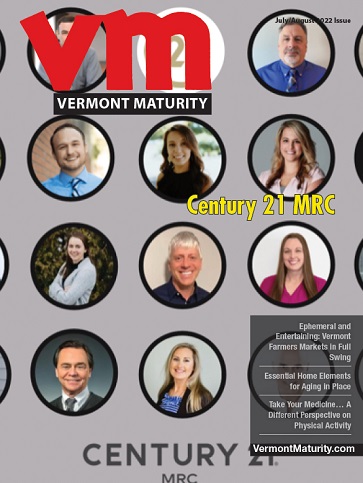 10 Reasons It's Worth Every Penny to Retire in Vermont
A 3-Point Check-Up for Your Retirement Plan
Avoiding 4 Common Retirement Planning Mistakes
Beginning Retirement in Vermont
How Credit Scores Still Matter in Retirement
How Dating Can Work in Retirement
How to Make Your Money Last During Retirement
Staying Young In Spirit In Retirement
The Vermont Republic – The Story of When Vermont was an Independent Country
Volunteering in Retirement Makes Life a Joy
Visit the VermontMaturity.com homepage to read our most recent articles plus an archive of over 600 articles. Click here to Receive a Free Subscription to Vermont Maturity. You can also review digital versions of past issues or learn more about advertising with Vermont Maturity.
Resources
Health & Wellness
Learn about Medicare, Get Help with Medical Bills or Get Health Insurance
Guide to Medicaid Addiction Treatment
Pets
Canine Caregivers for Alzheimer's and Dementia Patients
Pets for the Elderly Foundation
Home and Safety
Staff
President & Publisher
Robin Nichols
Vice President & Office Manager
Terri Nichols
Contributing Editors
James Conner
Dr. Carolee Duckworth
Ben Durant
Dr. Richard Houston
Jim Miller
Phyl Newbeck
Joshua Nichols
Dr. James Sutton
Dr. Sydney Swindell
Vicky Parra Tebbetts
Nick Thomas
Clover Whitham
Graphic Designer
Char Grass
IT & Web Design
Mark Chaney
Advertising & Editorial Inquiries call 802-332-3254 or email Robin@VermontMaturity.com.