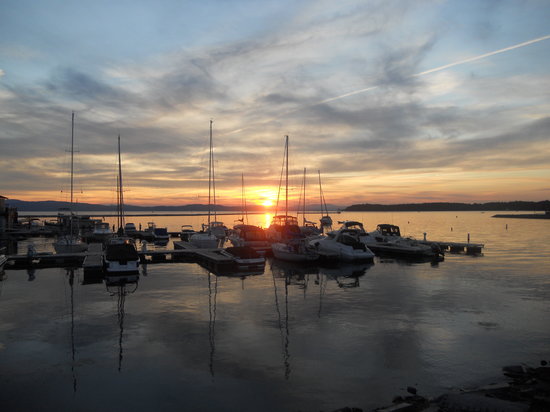 We get it. You're not always in the mood for dance parties full of techno music and strange flashing lights, dancing until dawn in Montreal or extreme sports.
But you still want to get out there, have fun and join the crowd…
Luckily, northwestern Vermont has more mellow, but convivial places to hang out than we can count, especially in the summer and early fall, when restaurants and other businesses throw open their doors, set up seats outside and invite you over for a good time.
We weren't able to check out every good place to hit up in northwestern Vermont – there's too many — but we found a few great contenders.
What we looked for was relaxed, but joyful atmospheres. We looked for a good place to meet old friends and make new ones. Great food or drinks helped a lot.
Upper Deck Pub, South Burlington
The Upper Deck Pub, upstairs from the Windjammer Restaurant in South Burlington, is of course, a sports bar. But it's not just a bunch of sports fans yelling at television screens.
Yes, sports is always on the multiple television screens sprinkled around the bar. "We call it a family themed sports bar," said General Manager Dan Phelan.
That means you often see a few families watching, say, the World Cup, in addition to the usual fare of Red Sox baseball, Boston Bruins hockey or New England Patriots football.
The fandom includes mostly New England fans, but you'll get a few New York partisans in the mix, Phelan said. But don't worry. The regulars might be passionate about their teams, but they'll get over the rivalry and toast each other after the game.
The Upper Deck has a full menu, mostly consisting of good, solid comfort food. Best bets: The beef stew or the maple chipotle pulled pork sandwich.
Pizzeria Verita, Burlington
The restaurant opened on St. Paul Street in 2012 and has a cool, laid back vibe.
And there is something for your viewing pleasure, too: from almost anywhere in Pizza Verita, you can see the kitchen staff preparing the pizzas in a tiled oven that was shipped to Burlington from Italy.
"We're proud of our pizza," said General Manager David Abdoo.
The restaurant serves Neapolitan pizza, which comes with a dough that is both crisp and chewy. The sauce is made with uncooked tomatoes, because, as the owners said, that's how Neapolitan pizza is done.
Once you get beyond the perfect dough and the excellent sauce, the pizza options go off in all sorts of directions. One pizza features salmon, another dried cherries. It's probably the most sophisticated pizza place in Vermont.
One of the more popular pizzas is the margherita pizza, made with mozzarella di bufula, grape tomatoes, parmigiano reggiano and fresh basil.
For the adventurous, the cocktails offer some tastes beyond the usual.
Try the Botticelli's Daughter, which consists of aperol, vodka, grapefruit, absinthe and prosecco, or if you want to keep a Vermont tie to your drinking repertoire, try the Green Mountain Mojito, which is a mix of white rum, maple, cinnamon, lime and mint.
Burlington Waterfront
If you crave some al fresco dining and refreshments and a lively atmosphere, you can't do better than head to the Burlington waterfront. There are several good restaurants in that neighborhood, but two rather informal and fun places stand out.
Breakwaters Cafe and Grill, a great stopping off point at Burlington's King Street Ferry Dock, is about as al fresco as you can get. There is a small seating area under a roof, but the vast majority of the place is a large outdoor deck jutting out into the cool Lake Champlain water.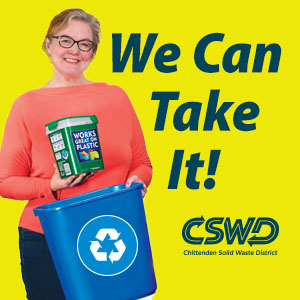 Wednesday through Saturday evenings, and Sunday afternoons, you can sample the talents of Vermont-area bands.
Breakwater Cafe and Grill attracts a mix of tourists who dock their boats nearby and a large number of locals, many of whom are regulars.
"We come here as much as we can, every other week, especially when it's nice out," said Ron Basque of Williston, who enjoyed warm sunshine and cold beer with his wife, Yvonne Basque, on a recent Sunday.
Yvonne Basque said the couple has only lived in the Burlington area for a year or two, and Breakwater has become one of their top summer go-to places.
The only drawback: If it rains, chances are you'll get wet. The tables all have umbrellas, and there is an indoor area to seek refuge from a sudden downpour, but when it's busy, there's not always room under the roof for everybody
For guaranteed dry seating, head north a short distance from Breakwater on the Burlington Bike Path and hit Splash, in the Burlington Boathouse.
The Boathouse, at the foot of College Street on the water, is set on a floating barge adjacent to Waterfront Park. The glassed-in Splash, which also has outdoor seating, is a fun place to go at the end of a bright summer day.
"It's a perfect clear shot at sunset," General Manager Creighton Smith said. "It's the one place in Vermont that feels like Key West."
"You see people totally unwind when they get here," he added.
Splash is open for lunch, dinner and cocktails. The restaurant doesn't take reservations, so plan ahead if special events on the waterfront make things busy.
But the planning ahead is worth it. Splash is a stone's throw from major Burlington events. And if you don't want to join the throng, Splash is a great place to watch the activities — that is if you're not too distracted by the sunset over the Adirondacks.
Splash also has space for special events such as weddings, birthdays and other celebrations.
Other Fun Options Around the Queen City
Hotel Vermont: Housed in an iconic building that's been a fixture in downtown Burlington for more than a century, the owners pulled off a radical makeover with an interior that has become an artistic showcase of mostly Vermont-made material. Vermont touches range from massive Barre granite interior walls and artwork to the trash cans in guest rooms, which are repurposed maple sap buckets.
For a real touch of Vermont class, check out the Juniper Bar and Restaurant in the hotel.
Pour House: This South Burlington fixture is much less artsy and formal than the Hotel Vermont, but is a lively gathering spot that is a quintessential place to meet the locals. It's nothing fancy, but the place always seems to have a party atmosphere, without the excesses you might find in bars geared more toward the college crowd.
This article was contributed by by Matt Sutkoski.
Related Articles & Free Subscription
10 Reasons It's Worth Every Penny to Retire in Vermont
Will Independent Living Become Obsolete?
Free Subscription to Vermont Maturity Magazine