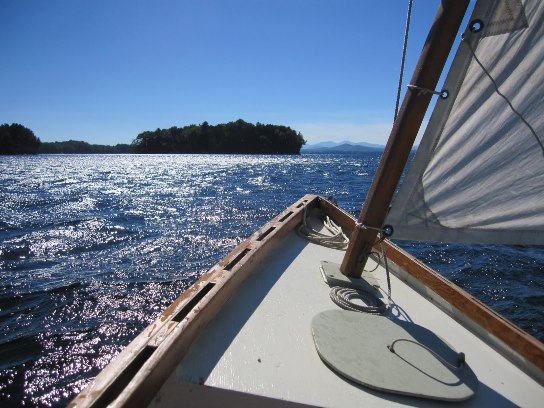 From leisurely wildlife-viewing paddles in inlets and bays to cruise ships on Lake Champlain, one of the best ways to experience summer in Vermont is on the water. The following are just a few of the options for getting out, cooling off, and enjoying the season.
Glen Findholt offers tours on his vintage sloop, Friend Ship. "It's a way to experience Lake Champlain the way people experienced it in the early twentieth century," he said. "It's a little more intimate than other ways to get out on the lake."
For those looking for more than just a passive cruise, Findholt allows visitors to help out with the rigging and take a role in sailing the sloop. In addition to the Friend Ship, the Spirit of Ethan Allen offers narrated cruises four times a day from May through October. There are a variety of themed cruises including those devoted to Caribbean music, jazz, lobster dinners, and a murder mystery. Northern Lights also offers lunch, brunch and scenic cruises. All three cruise ships leave from Burlington.
For those looking for a more active way to enjoy the water, there is always sailing. Robin Doyle of the International Sailing School (ISS) refers to sailing as a lifelong sport which can be learned at any age. "It keeps you young in body and spirit," she said. "It's a wonderful retirement sport."
The ISS offers a series of classes for those who just want to rent a boat for a short trip on the lake as well as those who dream of lengthy getaways. Doyle said the difference between older and younger first-timers is that seniors sometimes prefer a more comfortable boat than the Solings which are traditionally used for lessons. However, she has not found that older students have more fear than their younger counterparts. If anything, Doyle said, older students are more motivated. "…They want to get their dreams fulfilled."
Doyle doesn't see age or reduced stamina as a drawback to learning to sail. "It's like skiing," she said, "you can get in shape just by doing it, but staying in shape certainly helps."
If sailing is too intimidating or expensive, there are always canoes and kayaks. Craig Richardson of Umiak Outdoor Outfitters said the number one criterion for more mature paddlers getting into these crafts is the weight of the boat. For that reason, if you are taking to the water for the first time, you might tend to favor kayaks over canoes which may be easier to lift on and off your car. Richardson recommends that folks purchase kayak carts that allow you to wheel your craft to and from the water. The Paddleboy cart is the most popular of the carts sold at Umiak.
Richardson said older kayakers tend to prefer kayaks with large openings which prevent them from feeling claustrophobic or trapped and allow easy entry and exit. A popular model is the Wilderness System Pungo which is 12 feet long and weighs 40 pounds. Richardson noted that although shorter boats may be lighter, they usually don't track as well. Wider boats are generally more stable.
Richardson said the most important additional pieces of equipment are a paddle and a personal floatation device (PFD). Those starting out in the sport generally favor lighter paddles which are made of fiberglass. Richardson said newer PFDs have mesh covering the lower portion of the back. This makes the jacket more comfortable on a warm day and also matches up against the backrest of recreational kayaks like the Pungo. In contrast, a foam-backed jacket can get wedged up against a seat and cause discomfort. Although Umiak recommends that all kayakers wear spray skirts, Richardson said older adults generally find them too confining and purchase splash decks instead. Splash decks are made of waterproof nylon and have a long zipper. They function as half a spray skirt which can protect kayakers from both water and the sun. Richardson also recommends the purchase of a pump to help get water out if the boat were to capsize.
Jane Yagoda, owner of True North Kayak Tours, said many of her clients are in their late 50s and early 60s; some have kayaked for years, while others are new to the sport. Yagoda said she provides lessons on how to perform solo and two-person rescues, as well as how to execute a move called an Eskimo roll which involves deliberately rolling the boat upside down and back again. The oldest person she has seen master the roll was 68. Yagoda recommends that even experienced paddlers practice rescues on a regular basis. She noted that some strength is needed for kayaking but in many cases, smarts will compensate for lack of strength. "Get the right equipment," she said, "take some lessons, keep your eye on the weather and don't go out alone."

Vermonters don't have to head out on the Almost Great Lake to enjoy the water. There are numerous smaller lakes and ponds including Joe's Pond in Danville, Lake Iroquois in Williston and Hinesburg, Lake Dunmore in Salisbury and Lake Willoughby in Westmore. Paddling is also possible on many sections of the Lamoille, Mad and Winooski rivers. Bird watchers will enjoy the Missisquoi River in Swanton, Dead Creek in Addison and Little Otter Creek in Ferrisburgh.
Jeremy Brooks, owner of Brooks to Bays Nature Tours, leads canoe and kayak tours in marshy areas and on rivers. Although some of his customers have been paddling all their lives, others are beginners so Brooks takes time to make sure that people are comfortable in their boats. Many of Brooks' customers are seniors; his oldest customer is 89 years old. Since Brooks trailers his fleet of boats, he can take his customers anywhere, but some favorite locations are the Missisquoi Bay and Dead Creek. Although he has enough boats for 18 clients, most of Brooks' outings are with more intimate groups of four. "In Vermont, we're blessed to have nature in our backyard," he said. "Every trip is something new and different. You see things you'd never know were there if you were just driving by."
Brooks hopes his trips are also an educational experience. "I've never had a tour where nobody learned something," he said. "Even if you forget three-fourths of what you've seen, you will go home with something new."
More Information
The Friend Ship – Whistlingman.com
The Spirit of Ethan Allen – Soea.com
International Sailing School – Vermontsailingschool.com
True North Kayak Tours – Vermontkayak.com
Related Articles & Free Subscription
Free Subscription to Vermont Maturity Magazine