Learning to ride a bike is… well, is as easy as learning to ride a bike. And it's never too late to start.
At Earl's Cyclery and Fitness in South Burlington, owner Roger Frey believes there is nothing more important than having a comfortable bike. For those just starting out, or returning to the sport after a long absence, he recommends hybrid bikes which have upright seating. For those who are more nervous about the sport, there is a subsection of hybrids known as Townies. The advantage to the Townie is that the seat is positioned so riders can have both feet flat on the ground while sitting. Frey praised the Townie as "evolutionary and revolutionary" for allowing cyclists to start pedaling from a standing position without feeling unsteady.
Townie riders still have proper leg extension, but there is greater "mental comfort" when starting to pedal.
Frey recommends two items to increase rider safety: a helmet and a mirror. For comfort, he suggests that riders purchase cycling gloves and shorts. While some may be self-conscious in tight lycra pants, Frey said one option is baggy shorts which have suitable padding. "You can't expect the seat to do it all," he said. Frey also strongly recommends that people buy a roof rack for their car so they can experience new scenery and lightly trafficked roads. Many new riders think they'll just tool around their neighborhoods but find themselves getting spooked by the traffic. With a roof rack, they can visit scenic roads with fewer automobiles all across the state. "To quote Lance Armstrong," said Frey "'it's not about the bike'; it's about having the right gear to make sure you enjoy the activity."
New cyclists should also take advantage of Traffic Skills 101, a course provided by Local Motion, a Burlington-based non-profit which promotes safe bicycling, walking, and other non-motorized forms of transportation. The four day, nine hour course, which is sanctioned by the League of American Cyclists, is designed to give cyclists confidence to ride both safely and legally in traffic or on trails. The course teaches basic bike maintenance, safety skills such as proper signaling and crash avoidance techniques, and includes a student manual for riders to take home. One of the instructors, David Jacobowitz, estimated that half the riders who took the most recent iteration of the course were over the age of forty.
Jacobowitz said that typically older riders are nervous about riding in traffic so the course is designed to teach them the skills to coexist with cars. He noted that older riders also have a greater fear of falling off their bikes and, therefore, tend to have their seats set too low. The course explains proper pedaling motion, as well as how to brake effectively, and mount and dismount a bike. There are no state-specific statistics on bicycle accidents, but Jacobowitz said that nationally, roughly half are the fault of the cyclist and half the fault of cars. The majority of accidents caused by cars occur when vehicles turn in front of cyclists. Riding the wrong way on the road is the major cause of accidents where the cyclist is at fault.
Jacobowitz recommends that all riders carry a water bottle and either a pump or a CO2 cartridge in the event of a flat tire. Those planning to use bike paths may want a bell, but he stressed that bells are not effective in automobile traffic. In addition to recreational riding, Jacobowitz recommends that you can get exercise doing some of your errands by bicycle, simply by adding a basket to the front of the bike or panniers to the back.
Lou Bresee of Lake Champlain Bikeways recommends that new riders start with short, flat routes before trying anything too strenuous. A good starting place is local bike paths. Bresee said that even though the South Burlington bike path which starts at Dorset Park is relatively short, cyclists can head off the path and explore some of the neighborhoods along the way including roads and paths around the Vermont National Golf Course and Butler Farms. The Burlington bike path is seven miles long, but can be extended by taking the bridge over the Winooski River and heading through Colchester and up the Causeway. From July through Labor Day, Local Motion runs a bike ferry over the cut in the Causeway so riders can continue all the way to Grand Isle, but wide tires are required since the Causeway is gravel, not pavement. Bresee also mentioned the 5.5 mile Stowe bike path, but noted that this tends to be more crowded.
For riders who would like a bit more challenge, Bresee recommends the Missisquoi Rail Trail, also for those with wider tires. The 26.4 mile gravel path is almost completely flat and travels from St. Albans to Richford. Bresee cautions that the trail is being repaired this summer so portions of it may be closed for resurfacing.
When cyclists are ready to graduate from trails to roads, Bresee recommends some relatively flat loops in Grand Isle County. A 15 mile loop called "Stone Castles" starts and ends at the Grand Isle Ferry Dock and passes several castles built by a Swiss immigrant. "A Trail to Two Beaches" is a 17 mile ride that starts in North Hero and travels west to make a loop through Alburgh. A more ambitious loop is the 29 mile "Covered Bridges" loop which passes three covered bridges as it heads through southern Chittenden County. Across the lake, Bresee suggests a 21 mile route called "The Flatlander" on lightly travelled roads near Plattsburgh and the 24 mile "Acres of Apples" which starts in Fort Kent.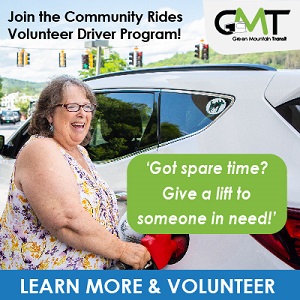 Bresee strongly recommends that newcomers to the sport find others to ride with. Aside from the social aspect, there is safety in numbers since two cyclists are more visible than one. It's also easier to handle mechanical problems when there is more than one person to lend a hand. In addition to the Green Mountain Bicycle Club, there are several smaller, less formal groups in the area made up of older riders. Bresee should know. Riding in groups as well as solo, the 70-year-old pedaled over 5,000 miles last year and is hoping to do the same this year.
For maps and guidebooks, visit Champlainbikeways.org.

For additional information visit Localmotion.org.
This article was contributed by Phyl Newbeck.
Related Articles & Free Subscription
Autumn Is Ideal for Jasper Park Visit
Free Subscription to Vermont Maturity Magazine