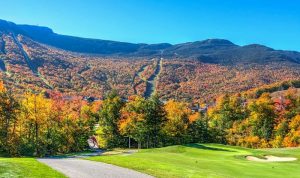 Vermont's hiking trails call us to outdoor adventure. With more than 1,000 miles of trails, Vermont has a fantastic network of hiking and walking possibilities – strolling through meadows, walking along lake and river shorelines, and skittering up mountainsides in search of breathtaking views. Perhaps it's more than our fair share, but after a Vermont winter we deserve it.
Hiking requires no skills beyond those we acquired at toddlerhood. You don't have to throw, catch or hit anything; you don't have to know how to pedal or paddle. Just walk — sometimes uphill, sometimes downhill, sometimes just straight ahead. Most trails are obvious (pavement or gravel), well signed ("turn here now"), or blazed (those little color chips tacked to trees). Many hiking locales areas have trail maps available, and The Green Mountain Club, Green Mountain National Forest and the Vermont Agency of Natural Resources are good source for maps and hiking information.
Hiking boots laced, walking sticks at attention. Herewith, in no particular order, a list of eight walks and hikes to get you started.
Mount Philo became Vermont's first state park for good reason. A half hour south of Burlington, a few miles from the shoreline of Lake Champlain, this rather small mountain juts upward to a mere 968 feet. But it's all relative; from the cliffs at the summit, you might well be at the top of the world. The lake stretches out to the Adirondacks and the rest of North America beyond, raptors soar above. It's all quite idyllic — a perfect spot for reading a good book, sharing a picnic lunch or just stretching back and watching the raptors soar above you. There is a picnic area, and tables tucked here and there atop the cliffs. You can hike up from the lower parking lot but parts of the trail are quite steep and challenging (and slippery when wet). Drive to the parking lot at the summit, and enjoy a much easier quarter-mile hike or a one-mile walk on the road around the summit.
Farther south, Snake Mountain juts up from the Champlain Valley in much the same way as Mount Philo, to a similar elevation of just under a thousand feet. (Both Mount Philo and Snake Mountain were islands in a vast Champlain Sea, 10,000 years ago.) The 3.5-mile hike here is moderately strenuous on the way up, but a piece of cake coming back down. Good hiking boots and walking sticks will help. Plan on half a day. You'll start off easily through an old pasture, then work your way up a serpentine ridge for which the mountain was named. Old roads crisscross the trail, part of a carriage trail that carried visitors to Grand View House, a posh hotel, at the summit a hundred years ago. At the top, you'll find a large concrete slab, intended to be the foundation of a house that was never built. If you brought a lunch, this is the place to enjoy it while contemplating the world around you. The views of the Champlain Valley from this perch are magnificent.
We think of Stowe as a winter playland, a quintessential Vermont ski town, but more people actually visit Stowe during the summer. Many find their way to the 5.3-mile Stowe Recreation Path, where a leisurely walk is downright therapeutic. No special gear needed here; the eight-foot wide path is paved. It's the town's pride, built through a grassroots effort with a portion of the path made possible by easements donated by local residents. The path follows the Mountain Road (at a much gentler climb), through cornfields and into woodlands, abundant with wildflowers, and in later summer, ferns. No need to bring along a lunch for this walk – you can take a break anywhere along the path for a bite to eat at one of Stowe's many restaurants.
In Williston, right in the middle of one of the most developed areas in the state, sits an oasis of tranquility. The Catamount Outdoor Family Center offers 20 miles of trails on 500 acres of gently rolling terrain of both woodland and pasture. Stretching across two hills, the center offers great views of both the Adirondacks and the Green Mountains, as well as the Winooski River Valley and Lake Champlain. The center offers year-round recreation, and a highlight is October's Haunted Forest, a scary walk through the woods at night, guided by hundreds of carved pumpkins.
When you were atop Snake Mountain, looking down at the Champlain Valley, much of what you saw was a part of the Dead Creek Wildlife Management Area, an aquatic habitat for waterfowl maintained by the state of Vermont. A bird book and binoculars are a must here. Raptors fly overhead, shorebirds wade through the swamps, red-winged blackbirds dart from shrubs to cattails, and, in October, tens of thousands of Canada and snow geese rest and feed during their migratory trip south. Two easy walks (though wet in places), each less than a mile, take you from forests of oak and hickory through marshlands and meadows. Off to the east, you'll see the quartzite cliffs of Snake Mountain.
Kingsland Bay State Park near Vergennes offers one of the few lakeside walks in northern Vermont. The 264-acre park was previously a summer camp. The 0.6-mile trail begins just beyond Hawley House, an impressive stone house built in 1790, and follows the Lake Champlain shoreline along a small peninsula through woodlands of white and red pine and hemlock. To your left the twisted trunks of white cedar cling tenaciously to cliffs, which, at times, soar to 50 feet above the water. During May, Trillium are everywhere. You'll see signs of and may hear or catch sight of a huge pileated woodpecker, having its way with the base of a tree. At the halfway point, the trail reverses itself, heading along the other side of the peninsula on gentler terrain back to Hawley House. Although not a strenuous trail, the footing can be iffy at times, so good footwear is helpful.
Five miles of trails meander through the Green Mountain Audubon Nature Center in the Huntington River Valley just south of Richmond. The trails pass through open fields, forests, swamps and marshes, passing streams and ponds with peepers and an active beaver community. The diversity of habitats within the center's 230 acres are as amazing as trail and attraction names suggest: Brook Trail, Fern Trail, Hemlock Swamp, Beaver Pond, Peeper Pond, and the Sensory Trail (designed for the blind and visually impaired with a rope strung between posts as a guide). Most of the trails are easy, with one or two pushing the moderate range.
Established in 1942, Missisquoi National Wildlife Refuge covers six thousand acres of the Missisquoi River Delta between Alburg and Swanton. Its creeks, marshes and swamps are home at various times during the year to ospreys, horned and barred owls, great blue heron, and 20,000 ducks. Muskrat, beaver and deer also inhabit the refuge. The 1.5-mile (2.7 miles, including access) trail follows the Black and Maquam creeks, along boardwalks, gravel paths and sometimes mud, never rising more than 25 feet in elevation. At the far end of the trail is Lookout Point, a great spot to observe the creeks and marshes. The walking is easy, but can be very wet. Sneakers might end up uncomfortable.
How to Get There
Catamount Outdoor Family Center – Follow Route 2 east to the village of Williston. Turn north on North Williston Road. After 1 mile turn right to 592 Gov. Chittenden Road.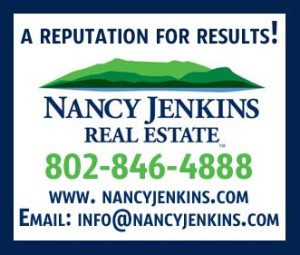 Dead Creek Wildlife Management Area – On Route 17, west of Addison. The headquarters building is one mile on the right. Just beyond, on the left, is a viewing area. A little farther, after crossing Dead Creek, is a dirt road on the left. Follow it .8 mile to the parking area.
Green Mountain Audubon Nature Center – On Huntington Road, 5 miles south of Richmond. The Sugarhouse parking lot is on the right. Or turn right on Sherman Hollow Road just beyond the lot and follow the signs to the Nature Center.
Kingsland Bay State Park – Follow Route 7 to Ferrisburg, turn west on Little Chicago Road. At just under a mile, turn right on Hawkins Road and follow it 3.4 miles to the park entrance.
Missisquoi National Wildlife Refuge – On Route 78, 2.4 miles from Swanton. Entrance and parking are on the left.
Mount Philo State Park – From Route 7, 2.5 miles south of Charlotte, turn east on State Park Road. The park entrance is .6 miles.
Snake Mountain – From Route 22A, 3 miles south of Addison, turn east on Willmarth Road, one-half mile to Mountain Road. The trailhead is straight ahead. Turn left for parking, .1 mile on the left.
Stowe Recreation Path – Take Route 100 to the village of Stowe. The path begins on Main Street behind the white church.
This article was contributed by Richard Daybell.
Related Articles & Free Subscription
Staycations at Vermont State Parks
Vermont State Parks: Top 5 Views
Free Subscription to Vermont Maturity Magazine