Jeannie Lynch of South Burlington hopes people can distinguish between her "left brain" job and her "right brain" calling. By day, the trim, 47-year-old professional runs the Key 4 Women program at Key Bank in Williston. But every Wednesday night, she devotes her intuitive energies to guiding those seeking assistance with life's transitions, free of charge.
Lynch prefers not to put a label on her right brain activities, but accepts "healer" as the closest to conveying the work she performs. Her calling started with a tragedy. On January 20, 2005, Lynch's eight-year-old daughter Ila was killed in a car accident. A month later, Lynch pulled herself together enough to stop in at work to see her coworkers. Checking her e-mail she saw a message regarding the yet-to-be launched Key 4 Women program asking who would replace her as the program's Vermont representative. As Lynch tells it, her daughter's spirit coursed through her arms and propelled her fingers to the keyboard to respond that she would be back at work to take charge of the program. Speaking of Ila, Lynch said, "my daughter drew the line in the sand. She was so clear what my mission had to be."
The first person to contact Lynch for her healing work was the mother of Sam Cohn, a Richmond teenager struck and killed by a car while on vacation in Florida. Lynch said Cohn's mother kept track of how many times she heard Lynch's name mentioned and by the thirteenth time, she decided to give her a call. Lynch is convinced that the grief she has experienced in her own life –the death of two children and several boyfriends – prepared her to help others. "I went through all these key lessons," she said. "I felt it was my goal to teach."
According to Lynch, being happy is both a choice and a skill. She has faith that she has the capability to get people through their grief. "I believe I am intuitive enough to get the words to help them through," she said, noting that it is impossible to compartmentalize grief as those who counsel the seven stages would suggest. After two years of helping the grieving, focusing initially on mothers who had lost children, Lynch expanded her practice to include those in any kind of transition, be it a relationship, a family issue or a job. Even though she generally sees each individual only once so as to encourage them to find their own strength and power from within, Lynch is booked through next January. Although she takes great pains to separate her job and her calling, she does pray that she will continue to be successful in her work at Key Bank so that she can continue to help people for free. She estimates she has held almost 500 two-hour sessions with individuals from all walks of life. Her goal for 2010 is to help people realize they have their own gifts and don't need her at all. "It would be great if nobody needed my work," she said.
Lynch's day job as the Vermont representative for the Key 4 Women program is also the result of a leap of faith on her part. Her 20-year job at Grand Union had come to an end due to cutbacks so Lynch impulsively went to visit Key Bank, which held her mortgage. "I've got 20 years cash management experience," she recalls telling the bank manager. "I'm going to be paying you back somehow, so you might as well hire me."
He did, and despite her lack of a college degree, Lynch has spent the last 20 years in banking. As the Key 4 Women representative, her job is to support women in business. "I meet people when the idea is in their head," she said, "and I help get it to the table."
In addition to assisting start-ups, Lynch helps existing businesses grow, and aids those who are nearing retirement in figuring out their next step. Pulling out an enormous tray of business cards, Lynch explains how she is able to create a network of people, introducing her clients to others who can provide assistance. "I'm the connector," she said.
Lynch invites visitors to a room in her home filled with a mural of the outdoors and a ceiling painted to look like the sky. A portrait of her daughter is part of the artwork. "I'm only as successful as the people I've helped," she says. This maxim is true for both facets of Lynch's existence, since her job is based on the success she helps others create in the business world.
When people visit Lynch she feels as though she has the ability to see and hear what their guides and spirits want for them. "I call it 'close to the veil'," she said. It is then her job to determine what people need to have filtered from their thoughts, including limiting beliefs or past situations that didn't honor them. Lynch uses herself as an example. "I used to believe that everything I love, I lose and that became a self-fulfilling prophecy," she said. When Ila died, Lynch initially thought this just proved her theory, but soon the loss of her daughter taught her that she had been so concerned with death that she had been afraid to live. Instead, Lynch now believes that "everything you love lives on."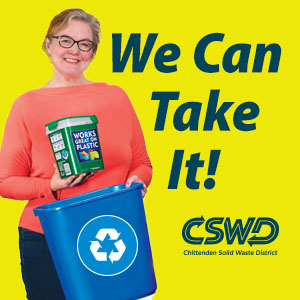 Further, she believes that everything that happens has a purpose. "That's an innate truth," she said, "and the way I feel about that innate truth is what changes my experience."
Despite the tragedy in her life, Lynch describes herself as "very much at peace."  Her life is built around "believing, trusting and receiving."
Lynch describes heaven as a place of acceptance and hell as a place of resistance. "My life is heavenly," she said. "I accept everything that comes my way with open arms."
This article was contributed by Phyl Newbeck.
Related Articles & Free Subscription
Finding Your Happily Ever After Home
Pursuing Your Passion in Retirement
Will Independent Living Become Obsolete?
Free Subscription to Vermont Maturity Magazine